If you are reading this blog I imagine you subscribe to our CSA program here at John Givens Farm. All the produce is selected especially for you and picked within hours of receiving it. If you are finding that your produce is going bad in your fridge within a week (or even 2) of receipt, definitely keep reading and ask me if I don't cover a vegetable you've experienced difficulty with in the past. I'm focusing mainly on leafy greens because I've found you can make them last up to two weeks in the fridge. Even if you plan on devouring them within a few days, it's nice to pull crisp, fresh lettuce and other greens that are ready to eat.
I'm not a fan of plastic bags, although they somehow end to pile up in my house. I've invested in a few nice plastic containers that are usable pretty much for my lifetime. Take the time to chop and wash your greens the day that you receive them. Discard any parts that you don't plan on using. Line a plastic storage container with paper towels, dump the greens in an even layer on top, and cover it with another layer of paper towels before locking down the lid. The greens should not be packed in.The paper towels here serve to absorb extra liquid that would turn the greens mushy. And did you know you can compost paper towels? A plastic box protects the greens from other foods in your refrigerator.
Alternatively, you can blow a puff of air inside a clean bag that holds your washed greens. This is supposed to provide enough carbon dioxide to keep the greens fresh for a week and no paper towels are needed. Make sure to store squash, peppers, cucumbers, carrots in the crisper section. Tomatoes and onions sit on your counter top unless you have cut into them. Put the other half in the fridge, but use within a few days. All those veggies should go into your mouth and none should go into the trash. Waste less, save more!!!
Cindy is back in action with granola this week. Choose your flavor in gluten free or organic. We also are starting to offer fresh picked berries from the farm in our CSA Store. Feedback is appreciated.
CSA Contains:
AMBROSIA MELON
LACINATO KALE
HEIRLOOM TOMATOES
CIPPOLINI ONIONS (a caramelizing onion, super sweet when cooked)
SWEET RED CARMEN PEPPERS
YELLOW CROOKNECK SQUASH
CUCUMBERS
CARROTS
BUNCHED MINT
RED ROMAINE LETTUCE
BIG BOX ADD: YELLOW CHERRY TOMATOES, GREEN LEAF LETTUCE, CANARY MELON, CARROTS, RED BELL PEPPERS
Fruit Expansion Includes: Concord Grapes from Vincent Farms and a basket of blackberries or raspberries
Minty Cucumber and Melon Salad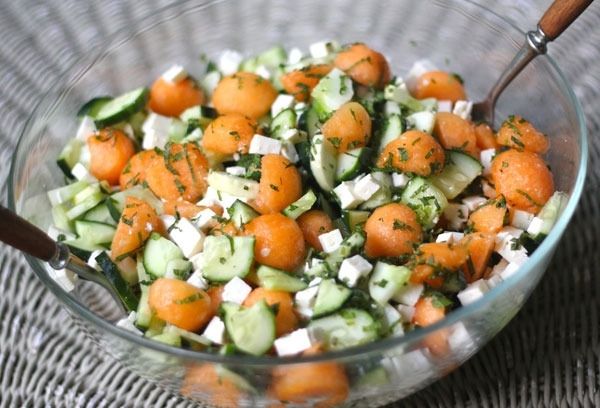 Ingredients:
1 large ripe cantaloupe
4 medium cucumbers (or 2 large ones)
1/2 tsp. salt
8 oz feta cheese, cubed or crumbled
About a dozen medium-sized mint leaves, very finely chopped
For the Honey-Lime Dressing:
1/4 cup olive oil
2 tbsp. white wine vinegar
Juice of one lime
2 tbsp. honey
Salt and pepper to taste
(Find the full recipe and directions at PBS)
Cucumber and Avocado Salad Recipe with Lime, Mint, and Feta


Ingredients: 2-4 Servings
2 cups chopped cucumbers (3-4 medium cucumbers or 2 larger cucumbers)
salt, for drawing water out of cucumber
1-2 ripe avocados, peeled and chopped into 1/2 inch pieces
1-2 tsp. fresh lime juice (to toss with avocado)
1/2 cup finely chopped fresh mint (measure after chopping)
1/2 cup crumbled feta (more or less to taste)
Dressing Ingredients:
2 T extra-virgin olive oil
1 T fresh lime juice
(Full recipe and directions here at Kalyns Kitchen)
The Very Best Vegan Kale Caesar Salad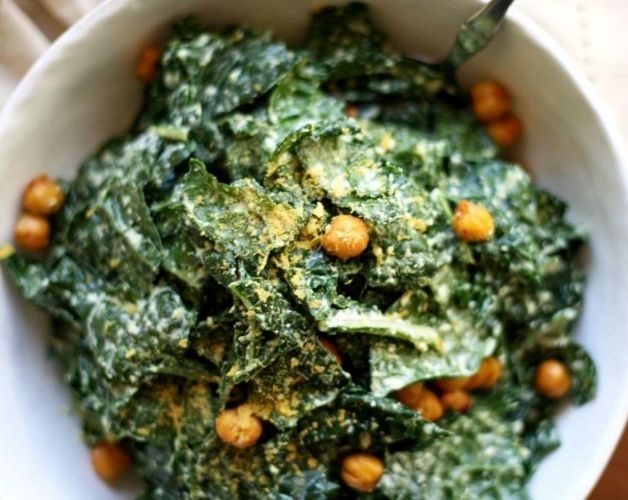 Ingredients: Serves 2-4
Kale Caesar:
1 bunch of lacinato kale, thick stems removed and chopped
1/3 cup raw cashews, soaked for at least 5 hours – or overnight (drained & rinsed)
1/4 cup filtered water
Juice of one lemon
2 tablespoons hemp seed hearts
2 cloves garlic
1 tablespoon olive oil
1 teaspoon Dijon mustard
freshly ground sea salt & pepper
2-3 tablespoons nutritional yeast – to garnish
Garlic Chickpea Croutons:
1 ½ cups cooked chickpeas – rinsed thoroughly if from a can
1/2 tsp olive oil
Pinch each of garlic powder, paprika, oregano, thyme, marjoram, and cayenne
(For full recipe and directions please visit VeguKate)
Roasted Red Pepper Sauce


(I extracted the sauce from the whole recipe. I'm thinking slices of grilled squash and carrots covered with this sauce. Sounds so good! Smoother any vegetables and/or chicken in this. Roasting your own peppers is really easy!)
Ingredients:
3 red peppers (increased from 2 because Carmen peppers are smaller, but sweeter!)
2-3 Tbsp olive oil
2 cippolinis, finely chopped
4 cloves garlic, finely chopped
Sea salt and ground black pepper
1.5 cups Unsweetened Almond Milk, or milk of choice
2 Tbsp nutritional yeast
1.5 Tbsp cornstarch or arrowroot powder (or other thickener of choice)
Pinch red pepper flake (optional, for heat)
Directions:
Heat oven to 500 degrees F and roast red peppers on a baking sheet until charred – about 25-30 minutes. Cover in foil for 10 minutes to steam, then remove (peel away) charred skin, seeds and stems. Set aside.
While the red peppers are roasting, bring a large skillet over medium heat and sautee onion and garlic in 2-3 Tbsp olive oil until golden brown and soft – about 4-5 minutes. Season with a generous pinch of salt and pepper and stir. Remove from heat and set aside.
Transfer sautéed cippolini and garlic to blender with roasted peppers, almond milk, red pepper flake, nutritional yeast and cornstarch. Season with desired amount of salt, pepper and red pepper flake.
Blend until creamy and smooth, taste and adjust seasonings as needed, adding more salt and pepper or nutritional yeast for flavor. Once blended, place sauce back in the skillet over medium heat to thicken. Once it reaches a simmer, reduce heat to low and continue simmering.
Once sauce is thickened to desired consistency, add to your noodles, veggies and/or protein of choice.
(For more tips, tricks and full recipe please visit Minimalist Baker)
JUICE FEAST INCLUDES:
AMBROSIA MELON
LACINATO KALE
BLACKERRIES/RASPBERRIES
RED BELL PEPPERS
CUCUMBERS
CARROTS x2
BUNCHED MINT/PARSLEY
RED ROMAINE LETTUCE
GREEN KALE
FUJI APPLES FROM HAAS FARMS