Week of December 5th – NO CSA DEC 21-29th!!!!
We are closing down for the holidays. No CSA boxes will be available for two weeks, Dec 21-29th. None 🙂 This allows us all to take a break and do a little traveling with our families. We will come back with a renewed sense and ready to eat our veggies.
Did you know that radishes are an anti-congestive? This means that they decreases congestion of the respiratory system including irritation of the nose, throat, wind-pipe and lungs that can come from colds, infections, allergies and other causes. They are a great disinfectant and rich in vitamins, which further protects the respiratory system from infections.* I'm seeing a lot of colds going around right now and a lot of runny noses and congestion so I am definitely eating my radishes this week.
*Source: https://www.organicfacts.net/health-benefits/vegetable/health-benefits-of-radish.html
CSA Contains:
CARROTS
YELLOW ONIONS
ROMAINE LETTUCE
CELERY
BUNCHED SPINACH
RED BEETS
RAINBOW CHARD
RED TOMATOES
RADISHES
GARNET YAMS from QUAIL H. FARMS
BIG BOX ADD: CARROTS, RED LEAF LETTUCE, GREEN CABBAGE, LACINATO KALE, BROCCOLI
FRUIT EXPANSION: KIWI from WILD RIVER FARMS
Paleo Sweet Potato Waffles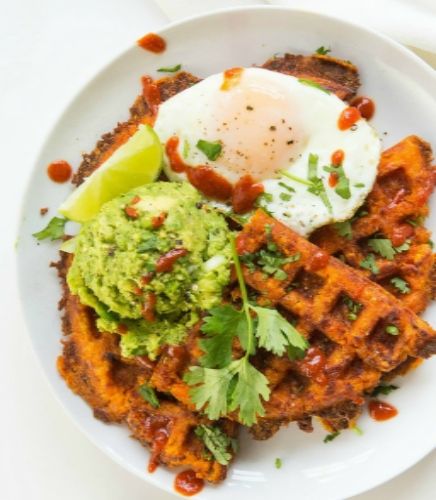 Ingredients: Yields 2
About 1 1/2 cups sweet potato, peeled and grated
2 eggs
2 tbsp coconut flour
1 ripe avocado
2 green onions, finely diced
1 lime, freshly squeezed
2 tablespoons fresh chopped cilantro
hot sauce (optional)
sea salt and pepper
non-stick coconut oil spray
(Find the full recipe and directions here at Yuriel Kaim.)
Sweet Potato Beet Salad (with date balsamic dressing)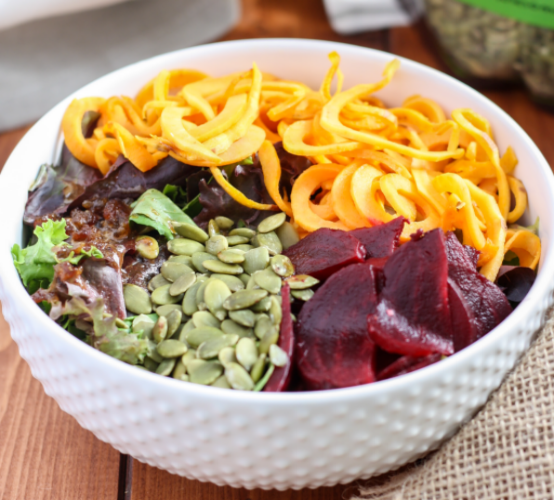 Ingredients: Serves 2
6 cups mixed greens
1 medium sweet potato, spiralized (or chopped)
4 small cooked beets, sliced (I used "Love Beets")
¼ cup pumpkin seeds (pepitas)
3 TBS balsamic vinegar
2 TBS extra virgin olive oil
1 date, soaked & pitted
1 tsp stoneground mustard (optional)
salt & pepper to taste
(Find the full recipe and details here at Fit Mitten Kitchen)
Shredded Swiss Chard and Roasted Beet Salad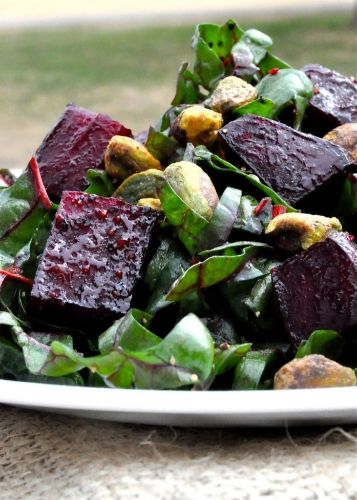 Ingredients:
4 cups Shredded Swiss Chard
3 Fresh Beets (peeled, cubed, and roasted)
½ cup Shelled Pistachios
1 tablespoon Extra Virgin Olive Oil (EVOO)
1/8 cup Balsamic Vinegar
1/8 cup Fresh Orange Juice
Kosher Salt & Cracked Pepper
(Find the full recipe and directions here at Fed and Fit)
JUICE Contains:
CARROTS
GREEN CABBAGE
ROMAINE LETTUCE
CELERY
BUNCHED SPINACH
RED BEETS
RAINBOW CHARD
RED TOMATOES
KIWI from WILD RIVER
GARNET YAMS from QUAIL H. FARMS