Happy New Year. Here's to infusing this new year with fresh, local vegetables that have little or no impact on our earth and all the impact on your heath. Our CSA program is looking forward to some new projects that include planting fruit trees (especially apples), getting farm animals (sheep and goats to start) and getting our solar powered bug green house going for our chickens.
We love referrals and would love to pass along some extra veggies your way on the house. For every friend that signs up for a 6 week subscription, we will post a $25 credit to your account. It's that easy. Just make sure they include your name on the sign up process.
Last call for your granola (or fresh baked cookies) from Cindy Dollar. We have 4 flavors of granola to choose from and 2 flavors of cookies. All baked fresh for you right here in Goleta. We only offer it once a month, so make sure to snag yourself some in our CSA store.
CSA Contains:
BUNCHED SPINACH
ITALIAN PARSLEY
CARROTS
RED ROMAINE LETTUCE
SATSUMA TANGERINES from GLEN ANNIE ORGANICS
GREEN CURLY KALE
EASTER EGG RADISHES
GREEN CABBAGE
LEEKS
BUTTERNUT SQUASH
BIG BOX ADD: RED LEAF LETTUCE, ARUGULA, FUYU PERSIMMONS from VINCENT FARMS, CARROTS & one more item to be determined
FRUIT EXPANSION INCLUDES: FUYU PERSIMMONS from VINCENT FARMS and FUJI APPLES from CUYAMA ORCHARDS
Curried Cabbage with Cashews


(Per Author – if you don't have raw cashews, you can use roasted cashews, or almonds or pistachios and add them at the end. The nice thing about the raw cashews is that they actually soften a bit and add an interesting texture, but aside from that..it's not a deal breaker.)
Ingredients:
1/4 cup butter or olive oil
1/3 cup raw (unroasted, unsalted) cashews
3 tablespoons minced fresh ginger
1 tablespoon cumin seed
1 small cabbage, thinly sliced
1/2 teaspoon ground turmeric
1 teaspoon kosher or sea salt
1/2 teaspoon freshly ground black pepper
(Find the full recipe from The Washingtons Green Grocer)
Crunchy Cabbage Salad with Orange-Tahini Dressing


Ingredients:
10 oz green cabbage, thinly sliced (~3 cups)
1 large carrot, grated (1 cup)
1 green onion, thinly sliced (per Carolyn – I never have green onions, they take extremely high in labor to grow and harvest, but tend to substitute finely chopped red or yellow onions here)
1/2 cup chopped cilantro
1/8 cup sesame seeds, toasted
1/8 cup sunflower seeds, toasted
Dressing:
1 tbsp toasted sesame oil
1.5 tbsp lemon juice (half a lemon)
1 tsp agave (or maple syrup)
1.5 tbsp tahini
1/4 cup water
zest of a clementine or small orange
pinch of salt, or to taste
(Find the full recipe and directions here at The Taste Space)
Wild Rice & Butternut Squash Salad with Maple Balsamic Dressing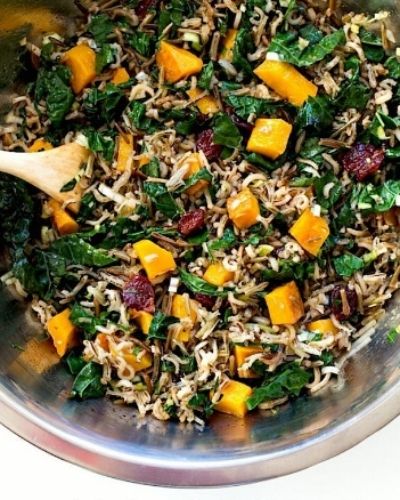 (The combination of nutty wild rice, a simple maple dressing, and fresh herbs are not only delicious together, but their vibrant colors combine to make one stunning dish.)
Ingredients: Serves 6
Dressing:
1/4 cup extra-virgin olive oil or sunflower oil
2 tablespoons pure maple syrup
2 tablespoons balsamic vinegar
1/2 teaspoon sea salt
scant 1/2 teaspoon black pepper
1/2 tablespoon chopped fresh rosemary
1 clove garlic, minced
Prepare dressing by pureeing all ingredients with an immersion blender or by vigorously whisking
Salad:
2 1/2 cups peeled and finely chopped butternut squash
1 1/2 tablespoons olive oil
sea salt
black pepper
2 1/2 cups thinly sliced kale (lightly massaged) or spinach
1/2 cup thinly sliced leeks, both white and green parts
1/2 cup dried cherries (or dried cranberries)
1/4 cup thinly sliced fresh basil (I use dried basil in the winter. Not the same pop, but does the trick.)
3 cups cooked wild rice, warmed
(Find the full recipe here at The Heart Beet Kitchen)
Buttenut Squash Mac and Cheese


(I'd recommend chopping up some fresh spinach and wilting it down when the mac and cheese is still hot. This will just cook the spinach slightly and adds a boost of health to the dish.)
Ingredients: 4 – 1 cup servings
2 cups uncooked elbow macaroni – whole wheat, low glycemic, gluten free… any will work!
1 tablespoon butter
1 small yellow onion
1 small butternut squash (4-5 cups cubed)
5 cups chicken or vegetable broth
¾ cup milk
1 teaspoon salt
⅔ cup shredded cheese – I like Gruyère but any kind will work
parsley for topping
salt and pepper to taste
(Find the full recipe and directions here at Pinch of Yum)
JUICE FEAST Contains:
BUNCHED SPINACH
ITALIAN PARSLEY
CARROTS x2
RED ROMAINE LETTUCE
SATSUMA TANGERINES from GLEN ANNIE ORGANICS
GREEN CURLY KALE
GRANNY SMITH APPLES from CUYUAMA ORCHARD
CELERY
LACINATO KALE
CUCUMBERS and LEMONS