The new ranch we are farming on in Buellton used to be an Icelandic Pony ranch. Nothing was growing here before we came, but the horses were definitely leaving a lot of compostable materials that are benefiting our crops now. We don't have a lot of leafy greens up here because it runs about 10 degrees hotter here during the day. I see lots of spaghetti and butternut squash, onions, garlic, melons, tomatoes, cucumbers, zucchini and other summer crops. We are also fortunate enough to have over 100 boxes of bees from San Marcos Ranch on the farm. The bees bring a lot of good vibes to the farm to say the very least. I catch swarms of them up in trees and buzzing through crops. Check out some recent pictures I took of the farm today.

Lot's of tomatoes coming our way.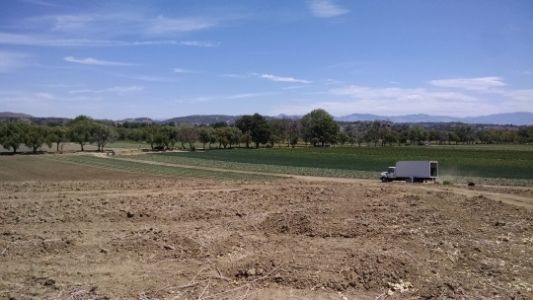 A view from the top of the hill where our orchard will go.
https://i36.photobucket.com/albums/e33/carolyneliz/Mobile%20Uploads/IMG_20150629_115651146.jpg
Boxes and boxes of glorious bees!

The center road of the farm is lined with trees creating shade for the workers, the chickens and makes for a beautiful picture.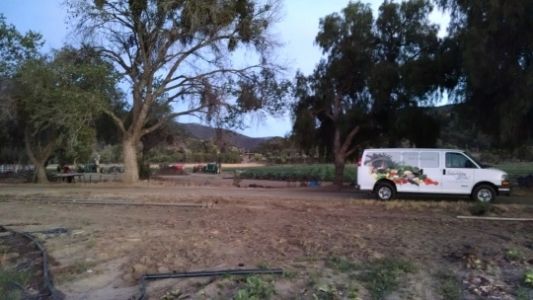 The CSA van doing a little off the clock work hauling overgrown produce to chickens.
We have lots of eggs in our CSA store right now. Check them out for only $4/dozen. I anticipate the quantity of eggs to continue to increase throughout the summer so you should see them in our CSA store moving forward. Please feel free to check in with me if you don't see them available.
Cindy Dollar has added a new addition to her granola line up. Try out the new flavor Blueberry Almond! You can also choose from cran-cashew, raisin pecan or coconut seed. Don't forget about the fresh baked cookies. Perfect for a weekend BBQ.
CSA Box Contains:
CARROTS
RED LEAF LETTUCE
FRENCH GREEN BEANS
PABLANO CHILE PEPPERS
GREEN ZUCCHINI
ACORN SQUASH
BABY SPINACH
STRAWBERRIES
RED AND YELLOW CHERRY TOMATOES
CILANTRO
BIG BOX ADD: CARROTS, STRAWBERRIES, CUCUMBERS, GREEN BELL PEPPERS, LACINATO KALE

Cilantro-Lime Marinated Veggie Kabobs with Barley Kale Salad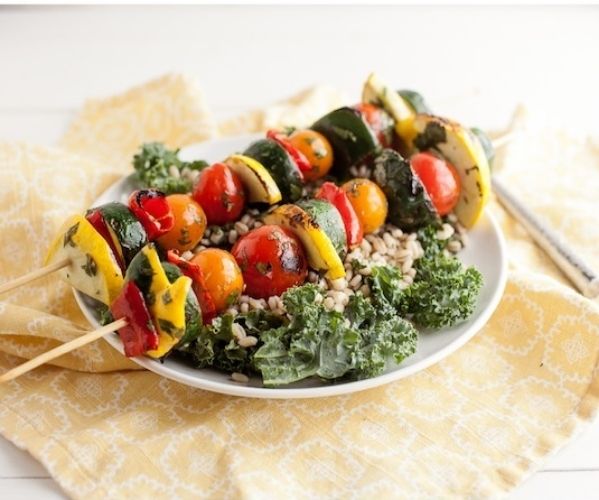 (Per Author: This is a rough recipe because giving an exact amount for the veggies seemed arbitrary. Simply use what you have on hand! Also, the addition of cheese would be delicious- try feta, goat, or a little queso fresco. This meal comes together quickly and really is a fly-by-the-seat of your pants kind of meal. Use whatever veggies you have on hand, add cheese, turn them in to tacos, get creative!)
Ingredients: Serves 2
Assorted Summer Produce*:
Zucchini
Yellow Squash
Cherry Tomatoes
Onions
Jalapeño Peppers
Sweet Red Peppers (or pablano peppers! yum)
Marinade:
Juice from 2-3 limes, depending on size
2 tablespoons honey
2 tablespoons olive oil
1/2 teaspoon salt
1/2 cup cilantro, minced
Salad:
a couple handfuls of kale (or spinach)
1/2 cup barley
Directions:
Anywhere from an hour up to a day** before, cut up veggies in to rough 1″ pieces. (Get the full recipe and directions here at Naturally Ella)
Notes
*You want enough veggies to cover 4-5 skewers. I used one small zucchini, one small summer squash, 1/2 onion, 1 jalapeño, 1 red pepper, 10 cherry tomatoes **I usually prep the veggies the night before and let it sit until the next day.
Grilled Cumin-Lime Zucchini Quesadilla


(This quesadilla is a snap to throw together and I think you could even convince your meat-grilling friends to save you some space on the grill! Additions of summer squash or peppers would also be delicious!)
Ingredients: Serves 4
1 medium zucchini
1 tablespoon olive oil
4 teaspoons cumin
1/2 teaspoon chile flakes
1 lime juice and zest
1 tablespoon honey
4-6 ounces fresh mozzarella cheese
4-8 8″ or 10″ whole wheat tortillas
(Read the full recipe here at Naturally Ella. This author has some great takes on veggies on the bbq.)
Grilled Zucchini Nachos


(Per author: Grilled zucchini rounds turned into chips and topped with all of your favorite nacho toppings! Grilled Zucchini Nachos are a great way to use up your summer zucchini!)
Ingredients: Serves 4
4 small zucchini, sliced into "chips," about 1/4 inch thick rounds
Olive oil, for brushing zucchini chips
Salt and pepper, to taste
1 cup shredded cheddar cheese
1 (15 oz) can black beans, rinsed and drained
2 small tomatoes, chopped
1 large avocado, chopped, seed removed
2 green onions, chopped
1/4 cup chopped cilantro
1 lime
(Check out the full recipe and directions here at Two Peas and Their Pod)
Breakfast Baked Acorn Squash with Greek Yogurt, Honey & Pecans


(Baked Acorn Squash served with greek yogurt, a drizzle of honey and a few pecans. Sub in walnuts, almonds if needed. A perfect breakfast on the go. Eat the skin and all! No utensils needed – well, maybe a napkin!)
Ingredients: Serves 2
1 medium acorn squash
1 teaspoon coconut oil
1/2 teaspoon cinnamon
2 teaspoons brown sugar
1 cup nonfat plain Greek yogurt, divided
2 teaspoons honey
2 tablespoons chopped pecans, walnuts or almonds
(Read the full recipe and directions here at the ambitious kitchen)
Also check out this Vegetarian Stuffed Poblano Pepper Recipe here at Bev Cooks.
JUICE FEAST CONTAINS:
CARROTS x2
ROMAINE LETTUCE
CUCUMBERS
BABY SPINACH
FUJI APPLES from HAAS FARMS
GREEN BELL PEPPERS
LACINATO KALE
STRAWBERRIES
RED TOMATOES
CILANTRO