We are excited to have fresh picked, ripe apricots for your CSA shares this week. They are being picked today, right here in Goleta at Vincent Farms. Happy Summer!
If you receive a share at Cold Springs Elementary or Westmont College, please note your share will be delivered on Wednesdays throughout the summer.
Don't forget to add a loaf of fresh baked bread to your share. Deux Bakery is busy making it happen the morning of your delivery. They are known around Santa Barbara for their bread that tastes better than it looks, and it looks REALLY GOOD!! They also have delicious gluten free products and more.
CSA Share Contains:
ACORN SQUASH
CARROTS
RED LEAF LETTUCE
RED TOMATOES
ITALIAN PARSLEY
CUCUMBERS
SUGAR SNAPS (almost over!! green beans are next)
BLENHEIM APRICOTS from VINCENT FARMS
EASTER EGG RADISHES
STRAWBERRIES from SUNRISE ORGANIC FARMS
BIG BOX ADD: ROMAINE LETTUCE, STRAWBERRIES, CARROTS, BLACKBERRIES or RASPBERRIES, ZUCCHINI
FRUIT EXPANSION: STRAWBERRIES & APRICOTS
Check out these Mason Jar Salad Inspirations. Make a weeks worth of salad on Wednesday, and eat "fast food" all week long. Straigh off the farm. Try adding chopped fresh parsley to your salads for an antioxidant boost.

Roasted Parmesan Garlic Acorn Squash


Ingredients: 2-4 servings
1 acorn squash, washed
2 tbsp olive oil
1/4 cup grated parmesan (I use a parmesan and pecorino romano blend)
1-2 tsp powdered garlic
freshly-ground pepper
(Find the full recipe and directions here at Spache the Spatula)
Roasted Radish Polenta


Ingredients: Serves 2 good size bowls
1 cup water
1 cup low-sodium vegetable broth
1/2 cup medium-grind polenta
1 tablespoon butter (see note)
salt and pepper, to taste
3 cups quartered radish
1/4 cup diced scallions
1 tablespoon olive oil, plus extra for serving
1/4 teaspoon salt
1/4 teaspoon black pepper
1 cup chickpeas, drained and rinsed if using canned
1 tablespoon lemon juice
3 tablespoons minced fresh flat-leaf parsley
(Find the full recipe and directions here at Naturally Ella)
Roasted Tomato Avocado Toast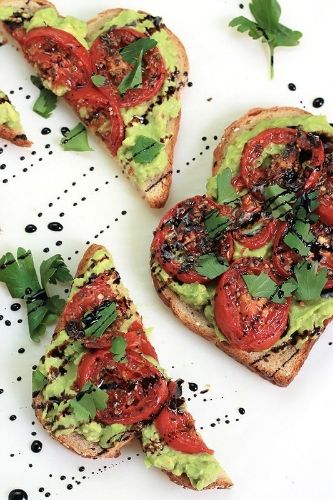 (I like to put an over easy egg on top! So good!!)
Ingredients: Serves 4
3 red tomatoes
Italian seasoning
extra virgin olive oil
sea salt
2 ripe avocados
juice from 1 lime
4 slices whole-grain bread or bread of your choice
flat leaf parsley for garnish
balsamic glaze
red pepper flakes (optional)
(Find the full recipe and directions here at The Whole Serving)
JUICE FEAST INCLUDES:
CARROTS x2
ROMAINE LETTUCE
RED TOMATOES
ITALIAN PARSLEY
CUCUMBERS
BLENHEIM APRICOTS from VINCENT FARMS
STRAWBERRIES from SUNRISE ORGANIC FARMS
ROMAINE LETTUCE
BLACKBERRIES or RASPBERRIES
LACINATO KALE