It's still winter! Did you know that?! Hard to tell when it's 80 degrees out. The farm is still experiencing the aftermath from the rain we had over the past few months. It prevented us from planting and so now we are catching up in vegetable variety. Luckily we get to partner with a few local farms in the area to bring us some delicious items to the table. We've been mending greenhouses and tilling the farm this week. Lots of new crops have recently been planted so I've been watching the workers weed the fields by hand!
I've been taking half of my greens and tossing them in the freezer for smoothies. 80 degree winters definitely call for smoothies. This prevents the greens from going bad and I can use them on my own schedule throughout the week instead of trying to eat a whole bunch of collard greens in one night. Good thing collards are loaded with antioxidants and cancer preventative nutrients. Blended up with a banana helps balance out any bitter taste. Might as well throw some frozen blueberries in there too 🙂
You can use fennel anywhere celery is called for. It adds an excellent crunch to egg or tuna salads or shave it on top of a sandwich. Fennel is full of cancer fighting minerals and can help reduce inflammation. It's been recognized since ancient times for it's medicinal uses.
And on a sweeter note, Samuel and I are anxiously awaiting the strawberries up here in Buellton. Here's a picture from this morning when we were romping around out in the field cheering them along.


Know someone who could use more vegetables in their life? Consider giving the gift of health. We sell one month certificates upon request.
CSA Contains:
FENNEL from FRECKER FARMS
ROMAINE LETTUCE
CHIOGGIA BEETS from SUNRISE ORGANICES
HAAS AVOCADOS from ORTEGA RIDGE RANCH
LEEKS
FUJI APPLES from CUYAMA ORCHARDS
RED CABBAGE
CARROTS
BLUEBERRIES from GOLETA FARMING
COLLARD GREENS
BIG BOX ADD: CARROTS, YELLOW ONIONS from FINLEY FARMS, SALAD MIX,
Kale Chip Nachos: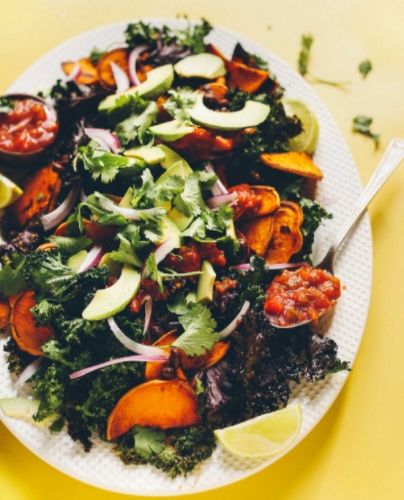 Ingredients:
KALE CHIPS
1 large or 2 small bundles (~500 g) curly kale
2-3 Tbsp (30-45 ml) avocado oil or melted coconut oil
Healthy pinch each sea salt + black pepper
1 tsp chili powder
1 tsp cumin
optional: 1 Tbsp (3 g) nutritional yeast
BLACK BEANS
1 15-ounce (425 g) can black beans (if unsalted, add 1/4 tsp sea salt), slightly drained
1 tsp ground cumin
1 tsp chili powder
SWEET POTATOES
1 Tbsp (15 ml) coconut or avocado oil
1 large sweet potato (~150 g), sliced into 1/4-inch rounds (organic when possible)
TOPPINGS optional
Ripe avocado
Favorite salsa (or make your own!)
Fresh chopped cilantro
Sliced red onion
(Find the full recipe and directions here at Minimalist Baker)
Harissa Portobello Mushroom "Tacos"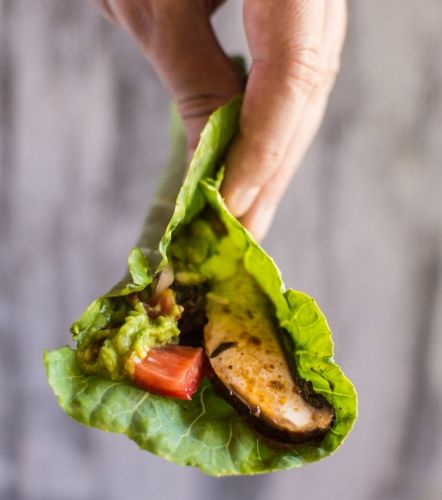 Ingredients:
Portobello Mushrooms
1 lb (450g) portobello mushrooms
1/4 cup (60g) spicy harissa , or use a mild harissa
3 TBS olive oil, divided
1 tsp ground cumin
1 tsp onion powder
6 collard green leaves
Guacamole
2 medium ripe avocados
2 TBS chopped tomatoes
2 TBS chopped red onion
1 1/2 to 2 TBS lemon or lime juice
pinch of salt
1 TBS chopped cilantro
Optional Toppings
cashew cream
chopped tomatoes
chopped cilantro
(Find the full recipe here at Healthy Nibbles and Bits)
Sukuma Wiki (Kenyan Braised Collard Greens and Ground Beef)


Ingredients: Serves 4
1 tbsp olive oil
1/2 white onion, coarsely chopped
1 jalapeño pepper, chopped
2 cloves garlic, chopped
1 tsp each sea salt, cumin, coriander
1/2 tsp each black pepper, cinnamon, ground ginger, ground fennel seeds, turmeric
1 lb ground beef
1 bunch collard greens (about 8 leaves), stems removed, sliced or chopped
8 cherry tomatoes, quartered
1 tsp lemon juice
(Find the full recipe and ingredients here at The Domestic Man)
Fennel and Apple Salad


Ingredients:
2 tablespoons apple cider vinegar
1 tablespoon extra-virgin olive oil
Juice from half a lemon
1 tsp. Dijon mustard
1/2 tsp. sugar
1/4 tsp. salt
1/4 tsp. black pepper
1 apple, cored and thinly sliced
1 medium fennel bulb, trimmed and thinly sliced (reserve a few fronds)
2/3 cups walnuts, chopped
1/3 cup golden raisins
(Find the full recipe and directions here at The Floating Kitchen
Easy Asian Quinoa Salad


SLAW INGREDIENTS:
1 (16-ounce) bag shredded red cabbage (or about 4 cups shredded cabbage)
2 cups cooked quinoa (I used red quinoa)
2 cups shredded carrots
2/3 cup thinly-sliced green onions (insert leeks here)
1/2 cup slivered or sliced almonds, toasted
2 tablespoons sesame seeds
Asian honey vinaigrette (see below)
ASIAN HONEY VINAIGRETTE INGREDIENTS:
1/3 cup vegetable oil (or any cooking oil)
3 Tablespoons rice wine vinegar
1 tablespoon honey (or agave, to make this vegan)
1 teaspoon soy sauce
1/8 teaspoon sesame oil
pinch of salt and black pepper
(Find the full recipe and ingredients here at Gimmie Some Oven)
JUICE FEAST INCLUDES:
FENNEL from FRECKER FARMS
ROMAINE LETTUCE
CHIOGGIA BEETS from SUNRISE ORGANICES
HAAS AVOCADOS from ORTEGA RIDGE RANCH
FUJI APPLES from CUYAMA ORCHARDS
RED CABBAGE
CARROTS
BLUEBERRIES from GOLETA FARMING
COLLARD GREENS
PARSLEY and CILANTRO