Happy second day of spring!! The chickens are laying lots of eggs. We have filled all egg subscription and we are offering more if you would like to join. Simply click on the "change subscription" button in your account and add the weekly (or bi-weekly) dozen to your share. These chickens are seriously loved. They help keep me sane with the work that incorporates keeping them happy and clean.
We are looking forward to peppers and tomatoes, to name a few, in the boxes soon. You are receiving 2 different kinds of peas this week. Sugar snap peas are for whole eating and English peas will be skinnier and need to be shelled first. A little more work, but worth it! If you've never had fresh enlish peas you are in for a treat!
Our zucchini has popped up and is looking so delicious we had to put it in the boxes this week!
CSA Contains:
CARROTS
RED LEAF LETTUCE
STRAWBERRIES
GREEN ZUCCHINI
SUGAR SNAP PEAS
YUKON GOLD POTATOES from T&D WILLY
LACINATO KALE
CILANTRO
RED BEETS
ENGLISH PEAS
BIG BOX ADD: RED BUTTER, CARROTS, RUBY RED GRAPEFRUIT from SOMMERS RANCH, STRAWBERRIES, LEEKS
FRUIT EXPANSION: 2 baskets of STRAWBERRIES

Spicy Cilantro-Peanut Slaw


Ingredients:
1/2 large head green cabbage, very finely chopped
1/2 cup peanuts, chopped (Carolyn prefers almonds or cashews!)
1/2 cup thinly sliced green onions
1 bunch cilantro, chopped (use at least 1/2 cup chopped cilantro, or more)
salt and fresh ground black pepper to taste
Dressing Ingredients:
2 T rice vinegar (not seasoned)
1 T agave nectar or honey
2 tsp. sesame oil
2 tsp. soy sauce
1 tsp. Sriracha sauce (or less, or this can be left out for a less spicy version)
(Full recipe and directions from Kalyn's Kitchen)
Kale, White Bean, and Potato Soup


Ingredients:
1 cup dry canellini beans, soaked
1 bay leaf
1 tbsp EVOO, extra virgin olive oil
1 sweet onion, diced
2 cloves of garlic, smashed and roughly chopped
8 cups of no-chicken stock (I love Better than Boullion)
1 tbsp fresh rosemary
1.5 pounds of yukon gold potatoes, chopped into big bite-sized pieces
3 cups of kale, ribs removed and roughly chopped
salt and pepper
Optional: hot sauce to taste
(For full recipe and directions please visit The Local Vegan)
Quinoa Beet Kale Apple Walnut Goat Cheese Salad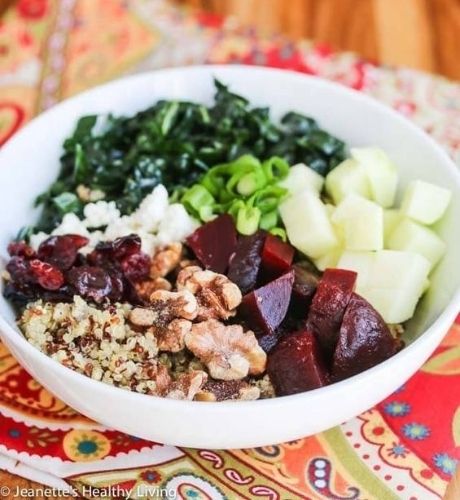 Ingredients: Serves 4
1 cup quinoa
2 cups water
4 cups lacinato kale, cut into strips
2 teaspoons extra virgin olive oil
juice of half lemon
a few dash of salt
1/2 pounds roasted beets, chopped
1/4 cup dried cranberries
1 apple, diced
1/4 cup toasted walnuts
4 ounces goat cheese, crumbled
2 scallions, chopped
Dressing:
2 tablespoons flax seed oil
2 tablespoons extra virgin olive oil
2 teaspoons raw honey
1/4 cup unfiltered apple cider vinegar
1 teaspoon Dijon mustard
1 teaspoon prepared horseradish
1 clove garlic, minced
1/2 teaspoon sea salt
1/4 teaspoon freshly ground black pepper
(Find the full recipe and directions here at Jeanette's Healthy Living)
Quinoa Fried Rice


Ingredients:
3 cups cooked quinoa
2 Tbs vegetable oil
1 small white onion, chopped
1 cup frozen peas and carrots, thawed (OR FRESH!! make sure to shell the english peas!)
2-3 Tablespoons soy sauce (more or less to taste)
1 teaspoon sesame oil
2 eggs, lightly beaten
2 Tbsp chopped green onions (optional)
(Find the full recipe and directions here at the recipe critic)
JUICE FEAST CONTAINS:
CARROTSx2
ROMAINE LETTUCE
STRAWBERRIES
GREEN CABBAGE
RUBY RED GRAPEFRUIT from SOMMERS RANCH
LACINATO KALE
CILANTRO
RED BEETS
DANDELION GREENS