Week of March 25th – the farm box essentials
Every week our farm box is loaded with sweet carrots and crispy fresh lettuce. Sometimes it's good to take a step back and appreciate the process. Every 10 days -2 weeks a few guys sit at a table and hand seed the lettuce into flats of soil.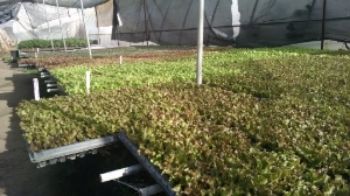 The flats then sit in a special area covered in plastic to create heat and are taken care of daily. Those flats are then hand sown into the ground and weeded with a hoe when necessary. Approximately 3 months later each head is handpicked and packed into a box for our CSA the day of or before you receive it. The carrot seeds are dropped into the ground via tractor, but are sown into the ground every 2 weeks as well so we can sustain a consistent supply.
I saw the first cucumber come out of our green house today. Most of them are teeny tiny, but it's fun to know they are coming soon.


Granola of the week is Cranberry Cashew, my favorite! Baked fresh to order, its made right here in Goleta. Shop for it here in our CSA store.
CSA Contains:
CARROTS
RED LEAF LETTUCE
FAVA BEANS
ITALIAN PARSLEY
LEEKS
GREEN KALE
CAULIFLOWER
STRAWBERRIES
GREEN CABBAGE
GREEN ZUCCHINI
BIG BOX: SPINACH, RED BEETS, CARROTS, ROMAINE, STRAWBERRIES
Fruit Expansion Contains: Fuji Apples and Strawberries
Feeling intimidated by peeling and eating favas? Check out this quick tutorial.
Crispy Salmon Filet with Fava Bean Mash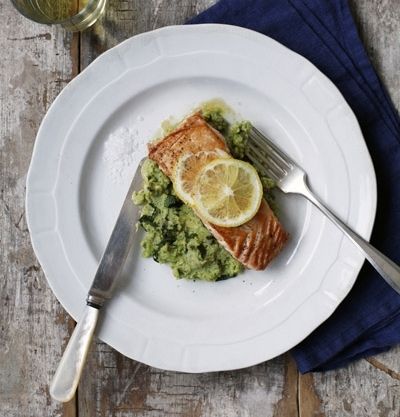 (Per author: Our fava bean mash is the star of this dish. Any protein will do, although seafood is a beautiful way to compliment the simplicity of favas. They are short-lived, so peep your farmer's market and snatch up a bundle of beans before you blink and the barrel of starlets are gone!)
Ingredients: Serves 2
1 pound fava beans, in their shells
4 tablespoons olive oil, divided
2 tablespoons mint, roughly chopped
2 6oz fillets of salmon, skin on
salt and pepper
Directions:
Shell the fava beans and set aside. Fill a medium saucepan halfway with salted water and bring to a boil. Reduce the heat to medium low and continue to cook for 3 minutes. Strain the beans into a medium size bowl, remove the outer layer of each bean, and add 2 tablespoons of olive oil. Using a fork or potato masher, smash the beans until smooth but still chunky. Mix in the mint and finish with salt and pepper to taste.
Heat a nonstick pan or skillet over medium high heat. Pat the salmon filets dry. Using the remainder of the olive oil, drizzle over the skin side of the fish. Place skin side of the salmon into the pan and cook 3/4 of the way through. Flip the fish and allow to cook for a minute longer then remove it from the pan. On serving dishes, place a spoonful of fava bean mash on each plate and top with the salmon filet. Drizzle with extra olive oil if desired and devour immediately.
(Recipe and photo from The Jewels of NY)
Shrimp Scampi with Zucchini Noodles


Ingredients: Serves 2-4
2 Tablespoons olive oil
1 pound jumbo shrimp, shelled and deveined
1 Tablespoon minced garlic
1/4 teaspoon crushed red pepper flakes (optional)
1/4 cup white wine
2 Tablespoons freshly squeezed lemon juice
2 medium zucchini, cut into noodles
Chopped parsley, for garnish
Directions:
Place a large sauté pan over medium-low heat. Add the olive oil and heat it for 1 minute. Add the garlic and crushed red pepper flakes and cook them for 1 minute, stirring constantly.
Add the shrimp to the pan and cook them, stirring as needed, until they are cooked throughout and pink on all sides, about 3 minutes. Season the shrimp with salt and pepper and then using a slotted spoon, transfer them to a bowl, leaving any liquid in the pan.
Increase the heat to medium. Add the white wine and lemon juice to the pan. Using a wooden spoon, scrape any brown bits from the bottom of the pan, cooking the wine and lemon juice for 2 minutes. Add the zucchini noodles and cook, stirring occasionally, for 2 minutes. Return the shrimp to the pan and toss to combine. Season with salt and pepper, garish with parsley and serve immediately.
Notes: To cut zucchini into noodles, use a mandoline or a spiralizer. Or simply slice them up into noodle shape.
(Recipe and photo from Just a Taste)
Coconut Curried Cauliflower with Kale


Ingredients: Serves 4
1 tablespoon coconut oil
1/2 onion, thinly sliced (or 1 leek)
4 cloves garlic, minced
2-inch piece ginger, minced
1 head cauliflower, chopped
1/2 cup water
1 tablespoon coconut aminos (braggs aminos or soy sauce would work too)
2 teaspoons turmeric
1/2 teaspoon sea salt
1 cup mushrooms, sliced thinly
1 cup kale, shredded
1 and 1/2 cups coconut milk (here is a link to my recipe)
Directions:
Heat the coconut oil in the bottom of a skillet on medium heat. When the pan is hot and the fat is melted, add the onion and cook, stirring for eight minutes. Add the garlic and ginger, and cook for another minute, until fragrant. Add the cauliflower, water, coconut aminos, turmeric, and sea salt, and cook, covered, for 7-10 minutes, or until most of the water is absorbed, stirring occasionally.
Add the mushrooms, kale, and coconut milk, and turn down to a simmer to cook for another 7-10 minutes, until both are soft. Serve warm.
(Recipe and photo from Autoimmmune Paleo)
JUICE FEAST CONTAINS:
CARROTS x2
ROMAINE LETTUCE
ITALIAN PARSLEY/MINT
RED BEETS
GREEN KALE
SPINACH
STRAWBERRIES
GREEN CABBAGE
FUJI APPLES from CUYAMA ORCHARD
LACINATO KALE