Tip of the week: Don't have a spiralizer on hand? Never fear. There are ways you can create zucchini noodles without a spiralizer.
*Use a vegetable peeler. Apply light pressure with a vegetable peeler along the sides of the zucchini. You'll end up with wide, fettuccine-like slices. Here's a guide to peeling vegetables quickly, with no cut fingers!
*Use a knife. Carefully carve strips from the zucchini, working until you reach the core. These zoodles will look more rustic and have a thicker bite than peeled zukes.
*Use a grater. For a short, ricelike zucchini noodles, roughly shred the vegetable lengthwise against a box grater. Press away excess liquid.
Kitchen tip: With all the above methods, be sure to omit the soft seeded core of the zucchini or your zoodles will end up soft and mushy.
CSA Contains:
RED LEAF LETTUCE
STRAWBERRIES
CARROTS
GREEN ZUCCHINI
GOLDEN BEETS from SUNRISE ORGANICS
BUNCHED SPINACH from SUNRISE ORGANICS
SUGAR SNAP PEAS
BASIL
GREEN CABBAGE
BLUEBERRIES from GOLETA GROWN
BIG BOX ADD: SUGAR SNAP PEAS, CARROTS, ROMAINE LETTUCE, SWEET SPRING ONIONS, STRAWBERRIES
Juice Feast Contains:
ROMAINE LETTUCE
STRAWBERRIES
CARROTS
LACINATO KALE
GOLDEN BEETS from SUNRISE ORGANICS
BUNCHED SPINACH from SUNRISE ORGANICS
CUCUMBERS
ITALIAN PARSLEY
GREEN CABBAGE
BLUEBERRIES from GOLETA GROWN
Fruit Expansion: Blueberries and Strawberries
Vegan Ramen Soup w/ Zucchini Noodles

Ingredients:
1/2 Tbsp sesame oil
1 tsp crushed garlic
1 tsp ground ginger
5 cups vegetable stock
3 cups mushrooms
1 Tbsp gluten-free soy sauce
3 zucchini
1 cup spinach
1/4 cup grated carrots
1 Tbsp chopped green onion
Salt/Pepper To Taste
(Find the full recipe and details here at Jar of Lemons)
Golden Beetroot Risotto | Vegan + Gluten-Free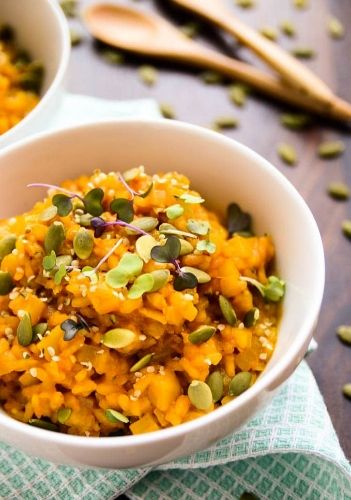 Ingredients:
1 1/2 tablespoons coconut oil or olive oil
2 cloves garlic, minced minced
2 large shallots, finely diced (about 2/3 cup)
2 cups peeled and finely diced golden beets
1 cup arborio rice
1/2 cup dry white wine, at room temperature
4 cups low-sodium vegetable broth
1/2-3/4 teaspoon sea salt or to taste (I use 3/4 teaspoon)
Freshly ground black pepper, to taste
1 tablespoon nutritional yeast
1 tablespoon shelled hemp seeds (optional)
optional garnishes: sprouts, pepitas
(Find the full recipe and directions here at Blissful Basil)
Asian Cabbage Slaw with Basil and Ginger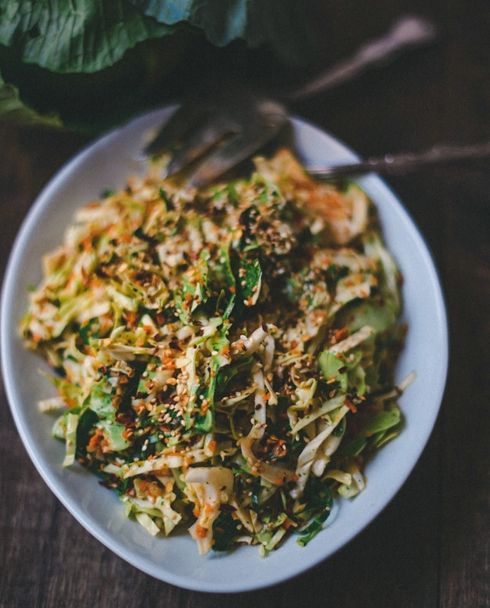 Ingredients:
1 small head of cabbage, very thinly sliced
2 garlic cloves, minced
1/2 to 1-inch ginger, peeled
3 medium carrots, shredded
1 small onion, minced
Dressing:
Scant 1/4 cup extra virgin olive oil
1 Tbsp. toasted sesame oil
1/4 cup rice vinegar
1 Tbsp. sugar
1 1/2 Tbsp. soy sauce
1/3 packed cup basil
Garnish:
1/4 cup toasted sesame seeds
Red chili pepper flakes, optional
(Find the full recipe and directions here at Food Fitness Fresh Air)