We had a great weekend here at the farm! The workers have been pulling 10 hour days and working 7 days a week for the past 3 months trying to keep up with everything. We were able to throw them a pig roast on Saturday. My husband roasted a pig and one of our own turkeys underground. I made a tub of guacamole and one of the worker's wives made the biggest, best tasting bowl of mole I've ever had. At around 3:30 on Saturday, after everyone was done, we congregated on the farm and all ate together. It was great to show appreciation to the people who make this happen for us everyday. If you eat today, thank a farmer!! The weekend was also full of other things like putting plastic up on green houses, stringing up blackberries, picking all the veggies for the 8 farmers markets we visited yesterday and more.
Cindy Dollar is cooking up some new creations in her kitchen here in Goleta. Fresh baked cookies are now available in two flavors, Chocolate Chip Peanut Butter Oatmeal and Cran-Chocolate Almond Oatmeal. Made with organic ingredients, these cookies are freshly baked, soft and chewy. Find them under the granola tab in our store. And speaking of granola – pick yourself up a bag of Raisin Pecan this week made with certified organic or certified gluten free ingredients.
All of our turkeys are laying eggs now, so we've reduced the price on the eggs. The eggs taste just like a chicken egg, but are about 25-50% larger. They live intermingled with the chickens are eat the same diet.
CSA Contains:
CARROTS
RED LEAF LETTUCE
STRAWBERRIES
GREEN ZUCCHINI
BASIL
CUCUMBERS
LEEKS
GREEN KALE
BLUEBERRIES from WHITNEY RANCH
SUGAR SNAP PEAS
BIG BOX ADD: STRAWBERRIES, CARROTS, SPRING ONIONS, BLUERBERRIES, GREEN BUTTER LETTUCE
FRUIT EXPANSION CONTAINS: Blueberries from Whitney Ranch and Strawberries

Citrusy Kale Salad W/ Blueberries and Pepitas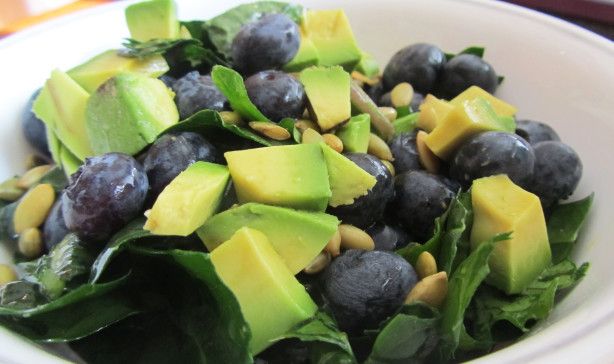 Ingredients:
1 bunch kale
2 tablespoons extra virgin olive oil
3⁄4 teaspoon sea salt
1 lemon, juice and zest of
1 orange, juice and zest of
1 teaspoon honey (or alternative sugar)
1⁄2 avocado, cubed
1 cup fresh blueberries
2 tablespoons pepitas (toasted)
(Check out the full recipe here at Food.com)
Vegetable Miso Ramen with Soba Noodles


Ingredients: Serves 2
1/2 a medium brown onion, thinly sliced
1/4 teaspoon chili flakes
2 tablespoons grapseed oil, separated
4 cups vegetable broth
2 tablespoons white miso paste
100 grams of shiitake mushrooms, stems removed and sliced
2 cloves of garlic, finely chopped
150 grams (5 ounces) of soba noodles
1 medium carrot, julienned
1 medium zucchini, julienned
handful of baby spinach leaves
1 green onion, white and light green parts, finely chopped
(Check out the full recipe here at Voracious Vander.
Creamy Thai Carrot Soup with Basil


(7 ingredient, 30-minute carrot soup that's creamy, vegan + gluten free, perfectly sweet and spicy and so delicious.)
Ingredients: Serves 4
1/2 1 large yellow onion, chopped
3 cloves garlic, diced
1 pound carrots, scrubbed (or peeled) and chopped (~4 cups)
Salt and Pepper
2 cups Veggie Stock + 2 cups water
1/3 cup creamy or crunchy salted natural peanut butter (use less for a less intense PB flavor)
2 tsp chili garlic sauce (use less for less spice)
TOPPINGS: Fresh basil, cilantro, or mint; coconut milk; brown sugar or agave nectar (sub honey if not vegan); Sriracha hot sauce
(NOT LISTED: Coconut or Olive Oil for sauteing)
(Check out the full recipe here at the Minimalist Baker.)
Blueberry Zucchini Smoothie


Ingredients: Makes 1 serving
1/2 cup zucchini (try it frozen too for a smoothie bowl)
1/2 cup frozen blueberries
1/2 cup spinach (or kale)
1-2 pitted dates to sweeten
1 tablespoon chia seeds
1 teaspoon probiotic powder (optional)
1 tablespoon almond butter (I recommend using raw homemade!)
1 cup almond milk
Toppings:
1 tbs almond butter
1 tbs blueberries
(Check out MindBodyGreen for the whole recipe)
Lemony Chicken and Spring Veggie Soup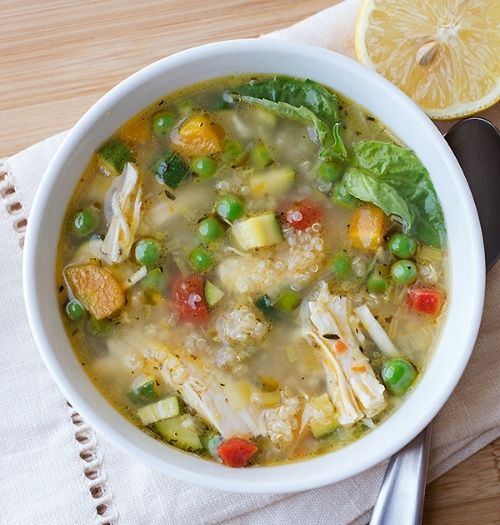 Ingredients:
2 tablespoons butter
1 tablespoon olive oil
1 leek, quartered, white part sliced
2 carrots, peeled and diced small
2 cloves garlic, pressed through garlic press
Salt
Black pepper
1 teaspoon herbs de Provence
4 cups chicken stock, hot
1 cup fresh English peas (or add in diced snap peas at the end, when the heat is off)
1 cup baby zucchini, small dice
2 cooked chicken breasts, shredded or cubed
2 teaspoons lemon zest
2 tablespoons fresh lemon juice
2 cups cooked quinoa
1/4 cup chopped, fresh basil leaves
4 lemon wedges, garnish
(Check out the full recipe here at The Cozy Apron)
Juice Feast Contains:
CARROTS
ROMAINE LETTUCE
STRAWBERRIES
ITALIAN PARSLEY
FENNEL
CUCUMBERS
GREEN KALE
BLUEBERRIES from WHITNEY RANCH
FUJI APPLES
KENNY GRAPEFRUIT from VINCENT FARMS