Week of November 23 – Happy Thanks Givens
Thanks to everyone who contributed to Thanks Givens. With your help we will be donating a lot (over $500 worth) of fresh organic produce to our community for our (now) annual Thanks Givens. Happiest Thanksgiving to you and your family from our farm. We appreciate you being on board. Pictures to follow next week.
Don't forget: We are not delivering to Whole Foods this week. If you receive delivery at Whole Foods and have not made prior arrangements your account is on hold.
CSA CONATINS:
FUYU PERSIMMONS from VINCENT FARMS
BUTTERNUT SQUASH
BROCCOLI from ELLWOOD FARMS
RAINBOW CARROTS from SUNRISE ORGANICS
CELERY
PARSLEY, THYME AND ROSEMARY
RED TOMATOES
YELLOW ONIONS
LACINATO KALE
ROMAINE LETTUCE
BIG BOX ADD: SALAD MIX, BELL PEPPERS, CARROTS, BUNCHED SPINACH, ZUCCHINI
FRUIT EXPANSION: HACHIYA and FUYU PERSIMMONS from VINCENT FARMS

Butternut Squash Quinoa with Kale, Cranberries, Walnuts and Goat Cheese
 

Ingredients
1 small/medium butternut squash, diced
1 large leaf of kale, stem removed
½ cup cranberries
¼ cup walnuts, toasted
¼ cup crumbled goat cheese
1 cup quinoa
2 cup chicken stock
olive oil
salt and pepper
(Find the full recipe and details here at Stuck on Sweet)
Sautéed Brown Butter Garlic Rainbow Carrots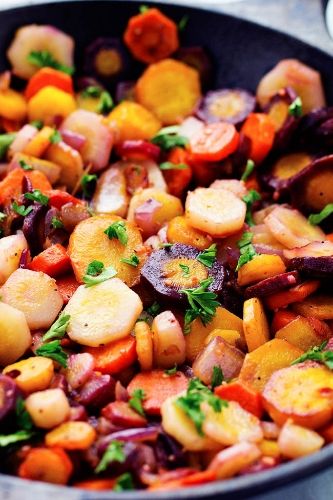 (Vibrant colored rainbow carrots get sautéed in brown butter and garlic creating a delicious side dish. They are so tender and flavorful and will become a favorite new side!)
Author: Alyssa
Ingredients
¼ cup butter
2 cloves garlic, minced
6-8 rainbow carrots, sliced*
¼ cup red onion, chopped
salt and pepper to taste
(Find the full recipe and details here at The Recipe Critic)
Harvest Cranberry, Persimmon and Burrata Salad


Ingredients:
1/2 cup raw walnuts
1/2 cup pepitas
2 tablespoon maple syrup
flaky sea salt
3-4 cups baby kale and or arugula
3-4 fuyu persimmons, cored + cut into wedges
2 clementines, peeled
3/4 cups dried cranberries
8 ounces fresh burrata cheese, torn
Cranberry Balsamic Dressing
1/4 cup 100% cranberry or pomegranate juice
1/4 cup balsamic vinegar
1 tablespoon lemon juice
1/3 cup olive oil
salt + pepper, to taste
(Find the full recipe and directions here at Half Baked Harvest)
Broccoli Quinoa Casserole


Ingredients:
2 1/2 cup uncooked quinoa
4 1/2 cup low-sodium vegetable stock, or water
2 tbsp pesto sauce
1/2 tsp celtic salt
2 tsp arrowroot powder, or cornstarch
2 cups fresh organic spinach
12 oz skim mozzarella cheese, I used 16oz
1/3 cup parmesan cheese
12 oz fresh broccoli florets
3 green onions, chopped
(FInd the full recipe and directions here at Eat Good 4 Life)
JUICE SHARE Contains:
FUYU PERSIMMONS from VINCENT FARMS
BUNCHED SPINACH
RAINBOW CARROTS from SUNRISE ORGANICS
CELERY
PARSLEY
RED TOMATOES
YELLOW ONIONS
LACINATO KALE
ROMAINE LETTUCE
CUCUMBERS