We have a few dozen small chicken eggs in stock. When a chicken first starts laying eggs they are quite a bit smaller than a normal size egg. It takes about 2-3 months for the chicken to start laying normal size eggs depending on the breed. A lot of our chickens are just starting to lay so these eggs will be available moving forward. We are back up to 200+ chickens, and with a secure free range atmosphere, these hens are living the high life.
Delicious local granola and cookies are being offered the first week of each month. We are collecting orders today through next week to lock down your supply for the month.
Also make sure to check out all the delicious bread Wendy at Deux Bakery has to offer. I've been hooked on their Whole Wheat Sourdough, but I've yet to try a loaf I don't love. Not to mention their scones and muffins. They are up at 2am baking this stuff fresh for us and you can tell when you taste it. If your loaf isn't sliced it's because it was too hot out of the oven to do so. You can visit the bakery on Reddick St. or enjoy their baked goods at Scarlett Begonia too.
CSA Contains:
GREEN BEANS
CIPPOLINI ONION
RED LEAF LETTUCE
BUNCHED SPINACH
RED TOMATOES
CUCUMBERS
BUTTERNUT SQUASH
CARROTS
ITALIAN PARSLEY
YELLOW CHERRY TOMATOES from Sunrise Organic Farms
BIG BOX ADD: CARROTS, ROMAINE LETTUCE, BERRIES, SUGAR SNAP PEAS, ZUCCHINI, HEIRLOOM TOMATOES
Fruit Expansion: Berries from our farm and either Fuyu Persimmons from Regenerative Earth Farms or Bartlett Pears from Vincent Farms
*Both the persimmons and the pears may need some time on the counter top to ripes. Persimmons should be darker orange and pears should be a little soft

Roasted Butternut Squash, Spinach and Black Bean Tacos


Ingredients:
1 butternut squash, about 2 lb., peeled, seeded, and cut into 3⁄4-inch (2-cm) cubes
3 Tbs. olive oil
1 Tbs. chili powder
Kosher salt and freshly ground pepper, to taste
1 cup sour cream or crème fraîche
1 small chipotle chile in adobo sauce, minced
1 tsp. fresh lime juice
10 oz. baby spinach or stemmed and chopped regular spinach
8 to 10 flour or corn tortillas, warmed
2 cans (15 oz.) black beans, drained, rinsed and warmed
(Check out the full recipe here at Williams Sonoma)
Parsley Pesto


Ingredients:
2 cups packed fresh parsley (partial stems removed and cleaned)
3/4 cup raw cashews (so much cheaper than pine nuts)
2 cloves garlic
1/3 cup olive oil
1 TBSP lemon juice
1/2 tsp lemon zest
sea salt and pepper to taste
(Recipe adapted from Pure and Simple Nourishment)
Put your pesto over a plate of stir fried veggies, noodles, chicken, fish or just spread it on toast. Parsley is full of antioxidants, is considered anti-inflammatory and can help strengthen your immune system. It will also put a pop of flavor onto anything its covering. So don't be shy – smoother it on.
Roasted Tomato Soup


Ingredients: Serve 2 as an entree, 4 as a side
1 1/4 lb. Ripe Tomatoes (about 4 Large Tomatoes)
1/2 Medium Yellow Onion
3 Garlic Cloves
1 Tbsp. Extra Virgin Olive Oil
1 tsp. Sea Salt
Fresh Ground Pepper
1 Tbsp. Chopped Parsley
1 1/2 Cups Low Sodium Vegetable or Chicken Broth
1 Tbsp. Organic Tomato Paste
1/4 Cup Heavy Cream or Half and Half, optional
Fresh Oregano + Basil for garnish
Fresh Grainy Bread
(Find the full recipe here at The Spouted Kitchen)
Smoky Roasted Chicken Breasts with Chickpeas, Tomatoes and Cilantro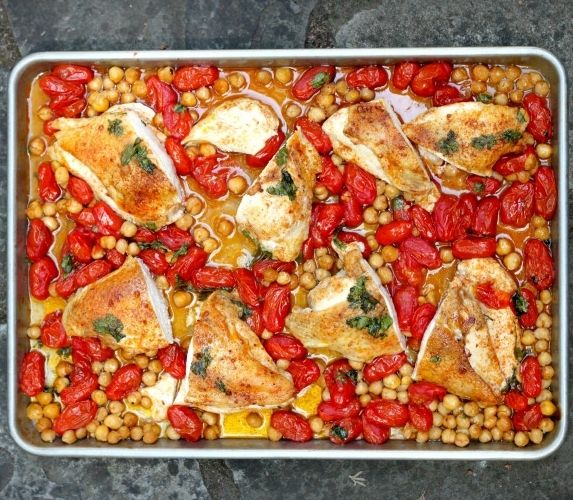 Ingredients: Serves 4 to 5.
5 tablespoons extra-virgin olive oil
4 garlic cloves, minced
1 tablespoon smoked paprika
1 teaspoon sweet paprika
1 teaspoon ground cumin
2 teaspoons salt, divided
1 teaspoon freshly ground black pepper
1/2 teaspoon crushed red pepper
1 cup Greek whole milk yogurt
4 large chicken breasts with skin, de-boned, 6 to 8 ounces each
2 cups grape tomatoes
1 (15-ounce) can chickpeas (garbanzos), drained and rinsed
1 cup fresh Italian parsley sprigs, divided
(Find the full recipe and directions here at the Taste Food Blog)
Asian Salmon and Green Beans Stir Fry


Ingredients:
1.5 lbs salmon fillet, cut into 1″ cubes
3 tbsp soy sauce, divided (I used Bragg Liquid Aminos)
11 oz green beans, trimmed & cut into 1″ pieces
2 cups mushrooms, sliced
1 tbsp garlic, crushed & divided
1 tbsp ginger, minced & divided
2 tsp sesame oil, divided
1/2 lemon, juice of
1/4 cup green onion, chopped
1/2 tbsp sesame seeds
(Get the full recipe from iFoodReal)
JUICE FEAST CONTAINS:
LACINATO KALE
BLACKBERRIES
ROMAINE LETTUCE
BUNCHED SPINACH
RED TOMATOES
CUCUMBERS
GRANNY SMITH APPLES from REGENERATIVE EARTH FARMS
CARROTSx2
RED BEETS
BARTLETT PEARS from VINCENT FARMS