I can't believe it's already October, but I can definitely feel the crispness to the air up here in Buellton. And with that chill comes a startling halt to a lot of warm weather crops. Keep an eye on the blog as it may change with what we can actually pick this week. If we get melons it will definitely be the last week for them.
I listen to a lot of health related podcasts to keep up on the latest findings in health. I always knew it was important to eat a variety of vegetables to get the most diverse nutrients, but I recently learned that one key facet of good gut health that is a fairly new discovery — is eating an ample and diverse amount of produce. It is a key to healthy gut function because of its influence on gut bacteria. I find when I go to the store I tend to buy the same things, so it's cool to have such a variety of things in our CSA boxes every week.
And my last note is for broccoli. I've been reading and hearing so many amazing detoxification benefits that this vegetable provides. Researchers at Johns Hopkins University's School of Medicine found that broccoli contains a potent sulphur-containing chemical called sulforaphane that can turn on our genes and cause them to produce both antioxidant, and detoxification enzymes. When we eat raw broccoli, our chewing enables the release of an enzyme, myrosinase, which is trapped in the cell walls of this plant. Eating the vegetables raw, or lightly steamed is best, as it will preserve the enzyme activity, and having healthy bacteria in your intestines will help as well. Check out a recipe below for a delicious raw broccoli salad. I tried it and my whole family enjoyed it!
CSA Contains:
CARROTS
STRAWBERRIES
GREEN LEAF LETTUCE
MINI SWEET BELL PEPPERS
RED TOMATOES
CUCUMBERS
GREEN ZUCCHINI
YELLOW ONIONS
BROCCOLI
HEIRLOOM TOMATOES
BIG BOX ADD: CARROTS, ROMAINE LETTUCE, MOUNTAIN MAGIC TOMATOES, ACORN SQUASH, LACINATO KALE
FRUIT EXPANSION: GALA APPLES from CUYUAMA ORCHARD and STRAWBERRIES from SUNRISE ORGANICS
JUICE FEAST:
CARROTS
STRAWBERRIES
ROMAINE LETTUCE
GALA APPLES
CUCUMBERS
LACINATO KALE
ITALIAN PARSLEY
CANARY MELON
GREEN KALE
CELERY

Quinoa Broccoli Slaw with Honey-Mustard Dressing


Ingredients:
Slaw:
3/4 cup Uncooked Quinoa
1 1/2 cups Water
1/2 cup Slivered or Sliced Almonds
1 1/2 lbs Broccoli
1/3 cup Chopped Fresh Basil
Honey-Mustard Dressing:
1/2 cup Olive Oil
2 Tbsp Lemon Juice
2 Tbsp smooth Dijon Mustard
1 Tbsp Apple Cider Vinegar or more Lemon Juice
1 Tbsp Honey
2 medium Cloves Garlic, pressed or minced
1/2 tsp Sea Salt
Freshly Ground Pepper, to taste
Red Pepper Flakes, optional
(Find the full recipe and directions here at Healthy Living)
Spicy Roasted Carrots with Tahini Lentil Salad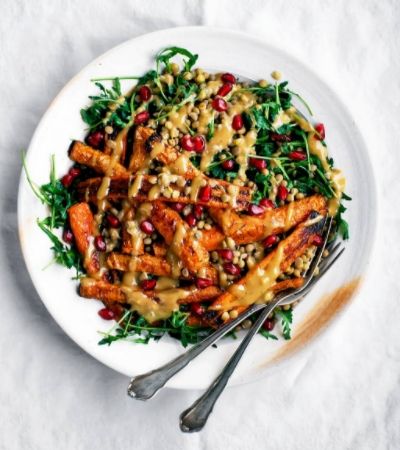 Ingredients:
150 grams / 3/4 cup dry lentils*
7-8 medium carrots halved lengthwise (~300 grams)
1 teaspoon oil
1/2 teaspoon sea salt
1/2 teaspoon pepper
1/2 teaspoon cayenne pepper to taste
1/2 teaspoon sumac**
60 grams / 2 cups rucola or other mild greens
Tahini Vinaigrette
3 tablespoons olive oil
2 tablespoons balsamic vinegar***
1 tablespoon tahini
1 teaspoon dijon mustard
1/4 teaspoon maple syrup or honey
1/4 teaspoon sea salt to taste
1 clove garlic minced
(Find the full recipe and directions here at Occasionally Eggs)
One Pot Taco Zucchini Noodles


Ingredients:
1 tbsp olive oil
2 large zucchinis spiralized
1 lb lean ground turkey
1 clove garlic minced
1/2 small brown onion peeled and finely chopped
3 tbsp of homemade taco seasoning or one packet of your favorite taco seasoning
1/4 cup water
14 oz can diced tomatoes (try using your own tomatoes here!)
1/2 cup shredded cheddar cheese
fresh cilantro leaves
one lime sliced into wedges
HOMEMADE TACO SEASONING
1 tbsp chili powder
1/4 tsp garlic powder
1/4 tsp onion powder
1/4 tsp dried oregano
1/2 tsp paprika
1 1/2 tsp ground cumin
1 tsp table salt
1 tsp ground black pepper
(Find the full recipe and inspiration here at Kirbie Cravings)