We are resuming deliveries to Mountain View School this coming Wednesday. If you previously picked up there or would like to pick up there moving forward please log into your account and change the pick up location. I'm here to help if you need it.
CSA Box Contains:
RED BELL PEPPERS
CILANTRO
GREEN LEAF LETTUCE
CANTALOUPE
RED ONIONS
HASS AVOCADOS from VINCENT FARMS
HEIRLOOM TOMATOES
GREEN ZUCCHINI
DELICATA SQUASH
CARROTS
BIG BOX ADD: RED CHERRY TOMATOES, CARROTS, GREEN CURLY KALE, BLACKBERRIES AND RASPBERRIES
Fruit Expansion includes: Blackberries and Raspberries
Avocado Breakfast Bake


Ingredients:
2 avocados
4 eggs
salt and pepper
Toppings of choice: My favorite is feta and green onions, but salsa and fresh cilantro are also really good with the avocado.
(Find the full recipe here at Wellness Mama)
Avocado Cup Salads with Black Bean Confetti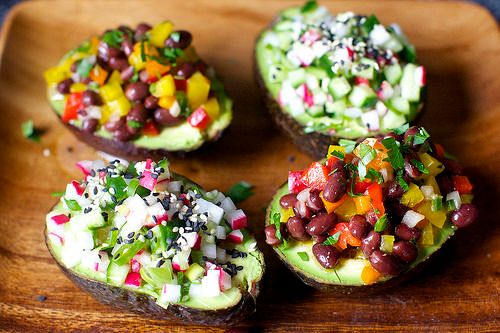 (You could bulk this up further with some diced tomatoes or even cooked shrimp.)
Ingredients: Serves 4
1 cup black beans, cooked, drained (about 2/3 of a 15-ounce can)
1 large bell pepper, finely diced (I used a mix of colors because we keep them around for the kid)
1/4 cup finely diced white or red onion
1 small jalapeno, seeded and minced
1/4 cup olive oil
2 tablespoons freshly squeezed lime juice (from about 1 lime)
1/4 teaspoon coarse salt, plus more to taste
1/2 teaspoon ground cumin
Dashes of hot sauce or pinches of cayenne, to taste
Chopped cilantro for garnish
4 ripe avocados
(Find full recipe and directions at Smitten Kitchen)
OR Check out this Chocolate Peanut butter avocado pudding recipe. I've made plenty of desserts with avocados and it works SO well.
Kale Quinoa Stuffed Delicata Squash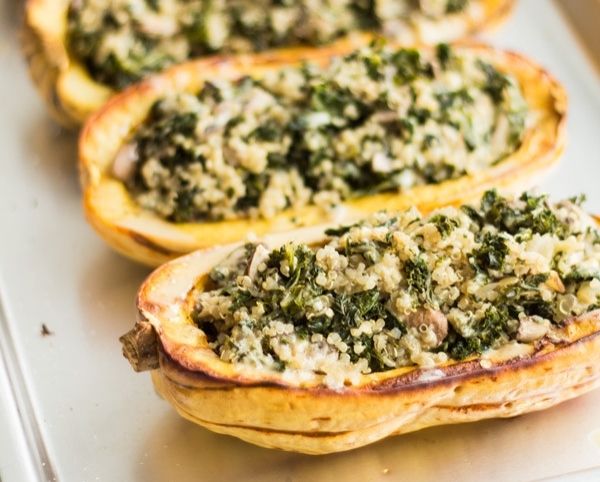 (These little unassuming squash are some of my absolute favorites. Who knew that you can roast this squash up in as little as 20 minutes and eat the WHOLE THING, skin and all. And it's so sweet you don't need to add anything to it. Check out this recipe to dress this squash up.)
Ingredients: Serves 4…um…or 2 if you eat like me 😉
2 delicata squashes
1/2 cup quinoa
1 bunch kale
5 oz mushrooms
1 small onion
2 cloves of garlic
salt
pepper
2 Tbsp tahini
2 Tbsp olive oil
(Get the full recipe and directions at Green Healthy Cooking)
Cilantro Pesto over Zucchini Noodles


(I made something similar yesterday and it was so good. I also added onions, carrots and red peppers into the pan before i cooked the zucchini. I adjusted this recipe in half to accommodate our CSA box.)
Ingredients:
1 bunch cilantro
1/4 cup cashews
1 avocado
1 Tablespoons avocado or olive oil
2 cloves garlic
1 recipe of zucchini noodles
Freshly chopped tomatoes about 1 and 1/2 cups
(Find full recipe and directions here at GI365)
Thai Pineapple Fried Rice


(Thai-style sweet and spicy pineapple fried rice with red bell pepper, cashews and cilantro. This is a healthy and quick, vegetarian weeknight dinner! This dish comes together very quickly, so be sure to have your ingredients prepped and located near the stove before you start cooking. Chilled leftover rice works best in stir fries because it doesn't clump together, so cook the rice in advance if time allows (one cup dry rice will yield slightly over two cups cooked rice.)
Ingredients: Yields 2 large, restaurant-sized portions or 4 more modest portions.
2 tablespoons coconut oil or quality vegetable oil, divided
2 eggs, beaten with a dash of salt
1½ cups chopped fresh pineapple
1 large red bell pepper, diced (about 3/4 cup diced)
1/2 bunch green onions, green and white parts, thinly sliced (about 1/2 cup)
2 cloves garlic, pressed or minced
1/2 cup chopped raw, unsalted cashews
2 cups cooked and chilled brown rice, preferably long-grain brown jasmine rice
1 tablespoon reduced-sodium tamari or soy sauce
1 to 2 teaspoons chili garlic sauce or sriracha
1 small lime, halved
Season with salt, to taste
Handful fresh cilantro leaves, chopped, for garnishing
(For full recipe and directions please visit Cookie and Kate)
Juice Feast Includes:
RED BELL PEPPERS
CILANTRO & MINT
RED ROMAINE LETTUCE
CANTALOUPE
FUJI APPLES
CARROTS x2
GREEN CURLY KALE X2
BLACKBERRIES
CUCUMBERS