Week of 2/18 – a farmaceutical box
For anyone who is patiently waiting on the egg list, the time is soon approaching. The hens are enjoying the warmer weather, and ever increasing length of days. We are seeing an increase in egg production and are just waiting for a lot of those eggs to increase in size, as the newer chickens are now laying.
We say goodbye to satsumas this week and hello to green cabbage. As we head through the next few months we will experience more variety as new crops start to emerge.
Your box is truly full of "farmaceuticals" this week. Dill, an anti inflammatory substance, includes its ability to boost digestive health, as well as provide relief from insomnia, hiccups, diarrhea, dysentery, menstrual disorders, respiratory disorders, and cancer. Cabbage is an excellent source of manganese, calcium, and potassium. It is a very good source of iron, phosphorous, magnesium, fiber, folate, and omega-3 fatty acids. Furthermore, sodium, zinc, and copper are found in good amounts in cabbage. Fennel includes relief from anemia, indigestion, flatulence, constipation, colic, diarrhea, respiratory disorders, menstrual disorders, eye care, etc. And that's just 3 items in the box. They don't wear capes or fly faster than the speed of sound, but these veggies are super! Picked fresh for you, they are packed full of health promoting vitamins, minerals and other nutrients for you and your family. Enjoy!! Follow us on Instagram and #somethinggoodorganics with any recipes you create at home.
(Nutritional information retrieved from OrganicFacts.net)
Cindy Dollar is cooking up some Pumpkin Spice Granola this week. It's made fresh to order in Gluten free or Organic. Get a bag of it here in our CSA store. SO DELICIOUS!
CSA for week of 2/18 Contains:
RADISHES
SUGAR SNAP PEAS
CARROTS
LEEKS
BUTTERNUT SQUASH
ROMAINE LETTUCE
GREEN KALE
BABY SPINACH
GREEN CABBAGE
DILL
BIG BOX ADD: FUJI APPLES from CUYAMA ORCHARD, CAULIFLOWER from TUTTI FRUITY, FENNEL, CARROTS, SALAD MIX
Butternut Squash and Kale


(Make this into quesadillas, yes please! Or into a grilled cheese. Does cheese make everything better…yes..why yes it does. Or grill some chicken, put it inside pita bread, stuff it full with the squash/kale mixture, and spoon in a yogurt/herb mixture as a dressing.)
Ingredients: Serves 4
1/2 whole Butternut Squash; Peeled, Seeded And Cubed
2 Tablespoons Butter
1 Tablespoon Olive Oil
1/2 teaspoon Kosher Salt
Black Pepper To Taste
1/4 teaspoon Chili Powder (more To Taste)
1 bunch Kale, Leaves Torn, Stalks Discarded
Directions:
Heat 1 tablespoon butter and olive oil in a large skillet over high heat. Add squash and sprinkle with salt, pepper, and chili powder. Cook for several minutes, turning gently with a spatula, until squash is deep golden brown and tender (but not falling apart.) Remove to a plate and set aside.
In the same skillet, melt 1 tablespoon of butter over medium-high heat and add in the kale. Toss it around with tongs and cook it for 3 to 4 minutes. Add in the cooked squash and gently toss together.
Serve as a side dish with chicken or beef, as a main veggie dish, or as a filling for quesadillas or sandwiches.
(Recipe and photo from The Pioneer Woman)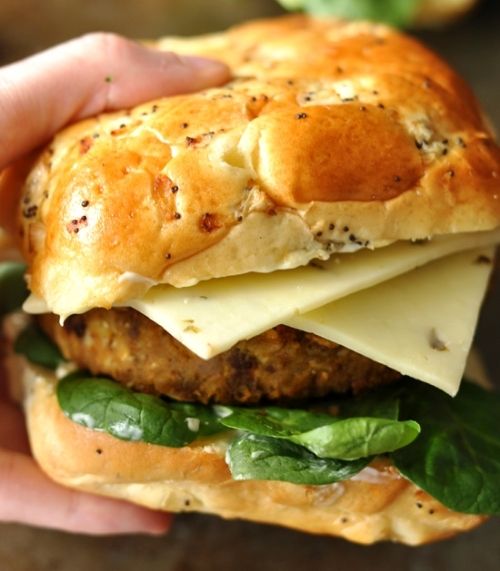 Try out these Butternut Black Bean Burgers from Peas and Crayons. Substitute fennel for the celery to get that same crunch. Bet you wont even notice and fennel has a lot of the same nutritional properties as celery.
Lemony Toasted Quinoa and Cabbage Salad


(Per author: If your body needs a reset, it's time to eat clean. This lemony toasted quinoa and wilted cabbage salad is the perfect recipe for any clean-eating endeavors; not only do the flavors meld well together, but each ingredient helps aid digestion, like the fiber in the quinoa, chickpeas, and cabbage and the detoxifying properties of lemon. Serving with an optional dollop of probiotic-filled Greek yogurt will also aid in regulating your system.) I also wanted to note that cabbage and fresh dill are EXTREMELY beneficial for your digestion and health. Salute to your health!
Ingredients:
1 1/2 cups water
1/2 cup quinoa, rinsed well
4 tablespoons extra-virgin olive oil, divided
1/2 head cabbage (about 1 pound), cored and thinly sliced lengthwise, divided
1 can (15 ounces) chickpeas, drained and rinsed
3 ounces pitted large green olives, such as Castelvetrano or Cerignola, halved (about 3/4 cup)
1 lemon, zested and juiced
1/2 cup coarsely chopped fresh dill
Salt and pepper to taste
Greek yogurt, for serving (optional) – I always recommend full fat, organic (and local if possible) dairy products if you use them
Directions:
Bring water to a boil in a medium pot over medium-high heat. Stir in quinoa and 1/2 teaspoon salt, and return to a boil. Reduce heat to low, cover, and simmer 15 minutes. Uncover, raise heat to high, and cook until water evaporates and quinoa is dry and tender, about 5 minutes (stir frequently to prevent scorching).
Heat 1 1/2 tablespoons oil in a large nonstick skillet over medium-high heat. Add half the cabbage and 1/2 teaspoon salt, and cook, stirring occasionally, until tender and golden brown in places, about 8 minutes. Transfer to a bowl. Repeat with 1 1/2 tablespoons oil, 1/2 teaspoon salt, and remaining cabbage.
3Add remaining tablespoon oil to skillet. Return sautéed cabbage to skillet, add quinoa, and raise heat to high. Cook, stirring occasionally, until quinoa is toasted and crisp, about 8 minutes. Remove from heat. Add chickpeas, olives, and lemon zest and juice, and toss to combine. Season with salt and pepper. Stir in dill, and serve with yogurt.
(Recipe from Pop Sugar)
Seared Salmon with Oranges and Fennel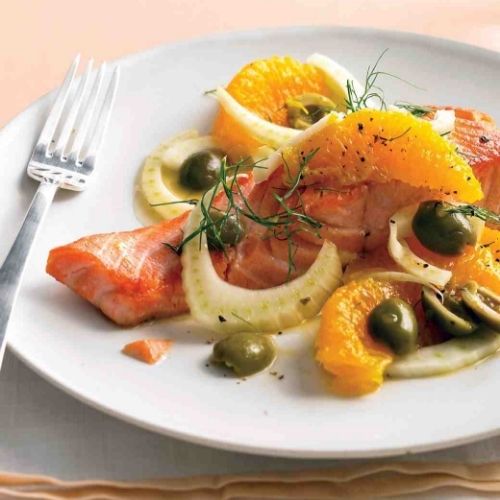 (Per Martha: Not only does the salmon take mere minutes to cook, but a refreshing seasonal topping also turns it into a sophisticated supper.)
Ingredients:
2 navel oranges, peeled, and segmented, plus 2 tablespoons fresh orange juice
1 fennel bulb (stalks removed), halved lengthwise, cored, and thinly sliced crosswise, fronds reserved for garnish (optional)
1/4 cup pitted green olives, halved
2 tablespoons fresh lemon juice
2 teaspoons olive oil
Coarse salt and ground pepper
4 skinless salmon fillets (6 ounces each)
Directions:
In a medium bowl, combine orange segments and juice, fennel, olives, lemon juice, and 1 teaspoon oil; season with salt and pepper, and toss gently. Set aside.
In a large nonstick skillet, heat remaining teaspoon oil over medium. Add salmon, flat side down; cook
until browned, about 3 minutes. Turn salmon; cook until opaque throughout, 1 to 3 minutes more. Serve salmon topped with orange mixture; garnish with fennel fronds, if desired.
(Recipe and photo from Martha Stewart)
JUICE FEAST CONTAINS:
CARROTS
ROMAINE LETTUCE
GREEN CABBAGE
GREEN KALE
FENNEL
PARSLEY
BABY SPINACH from FRECKER FARMS
FUJI APPLES from CUYUAMA ORCHARD
RED BEETS
LACINATO KALE