CSA and Juice Feast for week of December 10th
Just a reminder that we are taking the week of Christmas off. There will be no CSA production the week of December 24th. You do not have to put your share on hold, we've taken care of it for you! We will resume the following week to ring in the new year with health and local, organic produce to keep everyone healthy.
We are offering holiday CSA gift cards for a limited time. Each 6 week subscription will come with a loaf of rustic French or sourdough bread and a plantable card with the first share. Give the gift of health and leave the craziness of shopping to everyone else.
We are looking forward to late winter produce this year. Our cabbage is still tiny and expect it to come around in February with broccoli and more. We had to wait until some really devastating bugs were killed by the rains and cold weather. The farm got drenched last week on Tuesday and Wednesday. You might have noticed a few soggy CSA boxes 🙂 but the vegetables loved it. We are looking forward to more rain later on this week. We are also looking forward to planting a new orchards in a few month. With over 4 acres to plant, the years of CSA to come will be filled with fruits with the same quality you've come to expect from our vegetables.Cindy Dollar is cooking up one of my favorite granola flavors this week, Coconut Seed! Filled with healthful pumpkin seeds, grab up your bag of granola in our CSA store.
CSA contains:
CARROTS
MOUNTAIN MAGIC TOMATO CLUSTERS
RED BEETS
ITALIAN PARSLEY
RAINBOW CHARD
GREEN LEAF LETTUCE
SUGAR SNAP PEAS
LEEKS
YELLOW BELL PEPPERS
GARNET YAMS from GARCIA FAMILY FARMS
BIG BOX ADD: GRANNY SMITH APPLES, CARROTS, RED LEAF LETTUCE, RED TOMATOES, GREEN KALE
Fruit expansion includes: Granny Smith Apples from Cuyuama Orchards, Satsuma Tangeringes from Capay Organics and Hass Avocados from Goodland Organics

The Ultimate Veggie Burger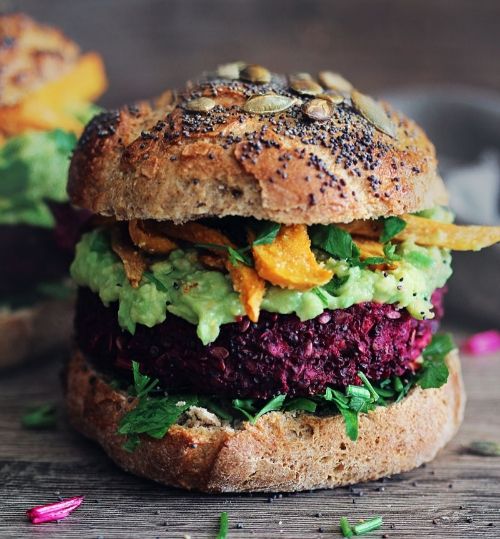 (Beets are great sources of antioxidants, especially those supporting our livers and detoxification system. Crispy on the outside, succulent and smoky-flavored on the inside, combined with delicious avocado-tahini sauce and baked sweet potato fries – this recipe has everything you would expect from a burger.)
Ingredients: Serves 4
For the Burgers
1 cup beet roots, peeled and cut in cubes
1/2 cup quinoa
1 tbsp olive oil
1 egg
1 onion, finely diced
2 garlic cloves, crushed
2 tbsp wholemeal bread crumbs
1 tbsp flax seeds
1 tsp coconut oil, melted
2 tbsp lemon juice
1/4 tsp chilli flakes
1 tsp pink Himalayan salt
For the Dressing
1 ripe avocado
2 tbsp tahini (sesame paste)
3 tbsp lime juice
1 garlic clove
1/4 tsp pink Himalayan salt
For the Fries
2 sweet potatoes, peeled and cut in ¼-inch long slices, then ¼-wide inch strips
1 tsp olive oil
1 tbsp cornmeal
For assembling
4 Wholemeal buns (or try green leaf lettuce wraps!)
1 bunch of parsley, finely chopped
Directions:
Preheat the oven at 350°F. Place the beet root cubes on a lined baking tin, rub with olive oil and roast for 30 minutes. Remove from the oven and set aside to cool. Place the roasted beets in a food processor and pulse two or three times – you need some texture for the burgers, so make sure you don't mash them completely. Transfer the beets into a large bowl, add all the other ingredients and stir to combine. If the texture is too mushy add more bread crumbs until you obtain the desired consistency. With slightly wet hands, shape the burgers and place them on a lined baking sheet. Bake for 15 minutes on one side, then flip over and bake for 15 more minutes.
Place the sweet potato strips on a lined baking sheet, rub with olive oil, than sprinkle with cornmeal and toss to combine. Bake for 25-30 minutes, or until golden brown. They will be ready in the same time with the burgers. While the burgers are baking, prepare the dressing. Place all the ingredients in the food processor and process to obtain a creamy sauce.
Assemble the burgers immediately after removing from the oven. Cut the bun in halves, spread bun bases with dressing, add the beet burger and sweet potato fries, top generously with avocado dressing, parsley and put on the bun top. Serve immediately.
(Recipe and photography from The Awesome Green)
"Ways to use swiss chard // try filling them with an avocado, little lime juice and sea salt for a quick snack; fill with Herb Falafel, fill with Spring Veggie Taco filling, classic cashew cheese, or even a banana with a little almond butter – trust me, it may sound odd, but it's an awesome snack on the go and a great way to get kids to eat their greens!" – www.nutritionstripped.com
Sweet Potato, Black Bean, Chard, and Pepper Enchiladas


Ingredients: Yields 4 Enchiladas
1 tbsp extra virgin olive oil
1 onion, chopped (~2 cups)
2 garlic cloves, minced
1 cup sweet potato, chopped
1 yellow bell pepper, chopped
1/2 bunch chard, destemmed, chopped
1 can black beans (~2 cups), drained and rinsed
Enchilada sauce or Pasta sauce (about 2.5 cups)* see note
1 tbsp nutritional yeast (optional)
1.5 tsp ground cumin
1-2 tbsp fresh lime juice, to taste
1/2 tsp kosher salt, or to taste
1/2 tsp garlic powder
1 tsp chili powder, or to taste
4 whole grain tortilla wraps
Cilantro Avocado Cream Sauce, click link below for recipe if desired
Green onion & chopped cilantro, to garnish
Directions:
Preheat oven to 350F and grab a baking dish large enough for 4 enchiladas. Pre-cook the chopped sweet potato, by simmering it in a small pot of water for about 5-10 minutes until just tender. Do not overcook. Drain and set aside.
In a large skillet or pot, add 1 tbsp oil and bring to medium to low heat. Add in the chopped onion and cook for about 5 minutes, stirring often, until translucent. Add in garlic and reduce heat to low and cook for a couple more minutes. Now add the chopped pepper, pre-cooked sweet potato, drained black beans, and chopped chard. Cook for about 5-7 more minutes on medium-low heat.
Now add in your enchilada or pasta sauce. Stir well, and add in your seasonings: nutritional yeast (optional), cumin, fresh lime juice, salt, garlic powder, chili powder- all to taste. Adjust seasonings if necessary. Stir well.
Scoop about 3/4-1 cup of the mixture onto the bottom of your casserole dish and spread out in a thin layer. Scoop about 1/2-3/4 cup of the mixture onto each tortilla and wrap, placing the fold down on the casserole dish. Repeat for the remaining 3 tortillas and leave a bit of filling left to spread over the top. Sprinkle with cheese if preferred.
Bake tortillas at 350F for 18-20 minutes. Meanwhile, make your Cilantro cream sauce (if desired). When enchiladas are cooked, remove from oven and pour the sauce over top. Garnish with chopped cilantro and green onion. Serve immediately. Makes 4 enchiladas.
Note: Depending on what kind of sauce you use, you will have to adjust the seasonings to taste. The author used a pasta sauce so likely needed more seasonings to achieve the taste desired.
(Recipe and photography from Oh She Glows)
Leeks are in the same family as garlic and onions and share the same heart healthy benefits. They help to promote your cardiovascular system by supporting healthy blood vessels. And with a delicious, mild and sweet onion flavor they are a great addition to most dishes. Whether it be eggs in the morning, a salad at lunch, or soup for dinner. Use the green parts of the leek to make your own soup stock.
Sweet Potato Vichyssoise


(Vichyssoise is a very fancy word for a more humble leek potato soup. If you don't have turmeric in your spice cupboard now is the time to invest in some. The anti-inflammatory benefits of turmeric are worth adding it to your meals.)
Ingredient: Serves 4-6
3 leeks
5 cloves garlic
4 medium sweet potatoes
6 cups vegetable broth
1 cup cooked white beans (cannellini, navy, butter…)
knob of coconut oil, ghee (clarified butter), or butter
1 Tbsp olive oil
juice of 1 lemon
1 tsp. sea salt
2 Tbsp turmeric
cayenne to taste
Directions:
Prepare leeks by removing the very tip of the root, and the tough, dark green parts at the very top. Chop leeks, then swirl them around in a large bowl of water to remove any dirt (due to how they grow, leeks can have a little grit between their layers). In a large stock pot, heat a knob of coconut oil or butter, add turmeric, cayenne and leeks with a teaspoon of sea salt. Stir to coat and let cook on medium heat for five minutes or so, until leeks have softened. Mince garlic and add to the pot.
Scrub the sweet potatoes, and chop them into rough cubes (leave the skin on!). Add them to the pot, stir and cook for a few minutes. Add broth and beans. Bring a boil, reduce to simmer and cook until sweet potatoes are soft, about 15 – 20 minutes. Using a regular blender or stick blender puree the soup until totally creamy. Add olive oil and lemon juice, plus salt to taste if necessary, blend once more and serve with Ginger-Kissed Pumpkin Seeds.
Ginger-Kissed Pumpkin Seeds
Ingredients: Makes 1/2 cup
1/2 cup pumpkin seeds (pepitas)
1/2 Tbsp. olive oil
1/2 Tbsp. maple syrup
1 Tbsp. ginger powder
pinch sea salt
Directions:
Preheat oven to 300°F / 150°C. Toss pumpkin seeds with other ingredients. Place on a baking sheet and roast in the oven for 10-15 minutes until toasty and fragrant. Remove and let cool. Store leftovers in an airtight container.
(Recipe and photography from Design Love Fest)
JUICE FEAST INCLUDES:
CARROTS
RED BEETS
ITALIAN PARSLEY
YELLOW BELL PEPPERS
ROMAINE LETTUCE
GREEN KALE
CELERY
VALENCIA ORANGES from VINCENT FARMS
GARNET YAMS from GARCIA FAMILY FARMS
GRANNY SMITH APPLES from CUYAMA ORCHARDS
*lemons too!