Week of Feb 11th: Winter CSA is sweet – come taste it for yourself
This winter has been a little sparse for the farm and we haven't had the variety we are accustomed to due to various lost battles occurring months ago. We are quickly approaching a few new items though and spring is right around the corner. We just planted a bunch of zucchini in our greenhouses to get an early start on the season. We appreciate your support in the way of our CSA boxes and promise to bring you the best of the best of the farm each week. I think we all know the difference between our organic, local vegetables picked within hours of consumption, and the rest of the produce in the store!!
My mud boots got a lot of work this weekend while we received about a half inch of rain. It was well received, but creates extra work. A lot of planning goes into the farm when it rains! We lay down cover crops before hand to get the most out of the water, pick crops a day before to avoid deterioration and more.
We are winding down on tangerines and might be able to squeeze out one more week, but then they will be gone. I hope you are enjoying them and know they are completely waste free. All boxes that hold those lil cuties are returned to Glen Annie organics to save on resources.
Cindy Dollar is cooking up some fresh Cranberry Cashew granola. 100% Organic OR Gluten Free is your choice. Just make sure to specify when checking out of our CSA Store here. We are also in process of adding some new items from Deux Bakery. When you order from the bakery everything is baked fresh, the morning of delivery.
CSA for Feb 11th Contains:
CARROTS
GREEN LEAF LETTUCE
LEEKS
RED BEETS
SUGAR SNAP PEAS
LACINATO KALE
BUNCHED SPINACH
CILANTRO
SATSUMA MANDERINES from GLEN ANNIE ORGANICS
HASS AVOCADOS from ISAACS' RANCH
BIG BOX ADD: BABY SPINACH, CARROTS, RED LEAF LETTUCE, GOLD BEETS, HASS AVOCADOS
Fruit Expansion Contains: FUJI APPLES from CUYUAMA ORCHARD and TANGERINES from VINCENT FARMS
"Many studies have suggested that increasing consumption of plant foods like beetroot decreases the risk of obesity and overall mortality, diabetes, heart disease and promotes a healthy complexion and hair, increased energy, overall lower weight." (Quote from Medical News Today)
Beets are one of my favorite root vegetables we've been enjoying them on a weekly basis. They're incredibly rich in antioxidants, fiber, and the taste is delicious! They are a great source of antioxidants, especially those supporting our livers and detoxification system. Beets are great to incorporate into our diets for anti-inflammatory and detoxification benefits.
Quinoa Salad Recipe with Roasted Beets, Chick Peas, Baby Spinach and Orange


(Per author: This is a totally vegan quinoa salad recipe, but if you enjoy a little goat cheese now and then, I think this salad would be delightful with a crumble of fresh, organic goat cheese. I've also served this quinoa salad with a sprinkle of toasted slivered almonds.)
Ingredients: Serves 4
3 cups cooked quinoa
2 beets, trimmed and quartered
Olive oil
Sea salt
1/4 cup fruity olive oil
1/4 cup fresh squeezed orange juice
2 teaspoons organic gluten-free tamari sauce
1 teaspoon balsamic vinegar or rice vinegar
1 tablespoon organic raw agave nectar or local honey
1 cup drained rinsed chick peas
2 big handfuls of baby spinach leaves
Sea salt and ground pepper, to taste
1 fresh orange, peeled, trimmed, cut into bite sized pieces
Directions:
Preheat the oven to 375ºF.
Cook the quinoa. While the quinoa is cooking, roast the beets in a medium size roasting pan, by combining the beets with a drizzle of olive oil and sprinkle of sea salt. Place the pan in the center of the oven and roast until the beets are tender (roughly 45 minutes). Remove the beets from the hot pan and set them aside to cool. When cool enough to handle, rub off the skin. Cut the beets into bite sized pieces.
To make the dressing, combine the olive oil, orange juice, GF tamari, vinegar, and agave in a glass measuring cup and whisk. Set aside.
Combine the warm, cooked quinoa in a mixing bowl with the chick peas and baby spinach leaves. Pour in the salad dressing and toss lightly. Season with sea salt and pepper, to taste.
Gently add in the cut up roasted beets and fresh orange pieces. Do not over mix or your entire salad will turn beet red. I think it's more attractive to keep the staining to a minimum. Serve with a sprinkle of fresh goat cheese, or slivered almonds, if desired.
(Recipe and photo from Gluten Free Goddess)
Grilled Kale Salad with Beets, Figs, and Ricotta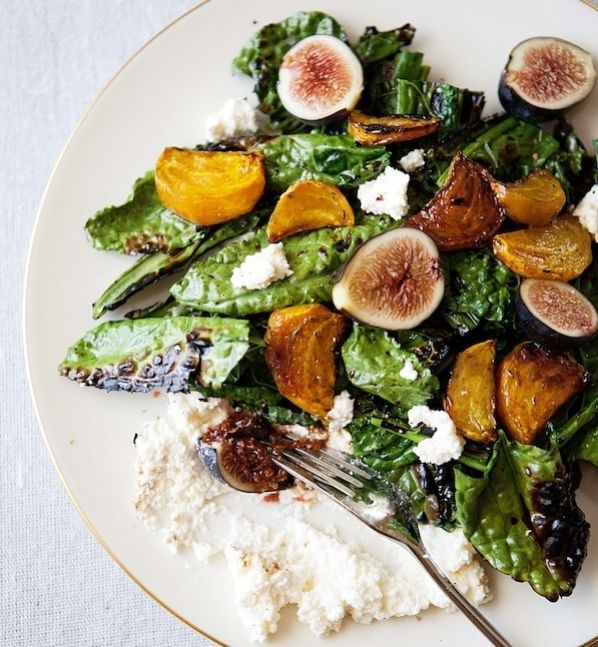 Ingredients: Serves 4 as a first course, 2 as a hearty main dish
4 small golden beets, peeled and cut into wedges (or red beets…yum!!)
1/4 cup olive oil
2 Tbs. balsamic vinegar
1 tsp. maple syrup
one bunch of dinosaur (lacinto) kale, bottoms of the stems removed
12 fresh figs, black mission or Turkish brown figs, stemmed and halved
1 generous cup of fresh ricotta
salt and pepper
Directions:
1.Preheat your oven to 425F. Toss the beet wedges with 1 Tbs. olive oil and sprinkle them with salt. Spread them in a baking dish and roast, stirring occasionally, until tender, 20-20 minutes.
2.Whisk together 2 Tbs. olive oil together with the balsamic vinegar and the maple syrup. When the beets come out of the oven, toss them with the dressing.
3.Heat your grill and coat the kale with the remaining olive oil and a good sprinkling of salt. Spread the leaves out on the grill and cook them, turning each over once, until they have developed crispy edges and charred splotches, several minutes. Transfer the kale to a cutting board, remove the tough center stems if you wish (I don't bother, but it definitely means more chewing), and chop it coarsely.
4.Put a spoonful of ricotta on each salad plate, then divide the kale between the plates. Divide the beets between the salads, and drizzle some of the dressing that is leftover from the beets over each of the salads. Finally, divide the figs between the salads, dollop the remaining ricotta over the salads, sprinkle each with salt and pepper, and serve.
(Recipe and photo from Five and Spice)
Chili-Lime Snap Peas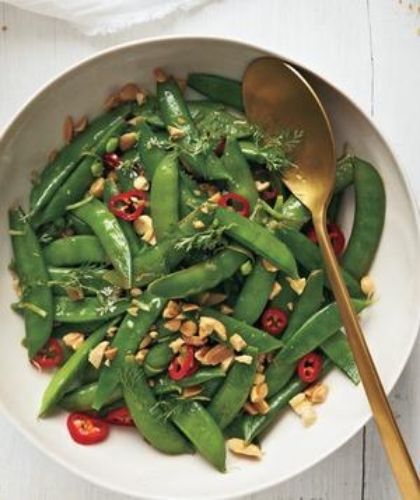 Ingredients: Serves 4
kosher salt
1 lb snap peas, trimmed
1 red chili pepper (such as Fresno or jalapeño), thinly sliced
1/4 cup roasted peanuts, chopped (I used walnuts)
1/4 cup fresh cilantro leaves
2 teaspoons canola oil (I used coconut oil)
1/2 teaspoon finely grated lime zest, plus 1 tablespoon lime juice
Directions:
Bring a medium pot of salted water to a boil. Set a bowl of ice water next to the sink. Add the snap peas to the pot and cook until just tender, 1 to 2 minutes. Drain and transfer to the ice water. Drain and pat dry. Toss together the snap peas, chili, peanuts, cilantro, oil, lime zest, lime juice, and a pinch of salt in a medium bowl.
(Recipe and Photo from Real Simple)
Creamed Kale and Eggs


(Per author, "If you'd like to have this as a "quick" breakfast, cut your leeks and kale the night before. In the morning, turn on the oven, sauté, and bake.")
Ingredients: Serves 2
2 tablespoons unsalted butter or ghee
1/2 bunch kale, washed, patted dry, and chopped
1 large leek, washed, and chopped
1/4 cup heavy cream or coconut milk
1/4 teaspoon Celtic sea salt
4 large eggs
Directions:
Preheat oven to 350ºF and adjust rack to middle position. Melt butter in a large oven-proof skillet over medium heat and swirl to coat the bottom of the pan. Add leeks and cook until soft, about 3-5 minutes. Add kale and salt. Stir occasionally and cook about 5 minutes. Stir in cream and cook for about 1 minute until hot. Crack eggs over kale mixture and place skillet in the oven. Bake for about 8 minutes, until whites are cooked and yolks are still runny. Serve immediately.
(Recipe and photo from Deliciously Organic)
JUICE FEAST CONTAINS:
BABY SPINACH
LACINATO KALE
CARROTS X2
RED BEETS
CILANTRO
FUJI APPLES from CUYUMA ORCHARD
ROMAINE LETTUCE
CELERY
GREEN CABBAGE from TUTTI FRUITI FARMS
FENNEL