Week of November 11th
Here's the lowdown. Need some pie for Thanksgiving? Deux bakery has you covered. Wendy will be baking pies fresh the morning of your CSA box on November 25th and she's not skimping on the flavors. $25/pie. *Please note these pies are not available for pickup at Whole Foods. We just can't squish pie it into your box.
EMAIL ME YOUR ORDERS. The $25 can be deducted from your account if appropriate. November 23rd is the deadline to put in your order for a pie.
Apple Pie
Salted Caramel Apple
Apple/Blueberry
Apple/Cranberry
Banana Cream
Blackberry (lattice top or whipped cream)
Butterscotch
Caramel Pie/ Turtle Pie with Pecans
Cherry Pie
Chocolate Cream
Coconut Cream
Coconut Lime Custard Pie
Cranberry Chiffon Pie
Lemon Meringue Custard
Lemon Cream
Lemon Tart/with Raspberries
Mincemeat with Apples and Raisin
Pecan Pie
Pumpkin Traditional
Pumpkin Chiffon Pie
CSA Box contains:
FRENCH BEANS
RED CHARD
ITALIAN PARSLEY
RED AND YELLOW BELL PEPPERS
SPAGHETTI SQUASH
CIPPOLINI ONIONS
CARROTS
RED LEAF LETTUCE
RED BEETS
MOUNTAIN MAGIC TOMATOES
BIG BOX ADD: ROMAINE LETTUCE, CARROTS, BUNCHED SPINACH, CUCUMBERS, PERSIMMONS from GOODLAND ORGANICS or FUJI APPLES
FRUIT EXPANSION: FUJI APPLES from CUYAMA ORCHARDS and BLACKBERRIES or RASPBERRIES

Spaghetti Squash Pad Thai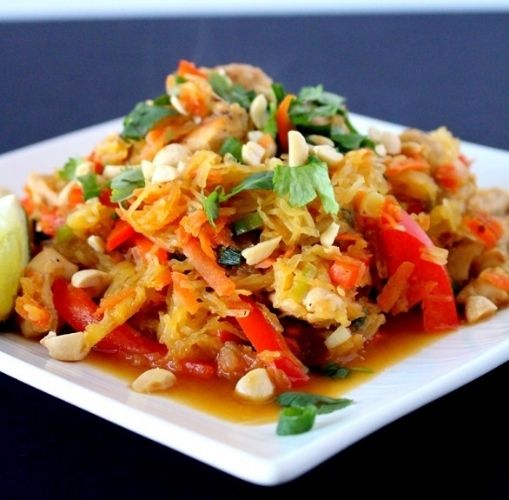 Ingredients:
For the pad thai:
1 pound skinless, boneless chicken breast
1 large spaghetti squash
2 large carrots, grated
1 medium red bell pepper, thinly sliced
4 green onions, thinly sliced, plus more for garnish
3 garlic cloves, minced
1/4 cup cilantro, plus more for garnish
1/3 cup chopped unsalted peanuts
2 tablespoons extra virgin olive oil
For the sauce:
1/4 cup reduced-sodium chicken broth
1/4 cup rice vinegar (or substitute white vinegar)
2 tablespoons lime juice
3 tablespoons honey
1/4 cup tamari (gluten-free soy sauce)
1 teaspoon sesame oil
1/4 teaspoon pepper
(For full recipe and directions please visit the Wheatless Kitchen)
Chard and Shiitake Mushroom Fried Rice


(This healthier take on fried rice is delicious and filling, not to mention a fantastic way to eat chard.)
Ingredients: Serves 2
1 pint shiitake mushrooms, stems removed
1 bunch chard, chopped (leaves and stems)
3 teaspoons sesame oil, divided
1-2 cloves garlic, chopped
1 tablespoon ginger, finely chopped
1/2 white onion, chopped
2 cups cooked brown rice, cooled
2 tablespoons soy sauce
1-2 organic eggs
2 tablespoons cilantro, for garnish (optional)
toasted sesame seeds, for garnish (optional)
(For full recipe and directions please visit Farm Fresh to You)
Roasted Vegetable Salad with Garlic Dressing and Toasted Pepitas


(This salad takes about 30 minutes to prepare and will serves 4 – 6 hungry folks.)
Ingredients:
1 medium head garlic
extra virgin olive oil
sea salt and ground black pepper to taste
1 bunch carrots, scrubbed
1 bunch beets, scrubbed with greens trimmed
1 bunch rainbow chard or beet greens
1 tablespoon lemon juice
3 tablespoons of extra virgin olive oil
1/3 cup raw, hulled pepitas
(Get the full recipe and directions here at With Food + Love)
Baked Spaghetti Squash with Garlic and Butter


(Per Author, "I tend to under-bake the spaghetti squash just a bit, so it still retains just a slight crunch. Baking time really depends on how big your squash is. It's ready if you can pierce the squash with a paring knife with little resistance. If you're a garlic love, don't be shy – use more!" Per Carolyn, "There's nothin' wrong with butter!!")
Ingredients:
1 small spaghetti squash (about 3-4 pounds)
2 tablespoons butter
2 cloves garlic, finely minced
1/4 cup finely minced parsley (or basil)
1/2 teaspoon salt (or to taste)
1/4 cup shredded parmesan cheese
(Find the full recipe and directions here at The Steamy Kitchen)
JUICE FEAST CONTAINS:
LACINATO KALE
RED CHARD
ITALIAN PARSLEY
RED AND YELLOW BELL PEPPERS
BUNCHED SPINACH
FUJI APPLES from CUYAMA ORCHARDS
CARROTS
RED LEAF LETTUCE
RED BEETS
BLACKBERRIES