Week of November 18th
Deux bakery is baking up pies and now you can add them onto your order in our CSA store in the bread isle. Just make sure to specify the type you would like. These pies were a huge hit last year and we are looking forward to completing your holiday meal again this year with a local taste sensation.
We are already planning for our Thanksgiving shares for next week. If you are not going to be needing your share we ask that you put it on hold now to help us better prepare. We will post the CSA blog ASAP on Monday so you can plan everything else that you will need. Feel free to email me if you have questions prior. NO THANKSGIVING RUSH for these veggies 🙂 No lines!! Just grab your share and go.
We have a lot of our small chicken eggs available in the store this week! Enjoy!
Living in Buellton has really made me appreciate the abilities we have to grow in Goleta all year round. It's amazing that just 30 minutes north, the temperature can drop as much as 20 degrees, and feel like a totally different climate. It's so important to support our local farmers, and within the midst of all the building frenzy in our sweet city of Goleta, keep our farmlands open. Our open lands seem to be claimed by condos and construction faster than ever these days.
CSA Contains:
CARROTS
RED LEAF LETTUCE
LACINATO KALE
GREEN BEANS
BUNCHED SPINACH
CILANTRO
KOHLRABI
RED CHERRY TOMATOES
AVOCADOS from REGENERATIVE EARTH FARMS
RED BEETS
BIG BOX ADD: CARROTS, ROMAINE LETTUCE, FUJI APPLES from CUYAMA ORCHARDS, SUGAR SNAP PEAS, CELERY
FRUIT EXPANSION INCLUDES: FUJI APPLES and RASPBERRIES or BLACKBERRIES

Kohlrabi is a rather versatile vegetable when it comes to how to prepare. Don't be fooled by it's alien like appearance. You can eat them raw—peeled, sliced and added to a salad or used for serving with a dip. You can literally slice them up raw and eat them like chips.
You can also steam, boil, bake, grill, or roast them. Just peel away the outside thick skin first. Add them to soups or stews. Grate them and toss with grated carrots or apples. Boil them and mash them with potatoes or other root vegetables. Stir-fry them with other vegetables, or julienne them and fry them like potatoes.
Spicy Kohlrabi Noodles


Ingredients: serves 2-3
2-3 kohlrabi
4 oz. cooked (and cooled) rice noodles
1/2 jalapeño, sliced and/or a few thai red chiles
1/2 avocado, sliced
herbs: cilantro, basil, and/or mint
handful of crushed peanuts
sriracha, to taste
extra lime slices
optional: tofu or a protein of your choice
dressing:
juice and zest of 1 lime
2 tablespoons fish sauce (or soy sauce or tamari)
2 tablespoons rice vinegar
1 clove of garlic, minced
1 teaspoon minced ginger
(Find the full recipe and directions here at Love and Lemons
)
Beet, Kale and Kohlrabi Salad with Grapefruit Vinaigrette


Ingredients: Serves 4
1 bunch kale
1 bunch lettuce
1 kohlrabi
1 beet
2 carrots
1 grapefruit
4 tablespoons olive oil
1 tablespoon honey
1 teaspoon Dijon mustard
½ teaspoon kosher salt
¼ teaspoon freshly ground pepper
¼ cup sunflower seeds or pepitas
(Find the full recipe here at A Couple of Cooks
)
Kale Caesar Salad


Ingredients:
1 bunch of kale, roughly chopped
2 cups spinach, roughly chopped
1 can chickpeas, rinsed and drained
1-2 tbsp extra virgin olive oil
1/4 tsp salt
1/4 tsp black pepper
1/2 tsp garlic powder
1 tsp chili powder
1 batch vegan parmesan
Vegan Caesar Dressing
1/2 cup cashews, soaked for at least 4 hours
1/4 cup water
2 tbsp extra virgin olive oil
1 tbsp lemon juice
2 tsp dijon mustard
1 tsp garlic powder
1 tbsp gluten-free soy sauce
1/4 tsp salt
1/2 tsp black pepper
(Find full recipe and directions here at the Wheatless Kitchen)
Lemon Ginger Chicken Stir-fry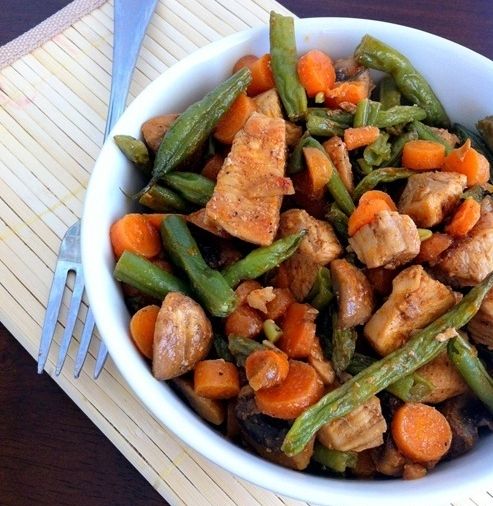 Ingredients: Serves 4-6
2 large boneless, skinless chicken breasts, sliced into bite sized pieces
4 carrots, chopped
2 cups green beans, trimmed
1 lb. mushrooms, sliced
2 cloves garlic, finely chopped
3 tbsp liquid aminos (used in place of soy sauce, which is not GF)
1 tbsp sesame oil
2 tbsp extra virgin olive oil
1 tbsp fresh ginger root, finely chopped
1 tsp salt
1/2 tsp black pepper
Juice of 1 lemon
(Another awesome recipe from the Wheatless Kitchen)
JUICE FEAST CONTAINS:
CARROTSX2
ROMAINE LETTUCE
LACINATO KALE
FUJI APPLES from CUYAMA ORCHARD
BUNCHED SPINACH
CILANTRO
CELERY
RED BEETS
BLACKBERRIES
CUCUMBERS