We've added a fruit expansion option to our CSA boxes. We don't grow a lot of fruit on the farm at the current time, although we've planted raspberries and blackberries and have a lot of citrus trees in our future. But maybe you'd like to see a few more lbs of fruit in your share each week (or bi-weekly). Check out our new fruit option and feedback is always appreciated.
We've been having a big problem with a bug called a pepper weevil. It creeps into crops during high heat, low rainfall and can be undetectable until you open your pepper. Even though the weevil can cause the center of the pepper to turn black, and you might actually find the bug as well, the greater part of the pepper should be consumable. We'd also be happy to replace them if you find them inedible. Here's a recent picture:


We are bringing back cheese from Casitas Valley Creamery, located in Ojai. Fresh feta and cheddar curds will be available as early as next week and their aged cheeses will follow behind. Keep an eye out for that in our CSA Store.
We are also up to about 100 chickens again and will be able to accommodate a lot more orders in the spring. Raising chickens has proven to be very difficult for us. Being on 50 acres of open land leaves a lot of open space for predators to make chicken their dinner. But it has been rewarding too. Working with the hens can be very calming and making them happy makes me very happy. Right now they are feasting on romaine lettuce that bolted, melons, old butternut squash and more.
CSA for Sept 10th contains:
RED GRAPE TOMATOES
GRANNY SMITH APPLES from CASITAS VALLEY FARM
CARROTS
RED LEAF LETTUCE
AMBROSIA MELON
RED BELL PEPPERS
SUNBURST SQUASH
CUCUMBERS
YELLOW ONIONS
GREEN CURLY KALE
BIG BOX ADD: CONCORD GRAPES from VINCENT FARMS, WHITE NECTARINES from GARCIA FARMS, CARROTS, RED TOMATOES, GREEN LEAF LETTUCE
Click here to see a recipe for Apple Cinnamon Energy Bars. Great snack for a lunch box!
Creamy Spirulina Dressing


(This is a salad dressing for the bold and adventurous — "it ain't yo mamma's olive oil and vinegar." Creamy and nutty, with the bold flavors complemented with the tang of a lemon.)
Ingredients:
1/2 cup olive oil
1/2 cup fresh lemon juice
4 tsp Spirulina (Spirulina is a natural "algae" powder that is incredible high in protein and nutrients. When harvested correctly from non-contaminated ponds and bodies of water, it is one of the most potent nutrient sources available.)
2 inch fresh ginger
1 inch fresh turmeric
1/2 avocado
1 tsp sea salt
pinch cayenne
Directions:
Add all ingredients into blender. Blend on HIGH for 1 minute. Massage into kale or mixed greens. Toss in other salad toppings
Salad Suggestion:
Green curly kale with sprouted pumpkin seeds, thin slices of green apple, and red onion!
(Recipe adapted from Imlak'esh Organics)
Sunburst Squash and Turkey Sliders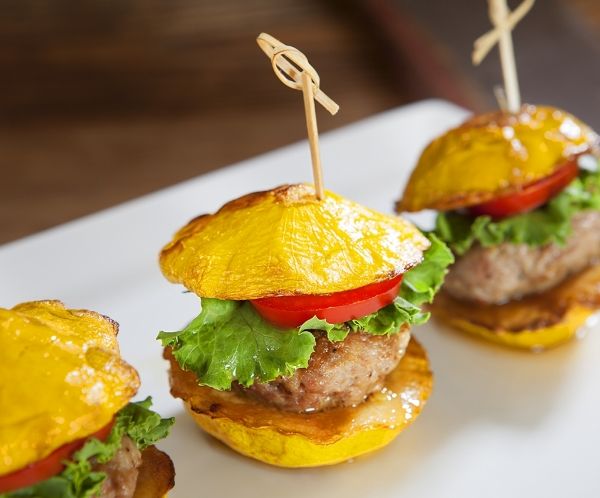 (Here's a healthier, no-carb version of an all-time American favorite! Instead of a bun, these sliders use sunburst squash for a beautiful and tasty twist on the mini hamburger. Plus, they're pretty adorable.)
Ingredients:
4 sunburst squash
6 oz. ground turkey
1 tomato
4 slices of onion
4 lettuce leaves
1 oz. coconut oil, or other high heat cooking oil
Directions:
Preheat oven to 400 F.
1. Heat a large sautee pan over medium high heat, then add oil.
2. Cut sunburst squash widthwise; just as oil begins to smoke, place squash cut side down into pan.
3. Sear cut squash for 2 minutes, turn over and bake in oven for 3-5 minutes until edges are golden brown.
4. While squash are baking, form ground turkey into four (4) patties approximately 2 oz. each.
5. When squash come out of the oven, set them aside to cool. Heat saute pan to medium-high heat and saute turkey patties for 3-4 minutes per side or until a probe thermometer place into the center of the patty reads 155 F. This would be a great time to add a small piece of cheese.
6. Place patties onto cut squash bottom, top with tomato & onion slice, lettuce leaf and squash top, then serve while warm. (Add mustard and ketchup if desired.)
(Recipe from The Nugget Market)
"California-Style" Vegan Sushi Rolls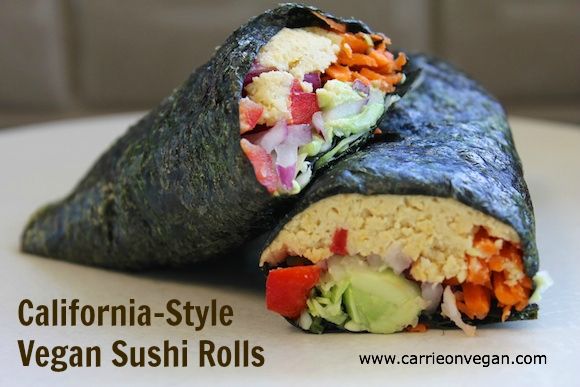 (The author mentions how you can really shred up any vegetable and add it to the sushi roll. A great way to get your sea veggies too!)
Ingredients: 2 servings
4 toasted nori sheets (toasted taste less like actual seaweed than the raw sheets)
1/2 cup hummus
1 red bell pepper, sliced
1 cup shredded carrots and cabbage
2 tablespoons minced red onion
1 medium avocado
Directions:
Place the nori sheets on a flat surface for filling. Slather the hummus on each sheet, topped with bell pepper, shredded vegetables, onion, and avocado. Roll each sheet into a burrito and use a sharp knife to slice each roll in half. Serve cold.
(Recipe from Carrie on Living)
JUICE FEAST CONTAINS: *ALWAYS CONTAINS LEMONS WHEN AVAILABLE
GALA/GRANNY SMITH APPLE MIX from CASITAS VALLEY FARM
GREEN CURLY KALE
CUCUMBERS
CARROTS X2
ROMAINE LETTUCE
RED BELL PEPPERS
RED TOMATOES
CELERY
PARSLEY/CILANTRO
CONCORD GRAPES from VINCENT FARMS
Mean Green Juice – Granny Smith Apples, Celery, Cucumber, Ginger, Kale, Lemon