We are taking your first of the month granola orders today. It's baked fresh here in Goleta and then delivered to you that day. Take a choice between 4 different flavors in our CSA store. Enjoy!
CSA Contains:
CARROTS
ROMAINE LETTUCE
BUNCHED SPINACH
BRUSSELS SPROUTS from ELLWOOD CANYON FARM
BUTTERNUT SQUASH
LEEKS
SATSUMA TANGERINES from GLEN ANNIE ORGANICS
CILANTRO
COLLARD GREENS
SUGAR SNAP PEAS:
BIG BOX ADD: RED LEAF LETTUCE, CARROTS, KIWI FRUIT from WILD RIVER, FENNEL from SUNRISE ORGANIC FARMS, ENGLISH PEAS
FRUIT EXPANSION INCLUDES: FUJI APPLES from CUYAMA ORCHARDS and KIWI FRUIT from WILD RIVER

Did you know that the cholesterol-lowering ability of collard greens may be the greatest of all commonly eaten cruciferous vegetables. They are especially high in antioxidants and phytonutrients. As an excellent source of vitamin K and a good source of omega-3 fatty acids, collard greens also provide us with two anti-inflammatory nutrients. Not to mention that collards provide cadiovascular and digestive support. Check out the full spectrum of benefits here at WHFoods.
Butternut, Leek and Brussel Salad with a Carrot, Ginger, Orange Dressing


"I use this dressing for EVERYTHING. It keeps in the fridge for almost a week and i use it over rice and veg, salad or even as a dip with crudite. YUM!
You don't have to add salmon to this recipe. It is absolutely delicious all on it's own. If you eat dairy though, i think a soft, creamy goats cheese would be a delicious addition. Enjoy!"
Ingredients: Serves 2
1 leek, ends off and roughly sliced
1 cup quinoa
a couple of handfuls of brussel sprouts, ends cut off and individual leaves peeled (this is a great job to give the kids or husband as it can be quite tedious!)
1 small butternut pumpkin (squash), skin off and roughly chopped
olive oil + sea salt
1/2 orange , peeled and sliced – optional
2 pieces of wild salmon – optional
FOR THE DRESSING: (serves 4)
1 small bunch carrots, peeled and roughly chopped
couple big chunks of ginger, peeled
1 small- medium shallot, peeled
1 tbsp tamari
1 tsp dijon mustard
1 tbsp apple cider vinegar
4 tbsp olive oil
pinch sea salt
1/2 orange
2 tbsp water
(For the full recipe and directions please visit Eat Real Food NYC)
Dirty Rice with Collards and Leeks


Ingredients: Serves 6-8
2 cups vegetable stock
1 cup long grain brown rice (see note)
1 bay leaf
1 bunch collards, stems removed and discarded
2 tablespoons olive oil
1 leek, halved lengthwise and thinly sliced crosswise into half-moons (about 1 ½ cups)
1 garlic clove, minced
1/2 cup toasted pumpkin seeds, coarsely chopped
1 tablespoon tamari soy sauce
1/8 teaspoon cayenne pepper
2 tablespoons nutritional yeast, optional (see note)
¼ teaspoon Real Salt
Freshly ground black pepper
(Find the full recipe and directions here at Letty's Kitchen)
Cilantro Lime Farro


(This cilantro lime farro recipe is a tasty and healthier alternative to traditional rice. Never cooked with Farro? It's been around for over 8,000 years. Maybe it's time to see why people have been using it for so long)
Ingredients:
1 cup farro, rinsed
3 cups vegetable or chicken stock
1/3 cup finely-chopped fresh cilantro leaves, loosely-packed
zest and juice of 1 small lime (about 2 tablespoons juice)
1/2 teaspoon salt
pinch of cumin and garlic powder and black pepper
(Full recipe and directions here at Gimmie Some Oven)
Skillet Butternut Squash and Penne Pasta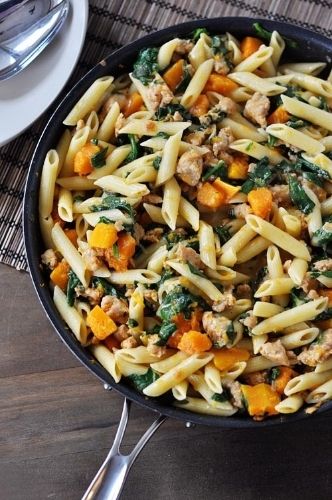 ("This isn't an overly saucy dish. It really isn't meant to be although it is definitely not dry, in my opinion. It's like a lightly creamy pasta dish with squash and other delicious flavors. If you'd like a little more sauce, add in a bit more liquid as the butternut squash cooks in step #2. As the squash cooks down, it will become kind of creamy and thicken the broth that was added in (I'm not talking adding in cups, but another 1/2 cup or so would be good for a little extra). That's where letting the pasta rest for 5-10 minutes before serving will help.")
Ingredients: Serves 6ish
1 large shallot (or 1/4 cup minced yellow or white onion)
2 cloves garlic, finely minced or pressed
1 pound chicken sausage (if links, remove the casing)
1/2 teaspoon salt
1/4 teaspoon black pepper
5 1/2 cups low-sodium chicken broth
12 ounces penne pasta
3 cups peeled and diced butternut squash
3 cups coarsely chopped fresh baby spinach
2 large sage leaves, torn into small pieces, or 1/4 teaspoon dried, more or less to taste
1 cup (about 4 ounces) shredded or cubed fontina or mozzarella cheese
Salt and pepper to taste
Freshly grated Parmesan for serving, if desired
(Find the full recipe and directions here at Mel's Kitchen Cafe)
JUICE FEAST INCLUDES:
CARROTS x2
ROMAINE LETTUCE
BUNCHED SPINACH
FUJI APPLES from CUYAMA ORCHARDS
CILANTRO
COLLARD GREENS
LACINATO KALE
RED BEETS
FENNEL