We finally have come across the resources to can up the farm. We are talking marinara sauce, pickles and preserves to start with. We are going to start canning this week so keep an eye out for it in the store in the weeks to come. 100% organic goodness in a jar. Picked and canned at the peak of ripeness, with no shelf stabilizers or preservatives. All ingredients you can pronounce and happily feed to your family sold exclusively through our CSA program.
Cindy Dollar is cooking up some Raisin Pecan granola this week for you in her kitchen right here in Goleta. Support local business, munch some amazing granola and get your breakfast supplies right here in our CSA store.
CSA for May 27th
BUNCHED SPINACH
RED BUTTER LETTUCE
CARROTS
FRENCH GREEN BEANS
BLUEBERRIES from WHITNEY RANCH
STRAWBERRIES
CILANTRO
PERSIAN CUCUMBERS
SUNBURST SQUASH
YELLOW ONIONS
BIG BOX ADD: LACINATO KALE, CARROTS, STRAWBERRIES, GREEN LEAF LETTUCE, RED POTATOES from ELLWOOD CANYON FARMS
Fruit Expansion includes: Blueberries and Strawberries
*Blueberries have a short season so we try and get as many as we can while we can. Next year we will be happy to include blackberries and raspberries from our farm!

Grilled Portobello Mushrooms stuffed with sauteed leeks and spinach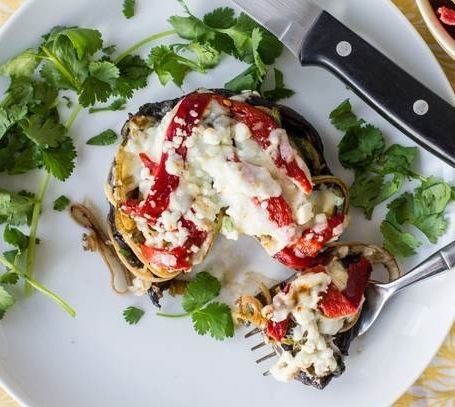 Ingredients:
2 leeks, washed carefully and cut in to 1/2″ coins
3 tbsp extra-virgin olive oil, plus additional for rubbing the mushrooms
3 tbsp balsamic vinegar
Salt and freshly ground pepper
2 cups chopped fresh spinach leaves
4 Portobello mushroom caps
1 cup crumbled cheese of your choice
Roasted red peppers, sliced (optional topping)
(For full recipe visit Treehuger.com)
Sautéed Sunburst Squash with Basil and Feta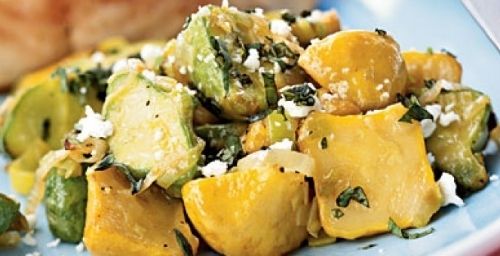 Ingredients:
1 tablespoon olive oil
4 cups baby pattypan squash, halved
2 cups sliced leek (about 2)
1/2 teaspoon salt
1/8 teaspoon freshly ground black pepper
3 tablespoons crumbled reduced-fat feta cheese $
2 tablespoons finely chopped fresh basil
(Find the full recipe and directions on My Recipes)
Blueberry Overnight Oats


Ingredients: Serves 2
1 cup whole oats
1 tablespoon chia seeds
1 tablespoon ground flax
1/4 teaspoon cinnamon
1 – 1 1/4 cups almond milk (depending on how thick you like your oats)
1/4 cup Greek yogurt
1 tablespoons honey
1 teaspoon vanilla
1/2 cup fresh blueberries, plus more for topping
sliced raw almonds, for topping
(Find the full recipe here at The Corner Kitchen Blog)
Cilantro-Lime Cucumber Salad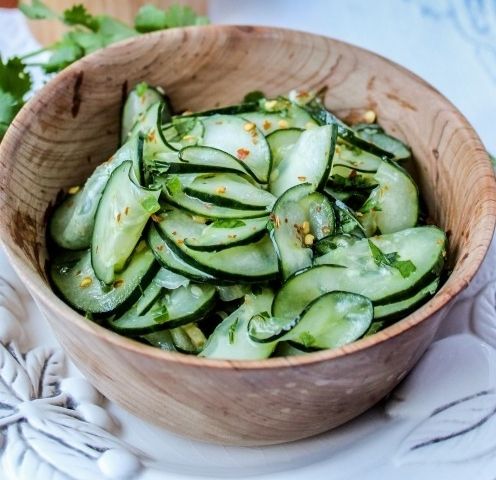 Ingredients: 5-6 side servings
1 jalapeno, seeded and finely diced
2 cloves garlic, finely minced
3 tablespoons fresh lime juice
1/4 teaspoon crushed red pepper
1/2 teaspoon salt, or to taste
black pepper to taste
3 tablespoons olive oil
2 cucumbers, very finely sliced (see photos)
4 tablespoons minced cilantro, to taste
(Check out the full recipe here at The Food Charlatan)
Juice Feast Contains:
BUNCHED SPINACH
ROMAINE LETTUCE
CARROTS x2
BLUEBERRIES from WHITNEY RANCH
STRAWBERRIES
CILANTRO and MINT
PERSIAN CUCUMBERS
LACINATO KALE
GREEN CURLY KALE
FUJI APPLES from HASS Farms