My dear Community,
As we roll through these last weeks of what feels like summer, we continue to cash in on all the bounty it has to offer. Weekly cantaloupe seems eternal, but as everything is starting to cool down in Buellton, the end is on the horizon. We planted extra strawberries this year and they too are starting their dormant cycle. Head to the CSA store to add asian pears and apples picked the morning of or day before you receive them. It's hard to say that about fruit you get from the store.
As a mom and someone who finds themselves generally busy and overwhelmed, I continue down the path of fast-food options. Not the kind you drive through to order in your car. I'm talking about whole food, wholesome recipes that are quick and easy from start to finish. There are nights where I absolutely relish the meditative practice of spending time in the kitchen to prepare a meal. But most nights I'm just trying to get something healthy on the table. These are the kinds of recipes that have inspired the blog this week. Please feel free to email me any recipes you have used in the past that continue to work as a quick and nutritious meal and we will add it to our files. Thanks in advance!
Be good to each other.
CSA Contains:
CARROTS
HEIRLOOM TOMATOES
ENGLISH CUCUMBERS
RED BELL PEPPERS
GREEN ZUCCHINI
BABY SPINACH
STRAWBERRIES
CANTALOUPE
ROMAINE LETTUCE
BASIL
BIG BOX ADD: RED BUTTER LETTUCE, PEARS, MOUNTAIN MAGIC TOMATOES, RED ONIONS, LACINATO KALE
JUST the BASICS:
BABY SPINACH
CARROTS
STRAWBERRIES
HEIRLOOM TOMATOES
GREEN ZUCCHINI
ROMAINE LETTUCE
JUICE FEAST:
CARROTS x2
ROMAINE LETTUCE
GRANNY SMITH APPLES
LACINATO KALE
ENGLISH CUCUMBERS
CILANTRO
CELERY X2
BABY SPINACH
RED BELL PEPPERS
FRUIT EXPANSION: PEARS + STRAWBERRIES
LETTUCE of the WEEK: RED BUTTER
MUSHROOM MIX: SHIITAKE + OYSTERS from WOLFE FARMS
My Favorite Green Smoothie
(I halved and froze an avocado for this smoothie – but warning it's a lot less sweet in a good way. I also used water and a vanilla protein powder instead of almond milk. This recipe felt good for inspiring you to make your own version.)
Ingredients:
1 medium banana (previously peeled, frozen and quartered)
1/2 cup mixed frozen berries
1 Tbsp flaxseed meal
1 heaping Tbsp natural, salted peanut butter
1/2 – 3/4 cup unsweetened vanilla almond milk
2 cups fresh spinach
(Find the full recipe and inspiration here at Minimalist Baker)
Paleo Pizza Bowls
(I'm going to use real cheese, but I like the option to use a nutritional yeast based "cheese" sauce)
Ingredients:
cheese sauce:
3/4 cup raw cashews no need to soak
2 Tbsp fresh lemon juice
1/3 cup water or plain dairy free milk
2 Tbsp avocado oil or olive oil
1 tsp garlic powder
1/2 tsp sea salt
1-2 Tbsp nutritional yeast
pizza bowls:
2 Tbsp olive oil divided
1 lb sweet Italian sausage meat or ground meat of your choice*
1 medium onion thinly sliced
8 oz mushrooms thinly sliced
2 red bell pepper thinly sliced
Sea salt and freshly ground black pepper
4 cloves garlic minced
3/4 cup pizza sauce or marinara sauce, no added sugar
1 tsp Pizza Seasoning or Italian seasoning blend
1/4 cup sliced black olives optional
Crushed red pepper optional
Fresh chopped basil or parsley optional
Sliced tomatoes
(Find the full recipe and inspiration here at Paleo Running Momma)
Creamy Zucchini and Mushroom Soup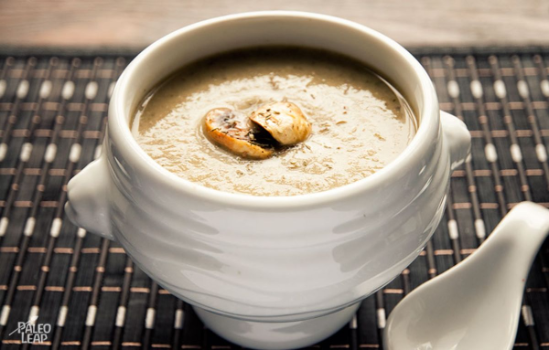 Ingredients:
1 lb. fresh mushrooms chopped
One large zucchini chopped
One medium onion chopped
Two cloves garlic minced
Several sprigs of fresh thyme or one tablespoon of dried thyme
Two bay leaves
3 cups chicken stock or vegetable stock
1 cup coconut milk
1 tbsp. ghee
Sea salt and freshly ground black pepper to taste
(Find the full recipe and inspiration here at Paleo Leap)
Dark Chocolate Chunk Zucchini Blondies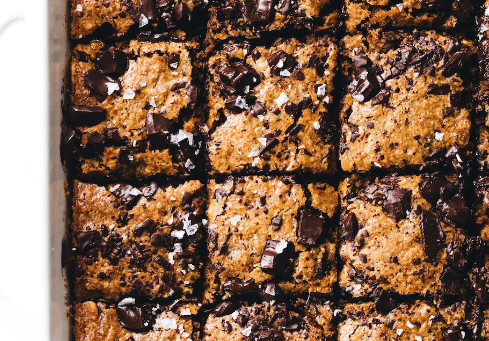 Ingredients:
1/2 cup almond butter
1/4 cup nondairy milk
2/3 cup coconut sugar
2 flax eggs (2 tbsp ground flax + 4 tbsp water)
1 tsp vanilla extract
1 cup shredded zucchini
1 cup oat flour
1/2 cup rolled oats
2 tsps baking powder
1/2 tsp salt 60g chopped Simple Hu Dark chocolate
(Find the full recipe and inspiration here at Hu Kitchen)