Week of June 8th
I hope everyone had a nice holiday weekend and enjoyed some good eats with family and friends.
Get to know where your eggs are coming from. We turned a bunch of pens that were used for other animals in the past into chicken coops from old fence and other reusable parts. I tried not to let much go to the dump when we moved onto the new property. Just cleaned a lot up and now the chickens occupy all! The birds are set up on automatic watering and are tended to daily with food and farm greens. Pasture pens are being created and the birds will be rotated in grassy areas.

Here are some of our teenage turkeys. They are very inquisitive and would probably follow me around the farm all day if they could.

Baby chickens, about 6 weeks old. Bantom chickens and regular chickens hanging out together. They will be separated into their own pens this week.

Different varieties of chickens give us all those beautiful brown, blue and white eggs. These guys are just starting to lay.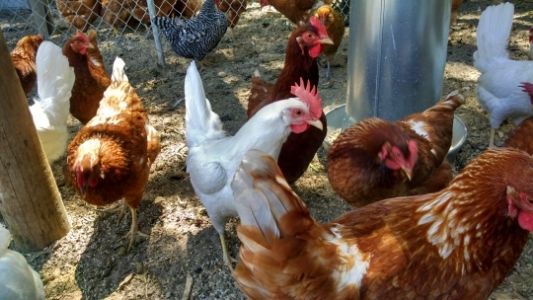 White Chickens and brown chickens. Happy chickens is the goal.

Have you ever seen a guinea fowl? Here are about 20 of them. They are loud birds and help keep predators at bay.
CSA Contains:
GREEN LEAF LETTUCE
CARROTS
YELLOW ONIONS
CUCUMBERS
ARTICHOKES
YELLOW SUMMER SQUASH
STRAWBERRIES
SPAGHETTI SQUASH
AVOCADOS from RAO RANCH
RED CHERRY TOMATOES
BIG BOX ADD: CARROTS, STRAWBERRIES, ITALIAN PARSLEY, RED LEAF LETTUCE, GREEN BELL PEPPERS
FRUIT EXPANSION INCLUDES: STRAWBERRIES and ? – to be determined soon
*A note to fruit expansion subscribers: it is very difficult to find local, organic stone fruit. When we get stone fruit it comes on a truck that's already making deliveries to Goleta. All fruit is 100% organic of course and is grown in California. That's the best we can do until we have our own trees, because I really want to include stone fruit!
Spaghetti Squash with Mushrooms and Parmesan cheese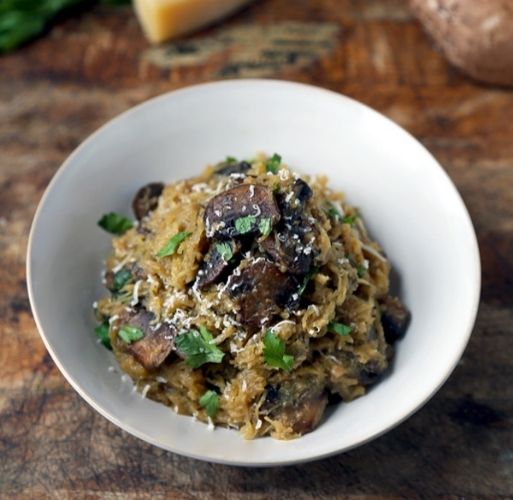 (Cheesy, earthy and healthy spaghetti squash recipe that's kid friendly and gluten-free)
Ingredients: Serves 4
1 small spaghetti squash (about 2lbs)
2 tbsp extra virgin olive oil
2 cups button mushrooms, chopped bite size (I love shitakes)
2 garlic cloves, finely chopped
1 tbsp fresh thyme
1/4 cup parmesan cheese, grated
1 handful flat leaf parsley, finely chopped
salt and pepper to taste
(For full recipe and directions please visit Pickled Plum)
Creamy Summer Squash Soup


Ingredients: Serves 4
1 tablespoon extra-virgin olive oil
1 medium onion, diced
3 cloves garlic, chopped
1/4 cup chopped fresh cilantro stems, plus 1/4 cup chopped cilantro leaves
1 teaspoon ground coriander
5 medium yellow summer squash (2 1/2 pounds), chopped
Coarse salt
Lime wedges, for serving
(Visit Whole Living for the full recipe and directions)
Baked Artichokes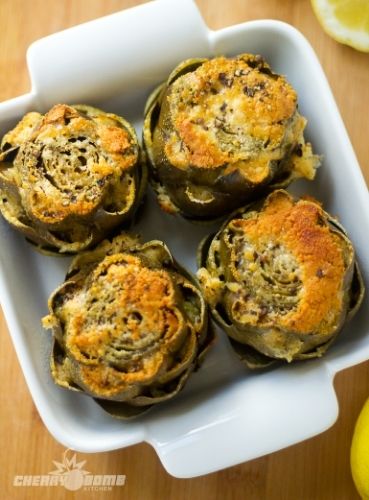 Ingredients: Serves 4
4 Artichokes
1/2 cup Parmesan Cheese
4 cloves Garlic, Chopped
4 tbsp Olive Oil
3 Lemons
Salt, To Taste
Pepper, Fresh Cracked, To Taste
1/4 Cup Water
(Visit Cherry Bomb Kitchen for full directions)
Erin's Baked Eggs on a Bed of Roasted Cherry Tomatoes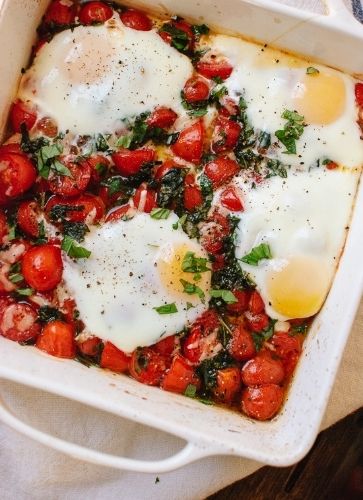 (Eggs baked on top of tiny halved tomatoes, topped with a sprinkle of Parmesan and basil, make a simple, delicious summertime breakfast or quick dinner. Recipe as written yields 4 medium servings. I highly recommend serving this with toasted bread (goat cheese on whole grain toast is perfect!) or something similar (Erin suggests polenta fries, yum.)
Ingredients: Serves: 4
3 cups (about 16 ounces) sweet cherry tomatoes, halved
1/4 cup grated Parmesan
2 tablespoons olive oil
2 tablespoons plus 1 teaspoon chopped fresh basil leaves
1 garlic clove, pressed or minced (optional)
Sea salt, preferably of the flaky variety
Freshly ground black pepper
4 eggs, at room temperature
(For full recipe and directions visit Cookie and Kate)
JUICE FEAST INCLUDES:
GREEN LEAF LETTUCE
CARROTS x2
CUCUMBERS
STRAWBERRIES
ITALIAN PARSLEY
GREEN BELL PEPPERS
LACINATO KALE
RED BEETS
RED TOMATOES
BABY SPINACH