A heads up, because the holidays are right around the corner. We will not be open the week of December 25th. We are taking a much needed break before we embark on a huge year ahead of us. We will be back up and running for the week of the New Year.
Cindy Dollar is cooking up some excellent granola and Walnut Spice is the flavor this week. Please make sure to choose Certified Organic or Certified Gluten Free, or you will receive the organic version.
Sugar snap peas are back in our CSA shares! We also have a lot of extra persimmons, apples and spinach to sell here in our CSA store.
CSA for week of November 12th contains:
ROMAINE LETTUCE
RED TOMATOES
YELLOW GRAPE TOMATOES
CILANTRO
BUNCHED SPINACH
SUGAR SNAP PEAS
FUYU PERSIMMONS from REGENERATIVE EARTH FARMS
GARNET YAMS from QUAL H. FARMS
RED BELL PEPPERS
COLLARD GREENS
BIG BOX ADD: SALAD MIX, FRENCH GREEN BEANS, BASIL, CUCUMBERS, ZUCCHINI
FRUIT EXPANSION CONTAINS: GALA APPLES from CUYAMA ORCHARDS, ASIAN PEARS from GARCIA FAMILY FARMS, OCTOBER SUN PLUMS from GARCIA FAMILY FARMS

Baked Sweet Potatoes with Warm Cannellini Bean Salad


Ingredients: Serves 4
4 medium sweet potatoes
1 tablespoon olive oil
Salt and pepper
For the Bean Salad:
1 tablespoon olive oil
2 shallots, thinly sliced
2 garlic cloves, minced
1 red bell pepper, diced
1 (15-oz) can cannellini beans, drained and rinsed well
2 tablespoons balsamic vinegar
1 cup cherry tomatoes, halved
Salt and pepper, to taste
Fresh basil
Directions:
1. Preheat oven to 425°F. Prick sweet potatoes with a fork in several places. Drizzle the outside of the potatoes with olive oil and sprinkle with salt and pepper. Place the potatoes in a baking dish and bake until tender all the way to the center, about 1 hour (cooking time will depend on the size of your potatoes – check after 45 minutes).
2. Heat oil in a small saucepan over medium heat. Add shallots and garlic and cook for a couple minutes. Add the bell pepper and cook for another 5 minutes or so. Add the beans, tomatoes, and balsamic vinegar and cook until everything is warmed through. Remove from heat and toss in the fresh basil.
3. When just cool enough to handle, cut each sweet potato lengthwise, press open to make a well in the center and spoon the bean mixture into the well. Serve warm.
(Recipe from Yes to Yolks)
Green Monster Vegan Overnight Oats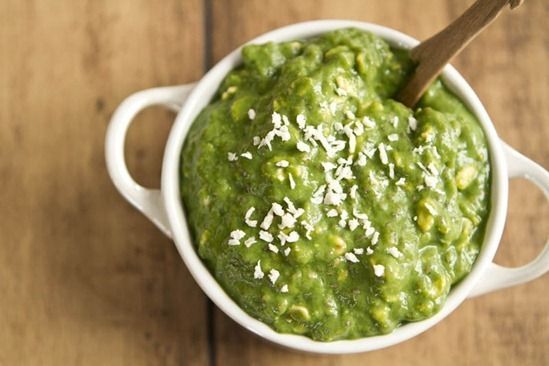 (Now you can get in a serving of greens (without tasting it!) in your morning bowl of vegan overnight oats. Feel free to add any toppings as you wish: fruit, nut butter, granola, coconut, etc.)
Ingredients: Serves 1
1 large handful fresh spinach or a few collard green leaves
1 large ripe banana
1.5 tbsp chia seeds (necessary for thickening)
1 cup almond milk
1/3 cup regular, rolled oats
Directions:
1. In a blender, blend together the spinach, banana, chia seeds, and almond milk until smooth.
2. In a cereal bowl, add the oats and then pour the smoothie on top. Stir well until combined.
3. Place in fridge (uncovered is fine) overnight. Give it a good stir in the morning and then enjoy it cold, straight from the fridge. Add desired toppings as you wish such as nut butter, granola, coconut, fruit, etc.
(Recipe from Oh She Glows)
Collard Greens Dal


Ingredients: Serves 4 to 6
2 tablespoons butter, ghee or oil
1/2 teaspoon cumin seeds
4 garlic cloves, peeled and minced
1 tomato, diced
1/4 teaspoon ground turmeric
1/2 teaspoon cayenne pepper. Use more if you like it spicy.
1 cup split red lentils
1 bunch collard greens
1/2 lime cut into 4 wedges (optional)
2 tablespoons chopped cilantro for garnish
Directions:
1. Heat the butter/ghee/oil in a medium saucepan. Add the cumin seeds and let them sizzle for 30 seconds. Then add the garlic, tomato, turmeric and cayenne. Cook stirring on medium heat, until the tomatoes are soft, about 3 minutes.
2. Add in the lentils and salt, and stir. Pour in 4 cups of water. Bring to a boil. Then reduce heat to low, cover the pan and let the lentils simmer until they are almost cooked but still holding their shape, about 12 minutes.
3. While the lentils are cooking, work on the collard greens. Make a V-shaped cut to remove the tough stem (see picture above). Stack all the de-stemmed collard greens. Cut the stack length wise into half. Gather on half of the stack and place it on top of the other. Now cut the stack crosswise into ribbons.
4. When the dal is cooked, soft but still holding its shape, add in the shredded collard greens. Mix well. Let them cook until they are completely wilted, about 4 minutes.
Garnish with cilantro and serve with rice or flat bread. Serve lime wedges on the side for squeezing on top of the dal.
(Recipe from Veggie Belly
)
JUICE FEAST Contains:
ROMAINE LETTUCE
RED TOMATOES
CILANTRO
BUNCHED SPINACH
RED PEPPERS
FENNEL
GARNET YAMS from Quail H Farms
CARROTS
LACINATO KALE
GALA APPLES from CUYAMA ORCHARD
Ever juice a sweet potato? It's delicious. And as we near the holidays you can make your own healthy pumpkin pie tasting juice in a glass. And here's some other recipes too.
Try juicing: 1 sweet potato, 4 stalks of celery, 5 carrots, 1 apple, and ½ lemon
Or try this for anti-inflammation: 1 sweet potato, 2 carrots, 1/4 small pineapple
Pie in the sky: sweet potato, carrot, apple, cinnamon