We are now selling turkey eggs. They come few and far between so if you don't see them in the store than they are not available. We are going to start selling quail eggs too so keep an eye out. We hope to be able to sell organic turkeys when Thanksgiving comes around this year.
I'm working on getting a farm tour date together, hopefully late June. We can romp around and check out where your food comes from and what we are doing here on Ward Dr.
CSA for April 23rd contains:
RED BEETS
CARROTS
STRAWBERRIES
RED LEAF LETTUCE
CAULIFLOWER
FENNEL
ENGLISH PEAS (SHELLING PEAS)
BABY SPINACH
KENNY GRAPEFRUIT from VINCENT FARMS
LACINATO KALE
BIG BOX ADD: CARROTS, STRAWBERRIES, HASS AVOCADOS, ZUCCHINI, SUGAR SNAP PEAS

Get excited about fennel. I've never been a fan of black licorice, but fennel is in a class of it's own and it's growing on me. Far more nutritious than celery, fennel provides the same low-calorie crunch. The folate in fennel aids in brain function and limits the risk of heart disease and stroke. The high amount of ascorbic acid supports the immune system, and its flavonoids contribute antioxidants. Anethole, the primary component of fennel's volatile oil, has been shown to have anti-inflammatory and anticancer properties. Try adding it shaved on salads or substitute for cabbage in a twist on traditional coleslaw.
Braised Carrots and Fennel with Orange Zest and Honey


Ingredients:
1 tablespoon unsalted butter
2 tablespoons extra-virgin olive oil
1 tablespoon honey
1 1/2 pound carrots, peeled and cut into 1/4 inch x 3 inch sticks
1 fennel bulb, ends trimmed, bulb cut in half, each half cored and cut lengthwise in 1/8"-inch slices
4 strips of orange zest,– each 1 inch x 4" inch (use vegetable peeler)
1/2 teaspoon fennel seeds, –crushed in a mortar (optional)
1/3 cup spring water
1/3 cup orange juice
1/2 teaspoon plus 1/8 teaspoon sea salt
Freshly ground black pepper, to taste
2 tablespoons coarsely chopped fennel fronds or dill
Directions:
1. Heat a large heavy-bottomed skillet over high heat. Add the butter, olive oil, and honey. Stir well and add the carrots, fennel, orange zest and fennel seeds. Toss until the slices are well coated with the oil. Sauté for 2 to 3 minutes, tossing occasionally, until the fennel starts to soften. Add the water, orange juice, salt, and pepper. Toss quickly and reduce heat to between medium and medium-low. Cover the pan and simmer for 10 minutes until the vegetables are tender.
2. Uncover the pan. Raise heat to high and fast-simmer until the juices have all evaporated and some of the vegetables are golden-brown, about 6 to 7 minutes, tossing only occasionally so as not to break or mush the vegetables. Remove orange zest, transfer to a serving platter, sprinkle with the fennel fronds, and serve immediately. Cook's' note: The carrots and fennel can be trimmed and cut up to 6 hours ahead and refrigerated until ready to use, but the dish is best made just before serving. It does not reheat well.
Lentil Salad With Fresh Peas, Pistachios And Mint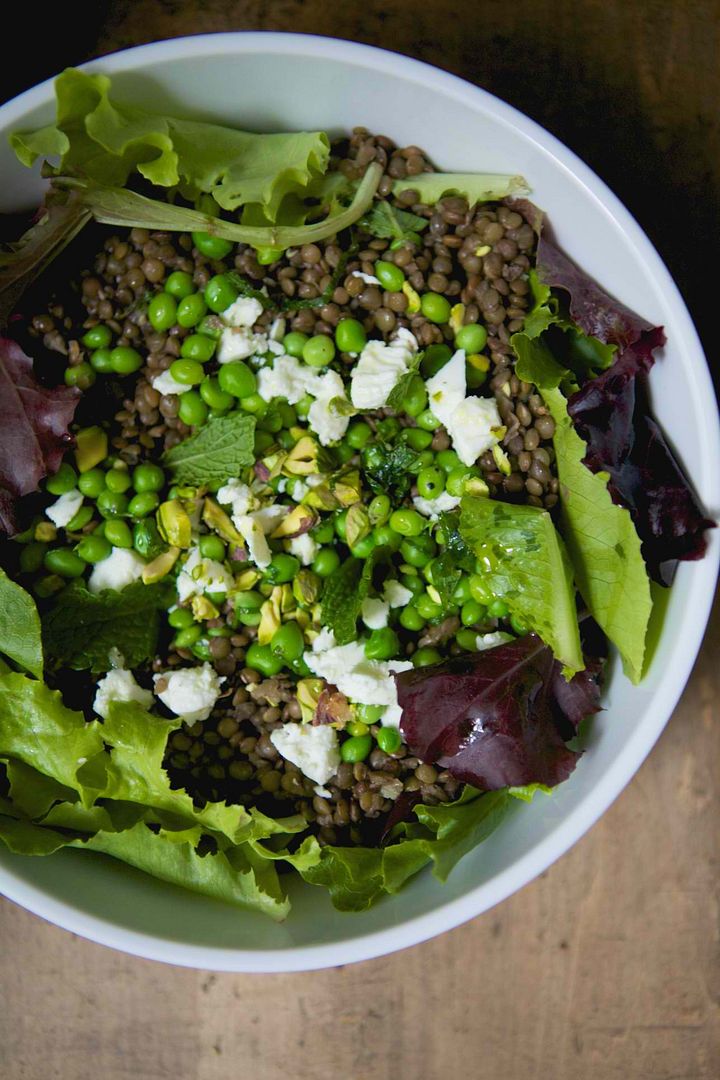 Ingredients:
1 pound of fresh shell peas
1 cup of lentils
sheep's milk feta cheese
fresh mint
handful of pistachios
mixed lettuces
sprig of thyme
clove of garlic
olive oil
sea salt & pepper
Directions:
1. Take one cup of lentils and rinse well to remove any small bits of dirt, rocks etc. Place into a pot and fill about three times full of water. Add one clove of garlic, sprig of thyme and pinch of salt. Bring to a boil, then reduce heat and simmer for 35-45 minutes until desired tenderness. Keep an eye out as you may need to add a splash more water if necessary. When finished you want them tender not mushy. Drain and allow to cool. During that time rinse and trim the ends of the peas. Add them to salted boiling water. Blanch for 2-3 minutes. Drain and shock in a cold water bath. Peas are a little time consuming but I love this type of work and its well worth it. Remove peas from their pods into a bowl. When serving I like to put the lentils on top of greens. I lightly dress greens separate from lentils. Season both with olive oil, splash of vinegar or lemon and salt. Place lentils on top and add finely chopped mint, crumbled feta and pistachios.
(Recipe from Food52)
Beet, Avocado & Grapefruit Salad


Ingredients: Serves 2
•6 small beets
•1 tablespoon extra-virgin olive oil
•1 small avocado
•1 small grapefruit
•handful of chopped pistachios
•handful of micro greens or lettuce
•olive oil and aged balsamic vinegar
•sea salt
Directions:
1.Preheat oven to 450 degrees. Trim the ends of the beets. If large, cut in half. Place them on a sheet of foil and drizzle with olive oil. Place another sheet of foil on top, and crimp the edges to form a "pouch." Place on a baking sheet, cut a few slits in the top of the pouch to let steam escape and roast in oven for an hour, or until beets are pierced easily with a paring knife. Remove from oven and let cool, then remove skin by rubbing vigorously with a paper towel. Slice into 1/2″ thick slices.
2.Peel and remove the membrane from the grapefruit. Cut crosswise into 1/2″ thick slices, then cut in half to form half-circles.
3.Peel and seed the avocado, then cut into 1/2″ thick slices.
4.Divide grapefruit between 2 plates, arranging them in a circular pattern. Top with avocado slices, then beets. Scatter microgreens and pistachios all over, then drizzle with olive oil and balsamic vinegar. Finish with a sprinkle of sea salt.
(Recipe from Camille Styles)
Cauliflower and Kale Pasta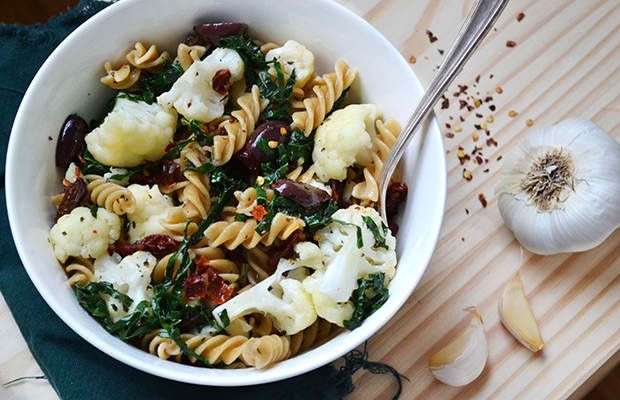 Ingredients:
1/2 lb whole grain pasta
1 head of cauliflower
3 tbs olive oil
3 cloves garlic
Half a bunch of kale
1/4 cup kalamata olives
1/2 cup oil-packed sundried tomatoes
1 tablespoon dried basil (or ¼ cup chopped fresh basil)
Pinch of red pepper flakes
Directions:
1.Bring a large pot of water to a boil. Add 2 tablespoons of salt to water.
2.While the water is coming to a boil, prepare your vegetables. Cut the cauliflower into small florets. Chop the garlic cloves. Finely chop the kale. Thinly slice the sundried tomatoes.
3.When the water is boiling, add the pasta. Cook according to package directions, but during the last minute of cooking, add the cauliflower florets to the pot. It should only take a minute to cook the cauliflower perfectly. Strain the cauliflower and pasta and put it back in the pot.
4.While the pasta and cauliflower cook, heat the olive oil and garlic in a frying pan on medium heat. Add the chopped kale and a good pinch of salt. Stir until the kale begins to wilt. Cook the kale about three minutes, or until it's tender and bright green. Add the olives, sundried tomatoes, basil, and red pepper flakes. Turn off the heat and add this mixture to the pot with the pasta and cauliflower. Toss to combine. Taste for seasoning (add more salt, pepper, basil, or olive oil, if you desire).
(Recipe from The Daily Burn)
JUICE FEAST contains:
RED BEETS
CARROTS
ROMAINE LETTUCE
FENNEL
BABY SPINACH
KENNY GRAPEFRUIT from VINCENT FARMS
LACINATO KALE
FUJI APPLES from FAIRHILL FARMS
PARSLEY/CILANTRO/MINT
CUCUMBERS
Juice a grapefruit, a knob of ginger and a handful of mint!
◦Powerful, yet easy drinking Citrus juice with slight Ginger and Mint finishes
◦Features fat burning enzymes and anti-inflammatory agents
◦Strong detoxifier and digestive tract soother
Ingredients: Kale, Romaine, Spinach, Parsley, Lemon, Apple
◦Easy drinking green juice; imagine a green lemonade
◦Apple and Lemon base with potent bevy of greens
◦High in Vitamin A and C
◦Popular with newbie juice drinkers and young people
◦Good antibacterial and alkalizer
Ingredients: Beet, Cucumber, Apple, Cilantro, Lemon, Ginger
◦A light, yet crisp and flavorful root juice with a seasoned finish
◦Apple, Cucumber, and Beet base
◦Features Glycine Betaine, Electrolytes and, Vitamin C
◦Excellent anti-inflammatory juice