Check out this cool picture of our new greenhouse. Tomatoes and summer squash will come early this year. Thank goodness for those hoops or we wouldn't have tomatoes right now!

We've added some new varieties of bread to the CSA store. It's delivered (still warm) on Wednesday morning when it's added to your share. You can also order up to 3 dozen eggs at a time. We also have a few varieties of feta cheese from Casitas Valley Creamery. Use the cheese on salads and bread and use the oil for some delicious salad dressings!
Split a share? Are you someone who would like to split a share or do you know someone who would like to join the CSA, but can only eat half the veggies. We are starting to compile a waitlist. Pair up with someone in your community for some fresh veggies.
CSA contents for February 19th
CELERY
RED TOMATOES
BUNCHED SPINACH
RED BEETS
SUGAR SNAP PEAS
CARROTS
ROMAINE LETTUCE
BUTTERNUT SQUASH
GREEN CURLY KALE
BROCCOLI
BIG BOX ADD: CARROTS, TOMATOES, FENNEL, RED BUTTER LETTUCE, GREEN CABBAGE

As the shttps://somethinggoodorganics.com/blog/wp-admin/options-general.phpeason for hard winter squashes comes to an end we are thankful for what these amazing starchy vegetables have to bring our tables! Butternut squash is a source of carbohydrates more dense than other vegetables but still less than grains. Our bodies need healthy sources of low glycemic carbohydrates like butternut squashes to maintain health blood sugar levels. Using butternut squash in meals in place of other higher glycemic carbs like rice, bread or pasta can do amazing things for your blood sugar regulating organs, giving them a much needed rest. You'll save on calories but more importantly your body won't have to expel so much energy bringing your blood sugar down to a safe level. These hard squashes provide ample fiber needed for healthy digestion and once they are cooked and soft they are very easy to digest providing nourishment to the gut. Easy to digest and gentle on your blood sugar, who wouldn't eat them?!
By Dani Rhoades, NC, www.wholesomepractices.com
Savory Oat Grouts and Kale


(You can find oat grouts in the bulk section at any health food store.)
Ingredients:
2 tablespoons olive oil
1 small onion (1/2 cup), finely chopped
1 medium leek, white and pale-green parts only, halved lengthwise, cut into matchsticks, and rinsed well
4 garlic cloves, thinly sliced
1 small carrot, cut into 1/4-inch dice
1 cup oat grouts
1 cup homemade or low-sodium store-bought chicken stock
1/2 teaspoon coarse salt
6 ounces curly kale, stemmed and cut crosswise into 1/2-inch-wide strips
Freshly ground pepper
Crushed red-pepper flakes
1/4 cup shaved Parmesan cheese
Lemon wedges, for serving
Directions:
Heat 1 tablespoon oil in a medium saucepan over medium heat until hot but not smoking. Add onion, leek, and half the garlic. Cook, stirring, until onion is translucent, about 5 minutes. Stir in carrot and groats; cook 1 minute. Add stock, 1 cup water, and the salt. Bring to a boil. Reduce heat; simmer, covered, 25 minutes.
Heat remaining tablespoon oil in a medium skillet over medium heat until hot but not smoking. Add remaining garlic; cook until garlic begins to turn golden, about 30 seconds. Stir in kale; cook, stirring, until wilted, about 3 minutes.
Stir kale mixture into groats. Cover; cook until liquid is completely absorbed and groats are tender but still chewy, about 5 minutes. Season with pepper and red-pepper flakes. Garnish with cheese, and serve with lemon wedges.
(Recipe from Martha Stewart)
Butternut Squash Soup with Spinach and Mushrooms


Ingredients:
1 medium butternut squash, peeled, seeded, and chopped
2 cups mushrooms, chopped
1 Vidalia onion, diced
3 cloves garlic, minced
1 quart vegetable broth
olive oil
Several handfuls of fresh spinach
Salt and Pepper to taste
Directions:
Peel squash and cut in half lengthwise. Remove seeds and chop into small cubes. The smaller you chop, the faster it will cook. Sauté onions and mushrooms in olive oil. Set aside. Sauté butternut squash and garlic until soft. Add vegetable broth and bring soup to a simmer. Remove from heat and use an immersion blender to cream the soup. Blend until completely smooth. Stir in the sautéed onions and mushrooms and also the spinach. Salt and pepper to taste.
(From The Harvest Food Blog)
Beet Salad with Lemon Tahini Dressing


Ingredients:
a few handfuls of chopped romaine lettuce
1-2 beets, roasted & sliced
firm tofu, sliced into cubes (maybe 1/2 cup)
handful of sugar snap peas (maybe 1/2 cup)
1-2 scallions, white and green parts, sliced small
handful of toasted sunflower seeds or other nut
Dressing: (this makes extra)
1/4 teaspoon minced garlic, or ground in mortar and pestle
2 tablespoons lemon juice
2 tablespoon tahini
1-2 teaspoons honey (or maple syrup or agave)
1-3 tablespoons water or olive oil (or a combination)
salt & pepper, to taste
Directions:
Roast beets in a 450 degree oven, wrapped in foil with a drizzle of olive oil and a few pinches of salt. Check around 40 minutes, they're done when you poke a fork and it almost slides out easily. Probably not more than 60 minutes, but this will depend on your oven and also the size of your beets.
Remove from oven and set aside to cool. Slide skin off once they're cool enough to touch. It should come off pretty easily. Slice beets, drizzle a bit of honey (or agave) and sprinkle with a few pinches of sugar. Place in the refrigerator to chill.
With a mortar and pestle (if you have one, otherwise with a knife), grind together garlic and a pinch of salt to create a paste. Directly in your mortar bowl (or place garlic paste in a small bowl) add tahini, lemon, honey and mix together. Thin with a bit of water or olive oil until it's a drizzle-able consistency. Adjust lemon, honey, salt and pepper to taste.
Assemble salad, drizzle the dressing, and top with pepitas.
(Recipe from Love and Lemons)
Crunchy Celery and Apple Salad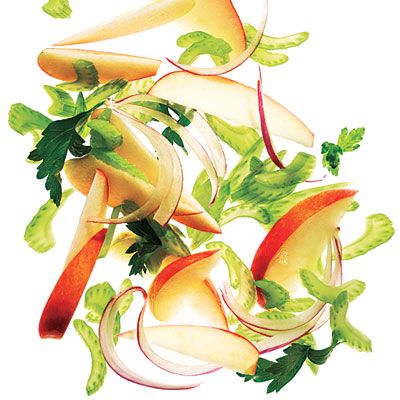 Ingredients
2 tablespoons extra-virgin olive oil
2 tablespoons fresh lemon juice
1/4 teaspoon kosher salt
1/4 teaspoon pepper
2 cups thinly sliced Honey Crisp apple
2 cups sliced celery
1/2 cup loosely packed fresh flat-leaf parsley
1/3 cup sliced red onion
Directions:
Combine first 4 ingredients. Add apple and remaining ingredients; toss.
(Recipe from Cooking Light)
JUICE FEAST contents:
CELERY
BUNCHED SPINACH
RED BEETS
CARROTS
ROMAINE LETTUCE
GREEN CURLY KALE
FUJI APPLES from FAIRHILL FARMS
DANDELION GREENS
PARSLEY/MINT
FENNEL
I love juicing our beets. They are intensely sweet and mildly earthy and they make a great addition to your juice. Check out what Dani, our local nutritionist has to say about them:
There is nothing quite as cleansing as beet juice. As a powerful detox food these amazing roots fuel the liver and speed up the production of bile, often causing too much detox at once! But adding just a little beets to your juice can give your liver a much needed punch and kick your detox pathways into action. Beet juice is also amazing for restoring proper levels of HCI to your stomach. HCI is critical for the breakdown of proteins and other vitamins, especially B12. When there is HCI in the stomach the rest of the digestive process can occur more efficiently as well. Detox and digestion go hand in hand so beets are the perfect match for both of these processes to occur at their best!
By Dani Rhoades, NC, www.wholesomepractices.com
Blake's Intoxicating Detoxification
(Sweet, bitter, milk and fresh – this drink marries many tastes into one beautifully proportioned and completely addicting combination.)
1 cup kale
2 leaves swiss chard
1/2 cup parsley
1/2 beet
1/2 cup pineapple
2 medium green apples (or red)
1 sprig fresh mint
1/2 medium lemon
Juice or Smoothie?
(Blend in 1/2 medium avocado to make a smoothie)
2 cups kale
1 cup spinach
1 cup parsley
2 leaves romaine
3 stalks celery
1 medium apple
small handful dandelion greens
1/2 lemon
Debra's Green Elixir
(The neutral greens of celery and romaine plus the sweetness of apple and beet make this admirably green juice balance enough to be completely inviting, not intimidating)
3 leaves kale
1 cup spinach
1 apple
5 stalks celery
1/2 head fennel
1/2 head romaine
1 beet
1/2 lemon