A few notes about our CSA store:
*Egg quantities are updated every Thursday. Login to the CSA store as early as Thursday afternoon to add eggs to your order before they sell out.
*Deux bakery has added some new items to the store like pretzels, muffins, cranberry almond sourdough, pumpernickel and more.
*Add extra veggies from our farm into your box! Can you ever have too many veggies? Well…maybe….but it's a good reason to stuff your face with them. What's for dinner? Whatever is in the fridge. Save money and get healthy. Turn your refrigerator into a "Farmacy."
CSA for February 26th contains:
RED LEAF LETTUCE
CARROTS
GREEN CABBAGE
SUGAR SNAP PEAS
RED TOMATOES
LEEKS
CILANTRO
BUNCHED SPINACH
RADISHES
RED RUSSIAN KALE
BIG BOX ADD: CARROTS, BROCCOLI, SALAD MIX, CELERY, RED BEETS

*Red Russian kale is super tender and a little more sweet than the other kales. Try it chopped raw in your next salad.
*This is the last week for tomatoes. We will see them again in a few months when the days get longer. Strawberries and blueberries are the next big thing.
Kale and Cabbage Gratin


Ingredients:
Nonstick cooking spray
3 tablespoons extra virgin olive oil
1 medium onion, finely chopped (about 1 cup)
2 medium cloves garlic, minced (about 2 teaspoons)
1 teaspoon chopped fresh thyme leaves
1/2 teaspoon red pepper flakes
Kosher salt and freshly ground black pepper
1 pound (about 1 small head) cabbage, preferably savoy or Napa, quartered, cored and sliced thinly
1 pound (about 2 bunches) kale of any type, stemmed, washed and sliced thinly
2 eggs, lightly beaten
1 cup cooked rice, white or brown, preferably short grain (about 1/2 raw rice)
1 cup grated Gruyere cheese, tightly packed
1/2 cup fresh breadcrumbs
1 tablespoon butter, cut into tiny cubes
Directions:
Adjust oven rack to middle position and preheat oven to 375°F. Spray a two-quart baking dish with nonstick cooking spray.
Heat olive oil in a large pan over medium heat until shimmering. Add onion, garlic, thyme and red pepper and cook, stirring occasionally, until onion sweats but does not brown, about 4 minutes. Add cabbage and cook, stirring, until it wilts slightly, about 3 minutes. Add kale and cook, stirring, until all vegetables have softened but retain color and texture, about 10 minutes. Season to taste with salt and pepper.
Quickly stir eggs, rice and half of the Gruyere cheese into the cooked vegetables. Transfer to greased baking pan, packing down tightly. Top gratin with breadcrumbs and remaining cheese, then dot surface with butter cubes. Bake 40 to 45 minutes, until firm and browned on the top. Allow to sit for 10 to 15 minutes before serving. Serve hot or warm.
Risotto with Leeks, Mushrooms and Olives


Ingredients:
1 tablespoon unsalted butter
1 tablespoon olive oil
2 medium leeks, white part only, thoroughly rinsed and thinly sliced (about 1 1/2 cups)
1 1/2 cups Arborio rice
1/2 pound of mushrooms, stems reserved for another use, caps thinly sliced
1/4 cup pitted, minced black olives, preferably oil-cured
3 1/4 to 3 1/2 cups vegetable or chicken broth or bouillon
1/3 to 1/2 cup grated Parmesan
Salt (optional)
1 bunch spinach
Directions:
Heat the butter and oil pan with tight lid. Sauté the leeks until soft but not browned, about 2 minutes. Stir in the rice, making sure to coat thoroughly with the oil and butter. Stir in the mushrooms, olives, and 3 1/4 cups of the broth (watch for sputtering oil).
Lock the lid in place and over high heat bring to high pressure. Adjust the heat to maintain high pressure and cook for 4 minutes. Reduce the pressure by placing the cooker under cold running water. Remove the lid, tilting it away from you to allow steam to escape.
The risotto will be fairly soupy at this point. Set the cooker over medium-high heat and boil uncovered, stirring vigorously every minute, until the mixture thickens and the rice is tender but still chewy, 3 to 5 minutes. Add a bit more broth if the mixture becomes dry before the rice reaches the desired consistency. Turn off the heat, stir in the Parmesan, and add salt to taste (if desired). Serve immediately over spinach if desired.
(Recipe from Serious Eats)
Crunchy Cilantro Slaw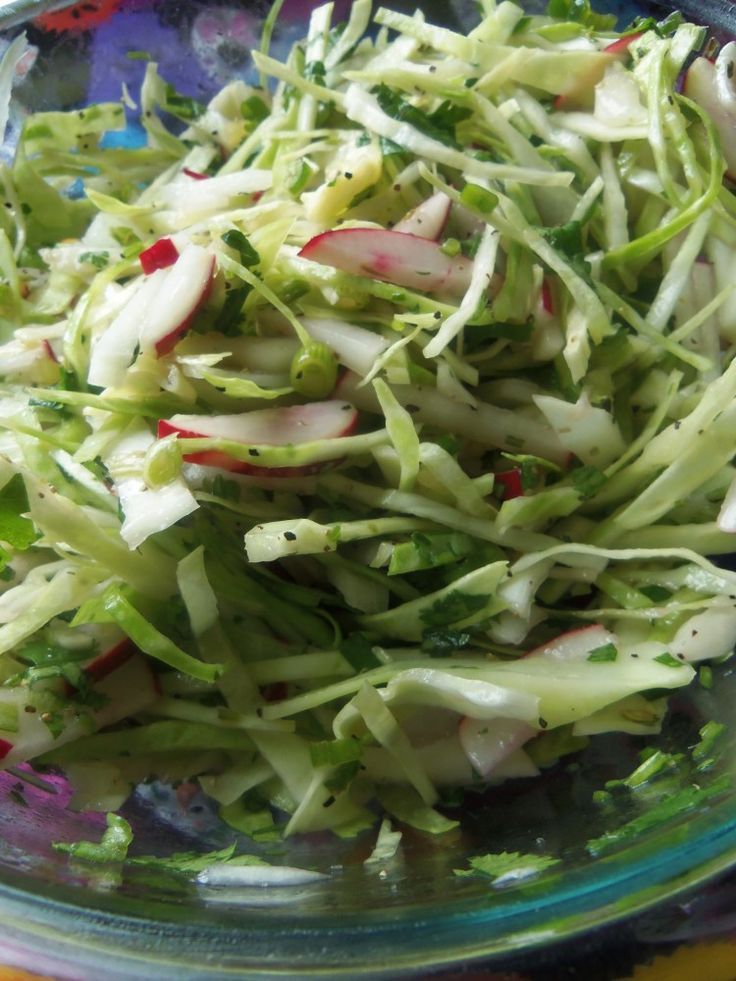 Ingredients:
4 cups green cabbage, finely shredded
1 cup radishes, sliced like matchsticks
3 green onion, sliced
1/4 to 1/3 cup cilantro, chopped
1 serrano or jalapeño, minced (seeds removed)
Juice of 1 lemon
1 tablespoon olive oil
1/2 teaspoon oregano
1/2 teaspoon salt
1/4 teaspoon pepper
Directions:
1. Combine all of the ingredients in a medium bowl. Toss with tongs, then taste for salt.
2. Cover and chill for 1 hour before serving.
Tip: For even better flavor, allow to marinade in the lemon juice and spices and consume the next day.
(Recipe from The Hispanic Kitchen)
Roasted Radish Flatbread with Ricotta and Honey


(The ricotta was left plain, but you could easily whip in some roasted garlic and fresh herbs to spice it up. Throw a fried egg on top for breakfast or some chopped chicken for dinner…or some ice cream for dessert. That might actually work.)
What it took for 2 flatbreads:
2 cups radishes, cut in half lengthwise
2 Tbs. extra-virgin olive oil, divided
2 whole grain flatbreads (or flavor of your choice!)
(about) 1 cup ricotta cheese
2 to 4 Tbs. honey
microgreens for garnish (or chopped spinach)
coarse salt and freshly ground pepper
Directions:
Preheat your oven to 400.
Arrange the radishes on a rimmed baking sheet. Drizzle 1 Tbs. oil over the radishes and season with a little salt and pepper. Roast for 30 minutes, until they start to brown on the edges and are tender, tossing half way through.
Brush the remaining oil over each flatbread. Then spread that ricotta over everything. Sprinkle the radishes on top of the ricotta. Slide back into the oven for 10 to 15 minutes, until the flatbread is crispy on the edges.
Drizzle the honey over the flatbreads and garnish with microgreens! (or whatever you have on hand)
(Recipe from BevCooks)
Juice Feast Contains:
CARROTS
GREEN CABBAGE
CILANTRO/PARSLEY and LEMONS
BUNCHED SPINACH
RED RUSSIAN KALE
FUJI APPLES from FAIRHILL FARMS
ROMAINE LETTUCE
CELERY
RED BEETS
LACINATO KALE
The Big Bad Bone Builder
(Use more or less depending on how much juice you want to make. Did you know dark leafy greens including kale are packed with calcium?)
5 carrots
5 kale leaves
5 sprigs of parsley
1 apple
"Jammin Cabbage" Cleansing Juice
(Cabbage contains powerful antioxidant and anti-inflammatory properties, as well as being widely known to have potent anti-cancer agents. It is wonderful for protecting the cardiovascular system, as it helps to reduce cholesterol by binding bile acids in the intestine that help to pass them out of our bodies in a bowel movement rather than emulsifying in your liver. The lactic acid in cabbage also acts as a potent colon cleanser.)
1/4 green cabbage
2 stalks celery (including green leaves if available)
1/2 beet
1 green apple
1 carrot
Glorious Red Juice
(Easy to drink and superb for your health. Switch out your afternoon snack for this mood lifter.)
1 Beet and tops
a few carrots
1/2 bu. leaves Kale
5 stalks Celery
1/2 head Romaine
1/2 bu. Parsley
1 Apple
1 lemon
1 inch ginger