Week of September 9th
If you follow us on Instagram you might have already seen these pictures. We spent the weekend setting our chickens out to pasture. It wasn't easy, and I have a lot to learn about herding chickens. After months of building and securing huge paddocks, our chickens can finally roam free. Previously they were in smaller coops, which still gave them enough room, but to see a chicken run through a field as fast as it's feathery butt can take it, is pretty glorious!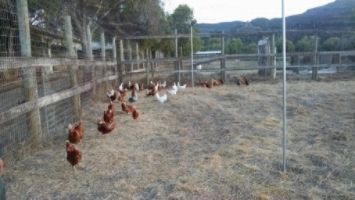 PICTURES WILL FOLLOW. It's over 100 degrees here in Buellton today with the mix of my internet moving like a snail. I need to wait until it cools down.
CSA Box Contains:
RED BELL PEPPERS
GALIA MELON
HEIRLOOM TOMATOES
CIPPOLINI ONIONS
CARNIVAL SQUASH
LACINATO KALE
RED LEAF LETTUCE
CARROTS
CUCUMBERS
ITALIAN PARSLEY
BIG BOX ADD: CARROTS, FRENCH BEANS, MIXED CHERRY TOMATOES, GREEN ZUCCHINI, ROMAINE LETTUCE
FRUIT EXPANSION INCLUDES: FIGS OR BLACKBERRIES AND RASPBERRIES

Turkey Stuffed Carnival Squash


Ingredients: Serves 2
1 carnival squash (or other variety of similar shape)
300g turkey breast meat, cut into ½ inch cubes
10 button mushrooms, sliced
1 small onion, chopped
1 celery stalk, chopped
1/4 tsp himalayan or fine sea salt
1/4 tsp freshly cracked black pepper
1/4 tsp freshly grated nutmeg
1/4 tsp cinnamon
1/4 tsp cumin
1 apple, peel on, cut into ½ inch cubes
3 cups spinach leaves, coarsely chopped
½ cup cooked wheat berries
2 tbsp whole wheat bread crumbs
15g freshly grated parmesan cheese
(Full recipe and directions on The Healthie Foodie)
Red Pepper & Goat Cheese Frittata
Ingredients: Serves 6
8 eggs
2 Tbsp finely chopped fresh oregano
1/2 tsp salt
1/4 tsp freshly ground pepper
2 Tbsp extra virgin olive oil
1 cup sliced red bell pepper
1 bunch scallion, trimmed and sliced (sub cippolini here…so yum)
1/2 cup crumbled goat cheese
(For full recipe and directions please visit Kitchen Daily)
Easy Flaked Almond "Tuna" Salad


(Hollow our some sliced cucumbers and fill them with whatever your heart desires. Or check out this cool recipe below)
Ingredients: Serves 6
1 cup raw almonds, soaked
2 celery stalks, finely chopped
2 green onions, finely chopped
1 garlic clove, minced
3 tablespoons vegan mayo (I use soy-free veganaise)
1 teaspoon Dijon mustard
1/2-1 tablespoon fresh lemon juice, to taste
1/4 teaspoon fine grain sea salt, or to taste
Freshly ground black pepper, to taste
Pinch of kelp granules (optional)
1 cucumber, peeled (if desired) and sliced into 1cm rounds (optional)
(Get the full recipe and directions here at Oh She Glows)
Farro, Kale and Olive Salad
(A powerhouse of superfood and fiber, this salad is easy to make and full of texture! Creamy, crunchy, and chewy with notes of citrus. Make ahead for several days of a ready-made lunch. Optionally Vegan and Gluten Free.)
Ingredients: Make 6-8 servings
For the Salad:
1 C Farro or Wheat Berries *See Note for GF Option
3-3½ C Water
¼ tsp Sea Salt
½ C Walnuts
6 oz California Green Olives, canned, drained and pitted (I buy pre-pitted)
¼ C Flat Leaf Parsley, rough chopped
1 Bunch of Lacinato Kale, about 15 stems
½ C Feta, crumbled or diced (optional)
Ground Pepper, to taste
For the Dressing:
2 Tbs Olive Oil (I use California Olive Ranch)
1 Small Orange, zested, about 1 tsp
1 Lemon, zested, about 1 tsp
2 Tbs Fresh-Squeezed Orange Juice, 1 small orange
1 Tbs Fresh-Squeezed Lemon Juice, about ½ a lemon
1 tsp Stone Ground Mustard
¼ tsp Sea Salt
For Garnish:
Wedges of orange and lemon for squeezing over salad.
(For full recipe and directions please visit Vanilla and Bean)
JUICE FEAST CONTAINS:
RED BELL PEPPERS
GALIA MELON
FUJI APPLES from HASS FARMS
GREEN KALE
LACINATO KALE
RED LEAF LETTUCE
CARROTS X2
CUCUMBERS
ITALIAN PARSLEY and MINT
ROMAINE LETTUCE