CSA and Juice Feast for September 17th
it has been so hot and dry on the farm. It's been a struggle to keep up with watering and the bugs are going crazy. That's why you have not seen spinach, arugula, cauliflower, broccoli and more. We just don't have a chance at making progress with these crops until it cools down, rains or both. We also had some deer eat through a crop of cucumbers and the plants and got into our watermelon stash as well. I guess everyone is looking for something to quench their thirst.
Local granola is back in action after much demand. Your granola is locally made and by purchasing it your money is staying right here in Goleta. With different choices like Organic Rasin Pecan, Cranberry Cashew or Gluten Free Coconut Seed or Walnut Spice there are many different delicious and healthy flavors to keep you going. We are also looking into making home made salad dressings. My biggest complaint with store bought dressings is the cheap oil/products they use to make them. After making a huge, delicious salad, the last thing you want to poor over it is store bought salad dressing! We will get those up and going and will let you know when they are available.
CSA Contains:
CARROTS
LACINATO KALE
GREEN ZUCCHINI/CROOKNECK
RED PEPPERS
RED BUTTER LETTUCE
CILANTRO
CANARY MELON
RED TOMATOES
CUCUMBERS
HASS AVOCADOS from VINCENT FARMS – these avos will probably need a few days to ripen on your counter
BIG BOX ADD: ROMAINE LETTUCE, RED CHERRY TOMATOES from FRECKER FARMS, CARROTS, ASIAN PEARS from GARCIA FAMILY FARMS, GREEN ACORN SQUASH
Kale Mustard Wrap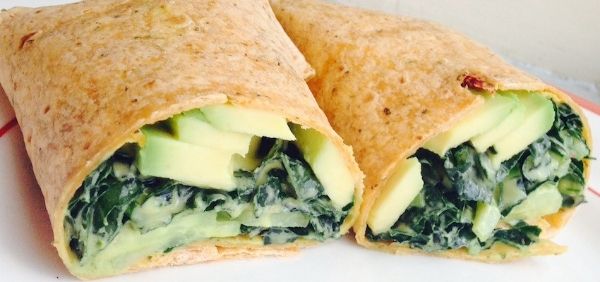 (This super simple wrap is easy to make and great to bring for lunch to work or school! It's filled with kale, cucumbers, avocados and a homemade mustard dressing. The perfect wrap, on-the-go!)
Ingredients: Serves 2
1 cup Tuscan kale, washed and chopped
mustard dressing (see below)
1/2 avocado, sliced
1/4 cup cucumber, peeled and sliced
2 whole wheat or whole grain wraps
Mustard Dressing Ingredients
2 Tbsp. olive oil
1 Tbsp. Dijon mustard
1/2 lemon
salt and pepper
Directions:
Make dressing: combine all ingredients together, stirring until combined.
Mix kale and dressing together, allowing the mustard dressing to soften the kale. Assemble wrap starting with avocado, then add cucumber, and finally add the mustard kale.
Wrap up and enjoy!
(Recipe from MindBodyGreen)
Shaved Zucchini, Walnut and Citrus Salad


(Salads don't need lettuce to be tasty and nutritious. They can also be created with many vegetables. In this salad here, zucchini is shaved to create thin strips that look lovely on the plate and work well as a side dish, or even a main meal with some protein added – try roasted chicken, grilled fish or sautéed tempeh. Other vegetables can be peeled using this method: carrots, beets, cucumbers, jicama, even daikon radish, for variety. Experiment and find combinations that you enjoy!)
Ingredients: Serves 4
For the salad:
3 large zucchini
1/2 cup walnuts
2 green onions, chopped
1/3 cup cilantro, chopped
For the dressing:
3 tablespoons olive oil
zest of 1 lemon
juice of 1 lemon
1/2 teaspoon sea salt
black pepper, to taste
Directions:
Preheat a large sauté pan on medium. Add the walnuts, and toast, stirring often, until fragrant and lightly browned, about 3 minutes. Do not allow to burn. Set aside to cool.
Chop off ends of each zucchini. Using a vegetable peeler, shave the zucchini into a large bowl, creating long strips. Discard the seedy center.
Add olive oil, lemon zest, lemon juice, sea salt and black pepper to a small bowl and whisk. Add to the salad and mix well.
Roughly chop the cooled walnuts and add to the salad, along with the green onions and cilantro. Mix well.
Serve immediately.
(Recipe adapted from MindBodyGreen)
Protein-Packed Summer Salad Bowl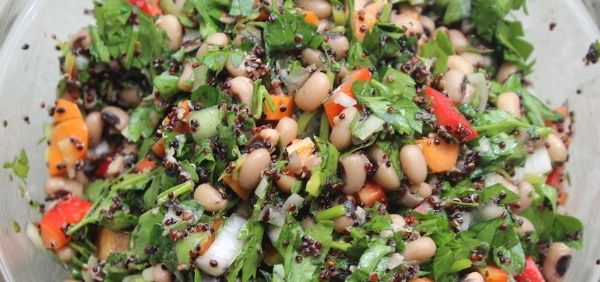 (This is dinner in a bowl, full of protein and vitamin goodness. If you use canned beans, it takes 10 minutes to prepare. This salad also keeps nicely in the fridge and makes good packed lunch. It's perfect for a quick summer dinner, and you can serve it with fresh bread or as a side salad.)
Ingredients for the salad: Serves 4-6
3 cups of cooked beans (or 2 cans) (I used black eyed beans, but any beans would do)
1 cup cooked quinoa
1 big bunch of cilantro
1 deseeded red, sweet pepper
1 leek (white parts only)
2 small carrots
Ingredients for the dressing
2 Tbsp. of olive oil
1 tsp. of chili oil (or more if you can take more heat)
2 Tbsp. of cider vinegar
1 clove of garlic (crushed)
Splash of balsamic vinegar
Salt and pepper
Directions:
Chop cilantro, pepper, leek and carrots
In a bowl combine beans, quinoa, chopped vegetables, and cilantro
Combine dressing ingredients and add to the salad
Mix everything, adjust seasoning if needed and serve.
(Recipe adapted from MindBodyGreen)
Tosca's Clean Eating Chicken Explosion


Ingredients: (Serves 4)
4 cups organic chicken or vegetable stock
2 boneless, skinless chicken breasts
2 tbsp natural almond butter
1 tbsp honey
1 tbsp coconut oil
Dash of hot chili oil
1 large telegraph cucumber, cut into matchsticks
1 bunch spring onions (4-5) cut into thin ribbons
1 zucchini, cut into matchsticks
2 medium sized carrots, cut into matchsticks
2 bunches romaine lettuce, chopped
1 cup fresh chopped coriander
Directions:
Place the stock in a medium saucepan and bring to boil. Add the chicken breasts to the boiling stock then remove from heat and cover to poach for 25 minutes, turning once. You want to ensure the chicken breasts are fully submerged in the liquid to ensure even cooking.
Combine the cucumber, onions, zucchini, carrots and lettuce in a large bowl and lightly season with salt and pepper.
Remove the chicken from the poaching liquid and shred into bite sized pieces and add to salad.
To make the salad dressing, combine the almond butter, oils and honey in a food processor and combine. Add ¼ cup of the poaching liquid and process until smooth.
Drizzle dressing over the chicken salad, garnish with the fresh coriander and serve.
(Recipe from The Eighty Twenty Rule)
Juice Feast Contains:
CARROTS X2
RED BELL PEPPERS
CUCUMBERS
ROMAINE LETTUCE
CILANTRO
GRANNY SMITH APPLES from CASITAS VALLEY FARM
RED TOMATOES
LACINATO KALE
CELERY
LOOSE RED BEETS
LEMONS AND LIMES