Deux bakery has offered some new breads, bagels and scones among other things. Wendy, the baker at Deux is passionate about bread and is always trying out new things. We also are offering homemade granola on a weekly basis, made to order right here in Goleta. Casitas Valley creamery also recently dropped off some new cheese. Check out our store for that and more local delicious things.
CSA for April 8th contains:
GREEN ZUCCHINI
BUNCHED SPINACH
CARROTS
SUGAR SNAP PEAS
LACINATO KALE
RED LEAF LETTUCE
CAULIFLOWER
CILANTRO
STRAWBERRIES
KENNY GRAPEFRUITS from VINCENT FARMS
BIG BOX ADD: COLLARD GREENS, STRAWBERRIES, BLUEBERRIES from WHITNEY RANCH, HASS AVOCADOS from GOODLAND ORGANICS, CARROTS
We've been putting a lot of work into our chickens. We've made it up to 75 chickens and have started a coop expansion project to give the ladies more room to run around in. We are starting to look into growing our own feed and building insectaries to grow live food. Right now we purchase very high quality, organic grain from Island Seed and Feed and the hens are also supplemented with farm greens day and night. Check out what Dani, our local nutritionist has to say about our delicious eggs:
Eggs could literally be called nature's perfect protein. Considered one of the most bioavailable sources of protein, second only to whey, you can rest assured knowing that your body is actually absorbing and utilizing all of those aminos acids! Egg protein is actually the standard that the quality of all other proteins are compared to. And please do not skip on the yokes! Yokes provide choline and lecithin, both critical nutrients for brain health. The cholesterol in the yokes that many fear is actually important in raising HDL, our good cholesterol and lowering LDL cholesterol, our bad cholesterol. This cholesterol in the yoke actually helps the body during times of stress because it is a precursor for making hormones. Adrenal, thyroid and reproductive hormones all benefit from the those rich, golden, nutrient dense yolks. But please do understand that these nutritional benefits come only from pasture raised eggs, who graze in the sun eating plenty of greens, seeds and whole grains. Pasture raised eggs contain Vitamin D because the chickens absorb it from sun, which also naturally increase their Vitamin A levels. Conventionally raised eggs contain excessively high levels of cholesterol, as well as saturated fat and damaging toxins like growth hormones, pesticides and traces of GMO from the food they are fed. Do not be deceived eggs are not created equal!
By Dani Rhoades NC, www.wholesomepractices.com
Sources: Bauman College texts, The Encyclopedia of Healing Foods by Michael Murray
Pureed Cauliflower and Cabbage with Green Onions and Parmesan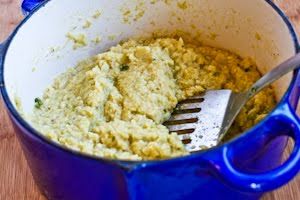 (This is a great tasting side dish! I'd like to throw some sliced grilled chicken and chopped cilantro on top and used it as a main dish.)
Ingredients:
1/2 large head green cabbage, core cut out and cabbage chopped
1 1/2 T olive oil
salt and fresh ground black pepper to taste
1/2 large head cauliflower, core cut out and cauliflower chopped
1/2 cup finely sliced green onions (scallions)
2 cups chicken stock (or more as needed to cover the vegetables in the pot)
1/2 cup finely grated Parmesan cheese (plus more to sprinkle on top for serving if desired)
Directions:
Heat olive oil in large heavy pot, add chopped cabbage, season with salt and fresh ground black pepper, and saute cabbage over medium-low heat until it's cooked through and starting to brown, about 15 minutes. Stir it every once in a while so it doesn't get overly brown in some parts. Add sliced green onions and cook about 5 minutes more, until onions are softened.
Add chopped cauliflower, pour over enough chicken stock to cover the vegetables, and simmer until the cauliflower is very soft, probably close to 30 minutes at a low simmer.
Mash the ingredients together with a potato masher. You can keep the coarse texture this produces if you prefer, or use an immersion blender or food processor to puree into a finer texture. (Be careful with the hot liquid if you use a food processor.)
Turn heat back on under the mashed or pureed vegetable mixture in the pan and cook an additional 5-10 minutes on medium heat, or until most of the liquid has evaporated. Then stir in the finely grated Parmesan cheese, 2 T at a time so the cheese is well-combined in the mixture. Serve hot, with additional Parmesan cheese sprinkled on top if desired.
(Recipe from Kaylyns Kitchen)
Strawberry-Grapefruit Smoothie


(In honor of our summer weather in spring, here's a great smoothie recipe. Try adding a pinch of cilantro and grated ginger for added benefits)
1 grapefruit, peeled and deseeded
10 medium strawberries
1 banana, peeled
2 cups baby spinach
6-8 ice cubes
1 cup filtered water or coconut water
Directions:
Start by adding the liquid to your blender (I use a Vitamix), followed by the soft fruit. Add the greens to your blender last. Blend on high for 30 seconds or until the smoothie is creamy.
(Recipe adapted from Incredible Smoothies)
Zucchini Pizza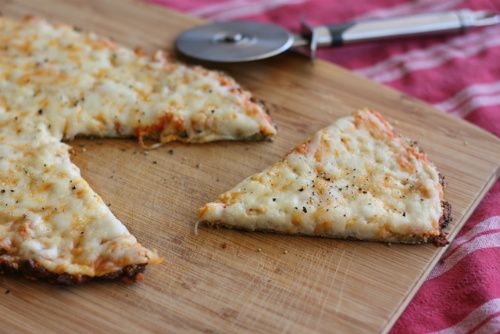 (This is a really yummy take on pizza. You can actually use cauliflower to make a crust too.)
Ingredients:
2 cups zucchini, finely grated, lightly packed
½-3/4 cup almond meal
1 egg, lightly beaten
1 Tablespoon avocado oil (or another high smoke point oil such as walnut or coconut)
½ teaspoon oregano
¼ teaspoon garlic powder
⅛ teaspoon salt (you don't need much because the zucchini will retain some)
Directions:
Place the grated zucchini in a strainer. Sprinkle the zucchini with some salt, toss it to disperse. Place the strainer over a large bowl, and let the zucchini drain for about 30 minutes. Preheat the oven to 400 degrees. Place the grated zucchini into a dry dish towel, and wring the towel over the sink until the water from the zucchini is squeezed out. Mix all of the ingredients together in a bowl. Add almond meal as needed to make a dough (not too wet, not too dry). On a parchment-lined baking sheet, spread the zucchini mix out into an oval shape. I use a fork to do this, and press it down to compact it as well. Place the pan on the bottom rack of the oven and bake for 20 minutes. Then place the pan on the top rack of the oven for about 8 minutes, until browned. Remove the pan and flip the crust. Bake for another 5 minutes. Remove the crust. Turn the oven up to 500 degrees. Top the pizza with sauce or pesto, cheese, vegetables….whatever floats your pizza boat! Place the pan back into the oven on the bottom rack and bake for 3-4 minutes. Again, place the pan on the top rack for about 2 minutes. Remove and let cool for 5-10 minutes to let everything set.
(Recipe from The Glutenfree Homemaker)
Creamy Cauliflower Alfredo Sauce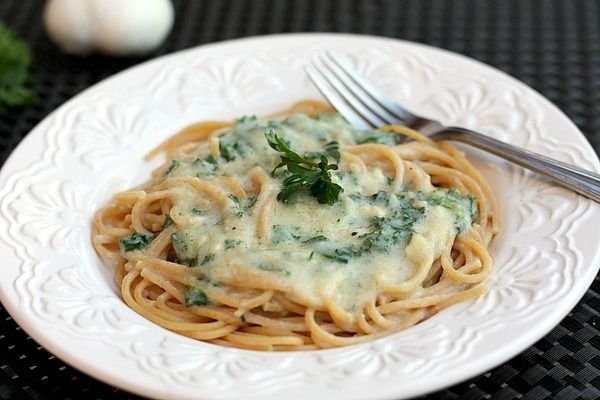 Ingredients:
3 c. cauliflower florets, chopped
2 c. water
1 bay leaf
1/2 t. salt
Boil the above ingredients for 30 minutes, uncovered. Remove bay leaf. Puree the cauliflower mix with an immersion blender.
1 T. olive oil or coconut oil
1 garlic clove, minced
1/2 c. almond milk
1/4 c. parmesan (or nutritional yeast if vegan)
about 15 scrapes of fresh nutmeg
1 c. loosely packed kale, chopped
salt and pepper, to taste
Directions:
Heat oil or butter in a pan. Add garlic and saute until fragrant. Add in the cauliflower puree and the milk. Let bubble on low heat for about 5 minutes. Add in cheese/nutritional yeast, nutmeg, and salt and pepper to taste. Add in kale last and cook just until it wilts down.
Season to your liking and pour over whole grain pasta, zucchini noodles, or spaghetti squash.
(Recipe from Oatmeal with a Fork)
JUICE FEAST Contains:
BLUEBERRIES
GREEN CABBAGE
KENNY GRAPEFRUIT
LACINATO KALE
BUNCHED SPINACH
CILANTRO/MINT
ROMAINE LETTUCE
CHIOGGIA BEETS
CARROTS
FUJI APPLES from FAIRHILL FARMS
I'm not a doctor, just a individual who seems to remain healthy when flu season passes through. I attribute it to my daily, whole food vitamin which is a 16 oz fresh pressed juice. I make sure to include things like ginger, garlic and fresh turmeric root in addition to the fruits and veggies. Check out what Dani, our local nutritionist has to say about the glorious world of fresh pressed juice.
Minerals are critical components of many bodily functions and are not as easily attained as one often thinks. Minerals are bound to what some call 'anti-nutrients' because the minerals are not easily broken off from them by our bodies alone. Phytates and tannins are amongst these 'anti-nutrients'. So how do we aid our bodies in the absorption process of minerals? JUICING! And as I have mentioned a million times, lightly steaming greens as well. But juicing is also another process that does increase the absorption of minerals from green in particular. Your kale, spinach and collards greens after they have been added to your juice will release a good amount of minerals into your body!
By Dani Rhoades NC, www.wholesomepractices.com
Sources: Bauman College Texts
Grapefruit Smoothie
1 Cup Ice
1 Extra Ripe Banana (frozen is best)
1/4 Cup Plain Greek Yogurt (optional)
1/2 Cup Fresh or Frozen Pineapple
1 Grapefruit- Juiced (approx 2/3 cup)
3 Cups Kale – ribs and stems removed (approx 3-4 kale leaves)
1 teaspoon-tablespoon fresh ginger
Throw it all in your blender!
Mint, Strawberry and Grapefruit Juice
Ingredients:
10 strawberries
1 grapefruit
1 lemon
1 loose handful of fresh mint leaves
Instructions:
1.Remove green stems from strawberries and peel the grapefruit.
2.Run all ingredients through your juicer.
Good for the Tummy
1/2 cabbage
1/2 bu. cilantro
1 romaine head
1 bu. spinach
1 Chioggia beet
1 apple
1 lemon