Summer has seems to have flown by. I can't believe we are already heading into late August. Sweet peppers are on the horizon along with a late planting of bi-color super sweet corn. We've had some problems with our corn crop that has been slowing down production. I hope to have it in the box in the next few weeks. The CSA just got a $200 grant to a seed catalogue (from a local farmer who is willing to grow for us) and we are going to branch out with some new varieties. I'm looking through the Johnny Seed Catalogue, but let me know in the next week if you see something you'd like to have in your CSA/JUICE box. We are planting mainly for fall and winter, but I'll keep Spring/Summer seeds in mind for later.
August 21st CSA contains:
BABY SPINACH
CARROTS
YELLOW HEIRLOOM TOMATOES
FRENCH GREEN BEANS
RADISHES
LEEKS
AMBROSIA MELON
GREEN ZUCCHINI AND/OR SUNBURST SQUASH
RED LEAF LETTUCE
GREEN BELL PEPPERS
BIG BOX ADD: YELLOW CHERRY TOMATOES, RED TOMATOES, STRAWBERRIES, ROMAINE LETTUCE, GALIA MELON OR CANARY MELON

Check out what Dani, our local nutritionist has to say about some good ol' black peppercorns:
Spices are truly the pharmacy of your kitchen. With anti-inflammatory properties, anti-cancer nutrients, and antioxidants they should be added to every meal! Often black pepper goes unnoticed amongst the many many spices that can inhabit your pantry. But this simple spice adds incredible health benefits to any meal! Peppercorns are anti-inflammatory and therefore protective against arthritis, Alzheimer's, cancer and other conditions. Black pepper is also diaphoretic meaning that it increases perspiration and is therefore good for detoxification, especially of environmental toxins. It promotes circulation and is considered pungent and heating. It's also great for the intestines as it naturally stimulates the digestive processes. Black pepper should be consumed with other spices as it also has the ability to increase your body's ability to absorb the antioxidants from other spices, vegetables and foods. Be sure you're buying whole kernels and freshly grinding them on your meals. Pre-ground pepper could easily have been sitting in the jar for months and months before you even bought it and is susceptible to developing mold. So be sure to add freshly ground pepper to increase the antioxidant value of your locally grown veggies!!
By Dani Rhoades, N.C., Nutrition Consultant, www.wholesomepractices.com
Sources: Foundations of Nutrition by Ed Bauman, Bauman Lectures by Ed Bauman
Flourless Chocolate Chip Zucchini Oat Brownies


(This is my kind of making use of an abundance of zucchini! Delicious chocolate chip packed zucchini oat brownies made without flour or butter! SO YUM! Don't tell the kids they have veggies inside!)
Ingredients:
1/2 cup all natural unsalted peanut butter
1/4 cup honey or agave nectar
1/2 cup unsweetened natural applesauce
1 teaspoon vanilla
1/2 cup unsweetened cocoa powder
3/4 cup gluten free oats
1 teaspoon baking soda
1/4 teaspoon salt
1 1/2 cups shredded zucchini
1/2 cup dark chocolate chips (vegan if desired), divided
Directions:
1.Preheat oven to 350 degrees F. Spray 8×11 baking pan with nonstick cooking spray.
2.Place oats in blender or food processor and process until finely ground. Don't worry, it doesn't need to be perfect but it should take a few minutes. Set aside.
3.In a large bowl of electric mixer, cream together peanut butter, applesauce, honey and vanilla until smooth. Add in zucchini, cocoa powder, ground oats, baking soda, and salt; mix until well combined. Gently fold in 1/4 cup of chocolate chips. Pour batter into prepared baking pan and sprinkle remaining chocolate chips over the top. Bake for 25-30 minutes or until tooth pick inserted into middle comes out almost clean.
4.Cool brownies completely on wire rack then cut into 20 squares. Enjoy!
Recipe from: http://www.ambitiouskitchen.com
Zucchini, Green Bean and Almond Pasta Salad


Ingredients:
1 1/2 pounds zucchini (2 to 3, depending on size), halved lengthwise and very thinly sliced
1/2 pound French green bean, steamed for about 5 minutes until they turn bright green and then tossed in an ice bath
1 teaspoon salt
1 1/2 ounces parmesan or pecorino romano cheese, thinly sliced on a mandoline or with a peeler
1/2 cup slivered almonds, well-toasted and cooled (300 degree oven for 7 to 10 minutes, tossing occasionally, usually works)
1/2 pound pasta of your choice (I like the extra bite of whole wheat pasta in pasta salads), cooked, drained and cooled
5 tablespoons olive oil
Juice of one lemon
Freshly ground black pepper
Further additions, if you wish: 1/2 cup crumbled feta or blue cheese (replacing parmesan), 1/4 red onion, thinly sliced (you can let this marinate in the dressing for a few minutes, to reduce its bite), 1/4 pound fresh spinach or 1/4 cup thinly slivered basil or 1 cup white beans, rinsed and drained
Directions:
Toss zucchini slices with one teaspoon salt in a large colander set over a bowl or in sink. Let drain 20 minutes. If they taste too salty to you, rinse and drain them again.
Stir zucchini, green beans, parmesan, almonds and pasta together. Whisk together olive oil and lemon juice, seasoning generously with black pepper and salt to taste. Toss with salad and adjust seasonings to taste. Pack up salad and take it with you to the beach.
(Recipe adapted from: http://smittenkitchen.com)
Mexican Quinoa Stuffed Peppers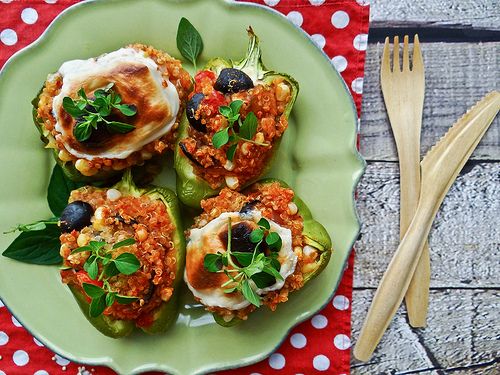 serves 4 – 1 pepper/2 halves per person
Directions: Serves 4
1 cup water + 1/2 cup quinoa rinsed
4 medium green peppers, cut in half & seeded
1 cup cherry tomatoes, quartered
1/2 cup black olives sliced
1 corn on the cob, kernels removed (about 1/2 cup)
3/4 tsp cumin
3/4 tsp kosher salt
1 cup prepared salsa
daiya optional but highly recommended (daiya is a cheese substitute. I used parmesan here, but feel free to use your favorite organic cheese)
oregano for garnishing
Directions:
bring water to boil in a small sauce pan, add rinsed quinoa, cover and cook on low for 10 minutes. turn off heat and allow to sit for 10 minutes. meanwhile, prep your green peppers, corn & tomatoes – place in a medium bowl. slice olives and place in bowl with rest of veggies. arrange green pepper halves on a rimmed baking sheet, cute side up. add cooked quinoa to the veggie bowl along with prepared salsa, mix well. fill each pepper half with as much quinoa as you can. top with slices of daiya – bake in a 350* pre heated oven or toaster oven for 20-25 minutes. garnish with oregano. enjoy!
Delicious Green Bean and Radish Salad


(A new and innovative way to use those radishes)
Ingredients:
1 pound green beans
1/4 cup olive oil (I like to use Walnut Oil because it cooks at a higher temperature.)
1/2 pound radishes, stem removed and quartered
2 cloves garlic, chopped
1 tablespoon honey
1/4 teaspoon red pepper flakes
Salt and pepper
Directions:
1. Bring a pot of salted water to a boil. When bubbling toss in the green beans for 3 to 4 minutes. Remove and place in ice water to quickly cool. Drain thoroughly.
2. Pour the oil into a skillet and turn the heat to medium. When hot, dump in the radishes, green beans, garlic, and chili flakes. Cook for 5 minutes or until the vegetables have softened.
3. Add the honey and stir to coat the vegetables. Cook for 2 to 3 minutes. They should just start to caramelize.
4. Transfer to a large bowl and then season with salt and pepper.
Recipe from: www.seriouseats.com
August 21ST JUICE FEAST contains:
SPINACH
APPLES from FAIRHILL FARMS
CUCUMBERS **Sorry, no fennel. I was bummed too**
GREEN KALE
BEETS (without tops)
PARSLEY AND MINT
LEMONS
ROMAINE LETTUCE
CARROTS
SWEET PEPPERS
**Coming soon to the Juice Feast – Celery!**
More greens! You can NEVER have enough greens 🙂 Plus the addition of greens to your juice adds an incredibly amount of chlorophyll, the nutrient responsible for that deep green coloring. Chlorophyll is very cleansing and naturally wonderful for the liver. Kale is high in chlorophyll as well as minerals like magnesium, iron and zinc. It does wonders for the skin, especially in combination with carrot juice because of the high levels of beta-carotene that re converted to Vitamin A. It clears the complexion and can also help with other skin conditions like eczema and dermatitis. This nutrient also dramatically boosts immunity and prevents cancer! So make your juice green this week!
By: Dani Rhoades, NC, Certified Nutrition Consultant, www.wholesomepractices.com
Sources: Foundations of Nutrition by Ed Bauman, The Top 100 Diet Secrets by Anna Selby
An Evening Delight
Kale
Romaine
Spinach
Parsley
Lemon
Apple
If you add a bit more apple, it makes for a lighter and slightly sweeter refresher. Paired with the mighty blend of Kale, Parsley, Spinach, and Romaine, it will more than deliver a wonderfully potent bevy of the essential free radical destroying, life-giving nutrients and anti-oxidants your body needs for it to be in an ultra-healthy state. This one's just an all around feel-good juice, and pairs great with a nice afternoon meal. – The Raw Juicery
Peppered Beets
Beet Root
Carrots
Sweet Peppers
Helps improve eyesight with tons of vitamin A. The carrots also help eliminate excess fluid from the body reducing water retention. Medical studies have also shown that including beets in your diet helps protect a body against heart disease. The combo of veggies have powerful cleansing properties that are effective in detoxifying the liver, which is overall effective for acne which can be caused by toxicity of the blood.
Combine a little bit of each veggie that came in your box for the ultimate combo platter. Add ginger and turmeric for added value. Drink over ice. Drink often.