We just adopted 26 more chickens today! That brings us to a grand total of 52 chickens and 5 turkeys!! The chickens and the turkeys live side by side. The chickens tend to pick on the turkeys, but I'm sure that will pass as the turkeys get bigger!
HAPPY HALLOWEEN, or the day I like to celebrate Dia de los Muertos, November 1st. The kabocha squash in your box, which is much tastier than a pumpkin will satisfy your craving for sweets!
The Waldorf School of Santa Barbara is hosting a Harvest Faire & Auction, Saturday, November 16th 11 am – 4 pm with a pie baking contest. Please email me for more information on how to enter and help benefit a local school.
October 30th CSA contains:
SALAD MIX
CARROTS
RED TOMATOES
ARUGULA
PERSIMMONS from VINCENT FARMS
KABOCHA SQUASH
MINI SWEET PEPPERS
FENNEL
CHIVES
NEW POTATOES
BIG BOX ADD: CELERY, ROMAINE LETTUCE, GREEN KALE, CARROTS, RED TOMATOES

Your persimmons are picked right here in Goleta at Vincent farms, a locally owned family farm. They have been my go to when I am craving something sweet and they are quite satisfying. Check out what Dani, our local nutritionist, has to say about these fall favorites.
Persimmons are one of fall's sweetest treats. Their bright orange coloring provides loads of carotenes, which are antioxidants that your body converts into Vitamin A. Vitamin A is one of our immune system's most important nutrients and naturally many of our foods in these winter season contain plentiful amounts of it like pumpkins and other winter squashes. In the winter we are more susceptible to colds, flus and viruses therefore needing all the immune boosters we can get! Persimmons are a low in calories but high in fiber, an essential nutrient for proper gut mobility and digestive health. Just one persimmon provides 6 grams of fiber! But you can't just rely on persimmons for your fiber, your body needs 40-50 grams of fiber a day! Our ancestors actually used to get around 100 grams of fiber each day! Be sure you eat your greens, other vegetables from the farm and get a good serving of whole grains each day.
By: Dani Rhoades, NC, www.wholesomepractices.com
Sources: Bauman College Texts
Roasted Kabocha Tots
(This is my favorite squash by far. Super sweet and packed with Vitamin A and C. It looks like a pumpkin, but tastes far superior. We only have a few left on the farm so enjoy this one! As an athlete these winter squashes are just what I need to stay full with the right carbs to keep me going.)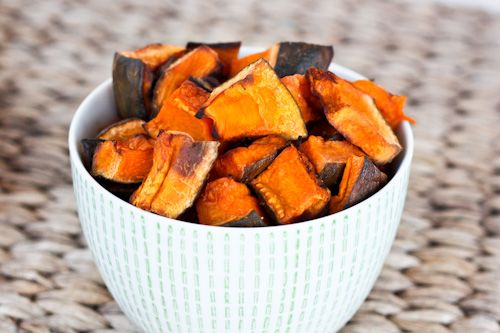 Ingredients:
•1 kabocha squash
•1 tablespoon coconut oil (optional)
•sea salt (optional)
Directions:
1.Preheat oven to 400°F.
2.Wash the outside of the squash with warm water.
3.Cut the squash in half and scoop out all the seeds. You can peel the outer skin of the squash but don't need to – it softens right up when cooked and it's perfectly fine to eat.
4.Cut the squash into 1-inch chunks.
5.Toss the squash with oil (if using), sprinkle with sea salt and spread on a roasting pan.
6.Roast the squash for 15 minutes, remove from oven to toss, then roast for another 10-15 minutes, or until tender with a few brown spots.
(Recipe from www.eatingbirdfood.com)
Arugula, Fennel, and Orange Salad
(The bright flavors of peppery arugula, the anise accent of fennel and the tangy sweetness of oranges come together in this vibrant winter salad. You can make the vinaigrette and prepare the fennel and oranges ahead of time and refrigerate. Combine all the elements just before serving.)


Ingredients:
For the citrus vinaigrette:
1/4 cup fresh orange juice
2 Tbs. fresh lemon juice
2 tsp. grated orange zest
2 Tbs. extra-virgin olive oil
2 Tbs. canola oil
2 tsp. Dijon mustard
1/2 tsp. dried tarragon
1 shallot, chopped
Salt and freshly ground pepper, to taste
For the salad:
1 large fennel bulb
2 large navel oranges
1 bunch arugula
Directions:
To make the vinaigrette, in a small bowl, whisk together the orange juice, lemon juice, orange zest, olive oil, canola oil, mustard, tarragon and shallot. Season with salt and pepper. Set aside.
Cut off the stems and feathery fronds of the fennel bulb and remove any bruised or discolored outer layers. Cut the bulb in half lengthwise and cut out any tough core parts. Cut the bulb halves crosswise into slices 3/8 inch thick and then cut the slices into 1-inch lengths.
Working with 1 orange at a time, and using a sharp knife, cut a slice off both ends of the orange to reveal the flesh. Stand the orange upright on a cutting board and thickly slice off the peel and pith in strips, following the contour of the fruit. Cut the orange in half crosswise, place each half cut side down, and thinly slice vertically to create half-moons. Repeat with the remaining oranges.
Place the fennel and arugula in a large serving bowl, add half of the vinaigrette and toss gently to coat thoroughly. Arrange the orange slices in a pinwheel or other design on top. Drizzle with the remaining vinaigrette and serve immediately. Serves 4.
(Recipe from www.williamssonoma.com)
Tomato, Potato, Herb and Goat Cheese Frittata
(This frittata is relatively easy to throw together. Herbs and cheese can be subbed out with whatever you may have on hand at the moment. It's a great way to make breakfast for the week and just cut a slice off as needed. Add ham if you wish.)


Ingredients:
1 tablespoon olive oil
1 clove garlic, minced
2 teaspoons fresh oregano
2 teaspoons fresh thyme
1/4 c. chives
1 lb potatoes sliced into thin half moons
2 medium tomatoes
2 ounces goat cheese
handful of mini sweet peppers
4 eggs
¼ cup milk
¼ teaspoon salt
1.Preheat oven to 375˚.
2.In an 8″ cast iron skillet over medium heat, add olive oil. Add potatoes and garlic to pan and cook for 5 minutes. Mince herbs and dice peppers and tomatoes, discarding juicy parts of the tomato. Add to pan and cook for 2-3 minutes.
3.Whisk milk, eggs, and salt together. Pour over tomato mixture and sprinkle with goat cheese. Cook for 1-2 minutes on stove top until bottom is set. Finish in the oven for 10-15 minutes or until egg is set.
*If you don't have a cast iron skillet, you should get one 😉 But you can make this on the stove top too.
(Recipe adapted from www.naturallyella.com)
October 30th JUICE FEAST contains:
FENNEL
BAGGED CARROTS
CELERY
ROMAINE LETTUCE
FUJI APPLES from Givens Orchard
GREEN KALE
CUCUMBERS
HERBS
LEMONS
SPINACH
When everyone is lined up for a flu shot, I'm ramping up my juicing. Make sure to include a wide variety of herbs and include ginger and turmeric root for added benefits. As the weather gets colder our bodies can use the additional vitamins and minerals along with a healthy diet. Check out some of this healing information from Dani Rhoades, our local nutritionist.
Juicing, like other nutritional tools can be used either for maintenance or therapeutically. Juicing is used powerfully as a therapeutic tool for certain conditions, providing the right nutritional support to restore balance to the body. Juicing is wonderful for the digestive tract and is often used therapeutically for digestive upset. The abundance of nutrients the body absorbs in even a small amount of juice can work to restore stomach aches, constipation, and diarrhea. If the GI tract can be allowed to rest without having to digest the food but still be supplied with it's source of energy then it gets a jump start and can revitalize. So juice for your tummy!
By: Dani Rhoades, NC, www.wholesomepractices.com